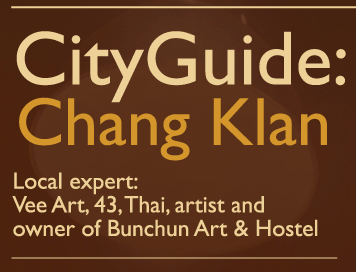 Why did you choose this neighbourhood?
It is near the Ping River, I like the old fashioned wooden houses by the river, the lovely black Iron Bridge, and there are always activities here to keep anyone from being bored.
What do you like least about it?
I think that there are too many cocktail lounges, massage parlours and karaoke bars.
Who lives here?
Mainly tourists and business owners.
Best everyday restaurant:
Pa La and Lung Tan, a simple Thai restaurant by the Ping; it's hard to find though! (If you drive up Charoenrat Road and enter the Sapan Chansom Kao soi, continue to the end of the soi then turn right to see a corrugated gate. Go past the gate and it is there!) Excellent naem fried egg and tinned sardines salad (082 390 5350).
Best special occasion restaurant:
I like The Duke's (053 329 231) but because I am always busy I normally go there and order takeaway. I love the sandwich Cubano with chips and onion rings and I take it home to eat at Bunchun Hostel while I work.
Best cheap eat:
About four or five Thai restaurants next to each other along Chang Klan Road at the @Curve project.
Best drinks:
Americano and carrot cakes at the Meeting Room, I like the strength of the coffee and the atmosphere of the converted old wooden house in a modern coffee shop and art gallery, along with all its great books to read. Right opposite Wat Gate on Charoenrat Road (Facebook: The-Meeting-Room-Art-Café).
Best night out:
I take my hostel guests to hang out and drink at the Cabaret Show Bar in Anusarn Market; it is fun and varied. Shows start at 9.30 p.m. and go on until midnight (081 8940 356).
Best secret:
At Bunchun Art & Hostel of course! We have great art, coffee sipping lounge areas and it is a fun place to be with all sorts of friendly animals living here such as parrots, dogs and even lizards (083 072 3121, Facebook: bunchun.art).
Best tip:
Just get onto a bicycle and get lost; that is when you really discover new things.
Anything else to add?
It is a business and tourist area, so neighbours don't mind one another's loud parties. We can act strangely, dress oddly and no one looks at you like a freak because there are so many events and nationalities here.