Rim Tai Kitchen by Four Seasons Resort Chiang Mai
For truly different Thai culinary flavours and new dining experience, visit Rim Tai Kitchen by Four Seasons Resort Chiang Mai. Bringing a traditional Thai cooking style with expert chefs, the beautiful kitchen is named after the green natural surroundings of the Rim Tai sub-district of Chiang Mai that the resort is located. Their kitchen is wide, spacious and even offers up cooking classes for those interesting in learning more about exquisite Thai cooking techniques.
The cooking class starts in the morning with food inspired by the ancient Lanna kingdom, with monks visiting the hotel collecting alms at 6.45am before you then head to the early morning Thanin market to buy your produce fresh that day. This class includes four dishes, with a demonstration followed by a practical session for each dish. Enjoy the food you cooked for lunch, accompanied by herbal drinks, coffee, tea and secret recipes to take home with you. The course is priced at 6,500 baht per person and is available Mondays to Saturdays with each day of the week offering new dishes.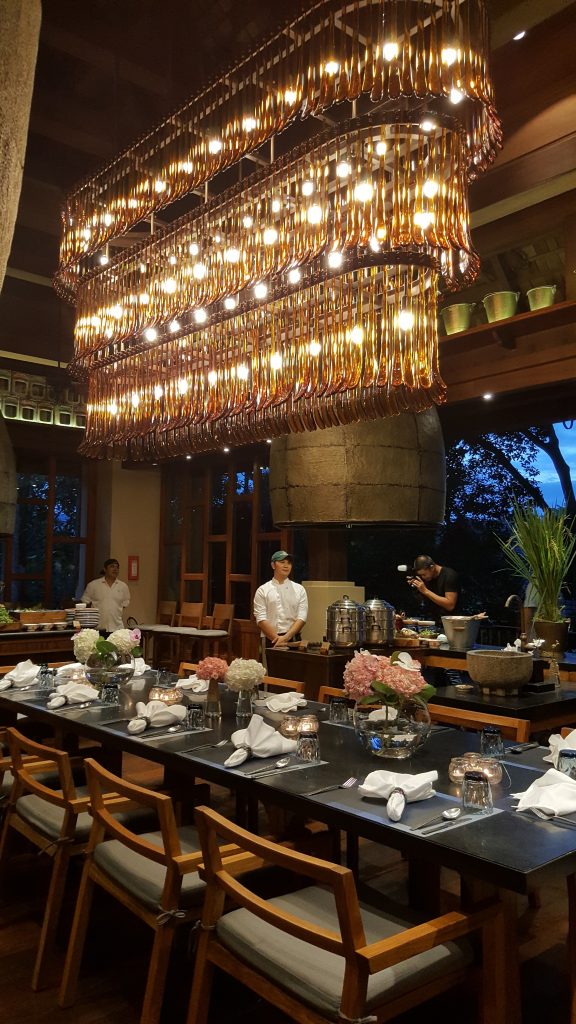 If you are not a morning person, fear not, as the Four Seasons Resort Chiang Mai also offers a three dish afternoon course, a Thai coffee masterclass and Thai tea masterclass course, giving you the secrets behind some of Thailand favourite drinks, including the Cha Chak Tea. There is also a healthy drink workshop, fruit and vegetable carving classes and a kid's cooking class for children aged five to twelve. Each of these classes cost just 3,500 baht per person, apart from the more detailed afternoon cooking class which is 4,900 baht. The Kid's cooking class is just 2,900 baht, and all classes are available from Mondays to Saturdays, 3pm – 5pm.
For those looking for a more in-depth, personal cooking experience, why not sign up for the Private Cooking Class where you can learn difficult techniques and flavour pairings with your very own Thai master chef. Take a pick of food you wish to learn to cook, such as Thai street food, Thai curries, traditional Lanna dishes and healthy Siamese cuisine. In the class, your personal chef will take you to the local market and the organic garden in the resort itself, where the chef will help you identify the best ingredients and then take you back to the kitchen where you will cook it all up! The course also includes a vegetable carving session, herbal drinks, coffee, tea, Thai wings, beers, and a booklet with all the chef's secret recipes you can take home with you. This superior course is 8,500 baht for the day, available Mondays to Saturdays starting at 7am.
After all these courses are complete, the fun is not over yet. The Rim Tai Kitchen also has a Thai Kitchen Live Dining session that will give you a new dining experience you will never forget. Participate in the cooking of your own dinner by standing at your station and follow the chef's instructions as you cook up a range of dishes from traditional salads to the popular Pad Thai. Wine from southern Thailand will be served along with local beers and a local spirit dance show for your entertainment. This dinner is just 2,900 baht per person, including soft beverages or 3,900 baht including free flow Thai wines, spirits and beers. Half price for children between four and twelve years of age. 7pm to 9pm.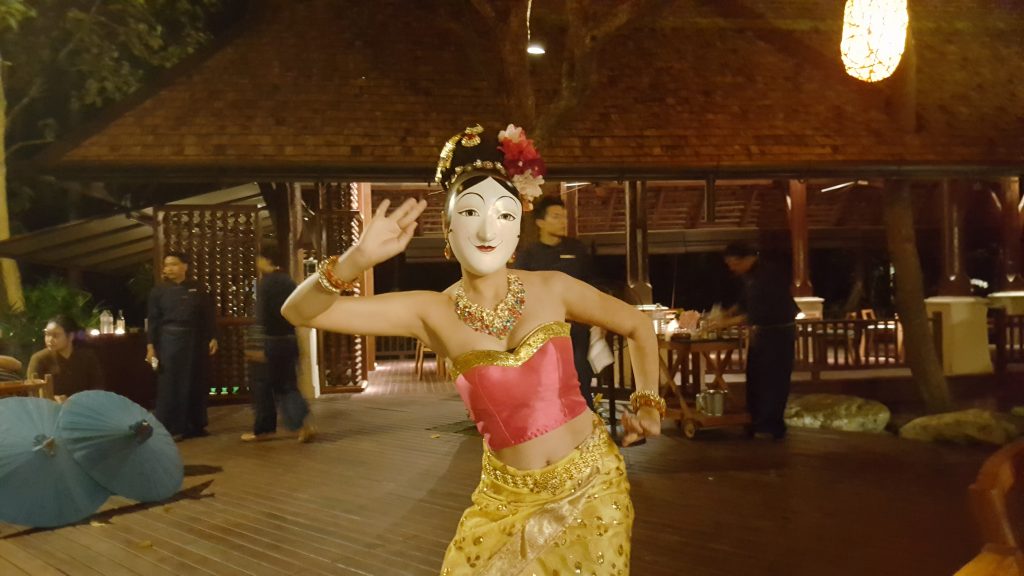 Local spirit dance at Thai Kitchen Live Dining, Rim Tai Kitchen.
The Four Seasons also has a membership club, open for anyone to join. This club will get you a whopping 20% discount at all food venues in the resort and for October and November, it will get you 25% off at Rim Tai Kitchen.