Curse of the Blood Jade:
the neighbouring ethnic war we know nothing about
Dressed in their Sunday bests, Chiang Mai's Kachin residents filled a church in Doi Saket recently, sounds of hymns echoing across the quiet Buddhist village. After service, little girls in princess dresses, women clad in traditional Kachin sarong and men with jaunty turbans, poured out of the church and into the spacious compound that belongs to the community. As the women sat down to a feast cooked and served by their men, they chattered and laughed while being serenaded with song in honour of Mother's Day.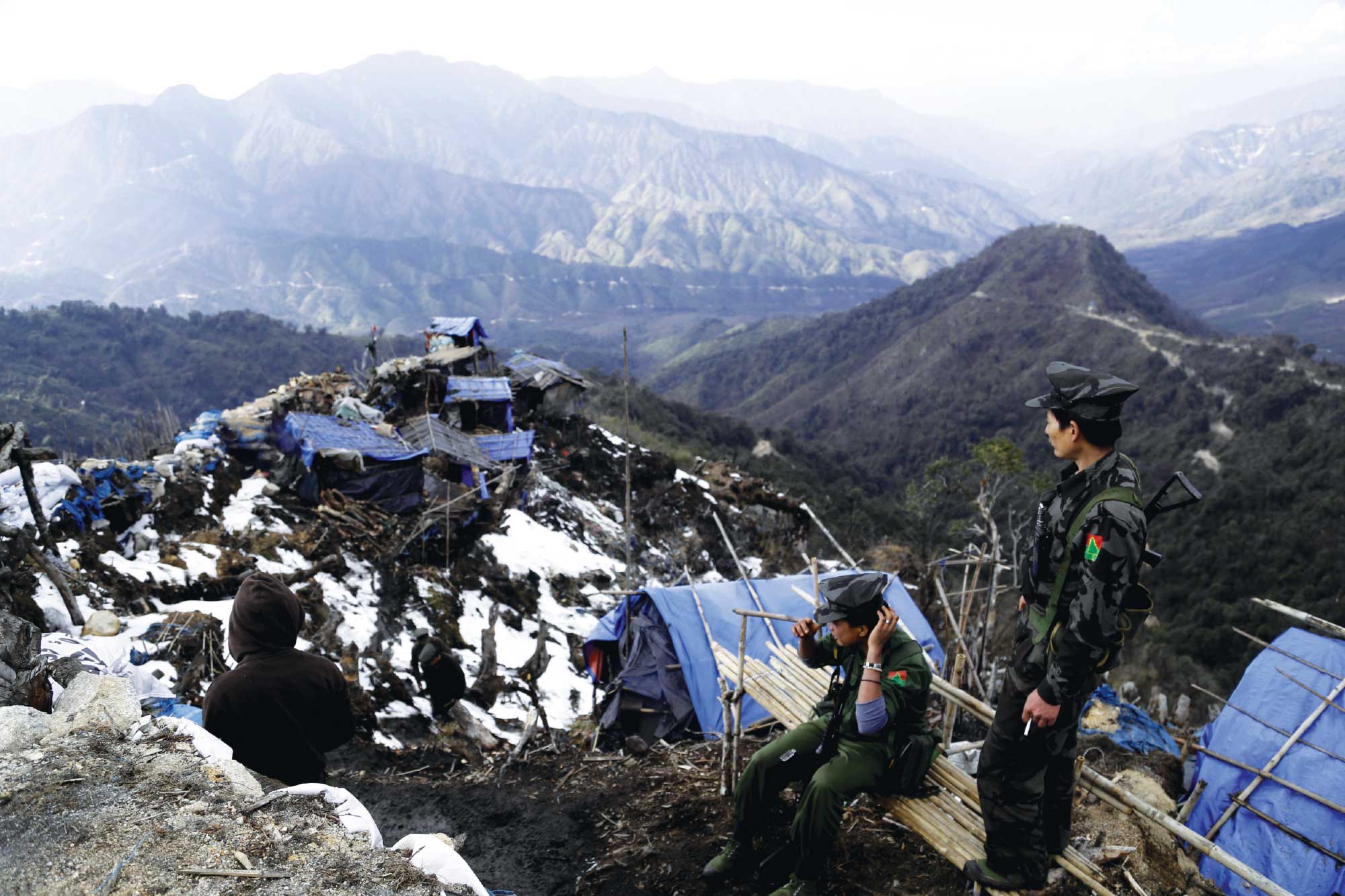 After the meal the children headed back into church for Sunday school and groups splintered to sit under the shade of trees singing along to guitars, reading the bible or catching up on news and gossip.
"We feel Thai at heart, but we will always be proud of our Kachin culture," said Khawng Hawng, a Kachin who arrived in Thailand from Myanmar in 1969 and has never returned to his homeland. Khawng Hawng had walked with a caravan to Thailand from northern Myanmar, a journey taking him over two months. Khawng Hawng and his fellow churchgoers are paying close to attention to the deteriorating humanitarian situation for Kachin civilians caught up in a seemingly unending conflict. "With the conflict escalating in Kachin State these days all of us here in Thailand are working very hard to raise funds to send in support of our Kachin brothers and sisters. Thailand's seven Kachin churches raising a couple of hundred thousand baht a month to support humanitarian efforts."
He looks visibly upset when talking about the plight of his compatriots across the border, and tears fall when he mentions his gratitude to Thailand, "King Rama IX and now King Rama X offered us shade, peace and security, something the Myanmar government never has. Most of us living here now have Thai citizenship thanks to the generosity of this country which has welcomed us beyond expectations."
"If the Myanmar government sees its minority citizens as people then we can all have a future," he continued, "but if they don't change then I am very concerned for our people and minority brethren."
Khawng Hawng is referring to the ongoing, and rapidly escalating, conflicts between the Myanmar military and the Kachin Independence Army (KIA), which is a long-running conflict dating back to 1961. After a 17-years long ceasefire arrangement that took root in 1994, fighting erupted in 2011 and continues today.
A State of War
The vast majority of Kachin people live in the mountainous northern region of Myanmar in Kachin and northern Shan states. There are significant Kachin populations in China, India and other areas, which is estimated at under two million. Before independence from Britain in 1948, General Aung San came to an agreement with Burma's many ethnic groups, including the Kachin, to form the Union of Burma with an understanding that ethnic minorities would have autonomy in running their affairs. However, the decision by U Nu, Burma's first prime minister, to transfer a few villages on the border with China was one step that led to growing resentment among many Kachins towards the central government. This move along with a growing frustration towards U Nu and his government helped spark the outbreak of armed resistance by the Kachin Independence Army (KIA) and the emergence of its political wing — Kachin Independence Organisation (KIO).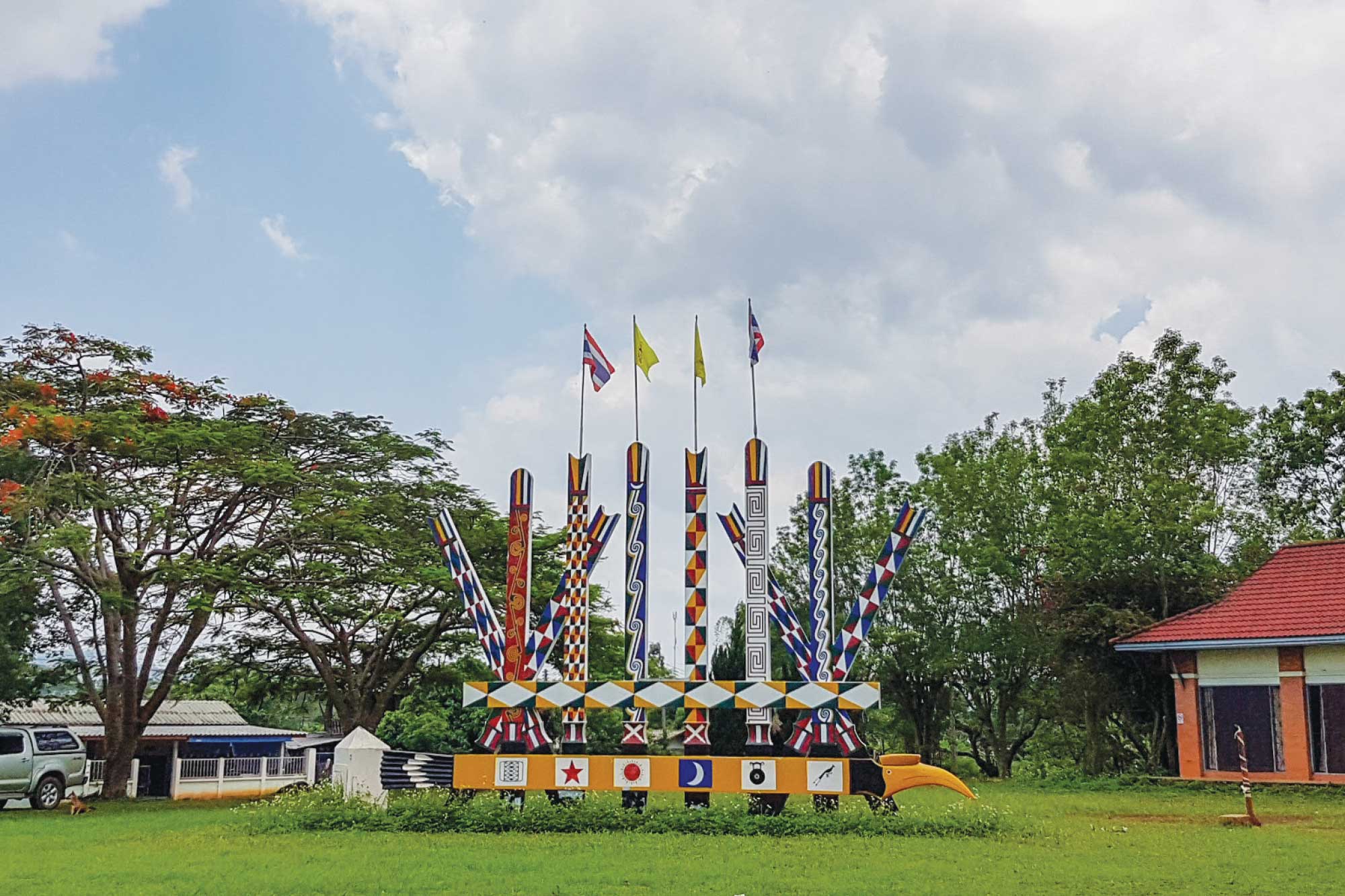 "In 1994 a ceasefire was signed between the KIO and the military regime, which was relatively weak at the time. It was the first written ceasefire between an armed group in Burma and the central government but left most of the important issues to be resolved later which never happened," said Kevin McLeod, a documentary filmmaker. "So, 17 years later after a massive wave of logging and jade mining, made possible by the ceasefire, the military was in quite a strong position and demanded that the KIO transform into a border guard force. The KIO declined to do this when nothing was being offered in return, and soon after the KIO were attacked." Though much ground has been lost since the ceasefire ended, the KIO, the political wing of the KIA, still holds a key stretch of territory along the Chinese border and they retain significant influence across much of the state, according to the documentary filmmaker. "So, while there are areas in Kachin such as the capital Myitkyina which are controlled by the government, or Laiza, a town controlled by the KIO, much of Kachin state is a grey area contested by both sides who are now frequently clashing, which has a devastating impact on civilians, " he added.
According to humanitarian organisations working in Kachin areas, around 120,000 people have been displaced by conflict in Kachin and Northern Shan state, with over 10,000 since January 2018 alone.
"The government has been using the Rohingya as a shield to escalate their attacks on the KIA," said David Mathieson, formerly of Human Rights Watch and now an independent analyst on Myanmar, adding that the failure of the international community to express concern for the Kachin has emboldened the government's abuses.
"We all have family who are in danger," said Khawng Hawng. "Social media has meant that we are all very aware of what is going on. We can at least send Facebook videos back to show our support."
Home Away from Home
The founder of the Kachin Independent Organisation, Zau Seng was killed by a junior officer in 1975 at a KIO base located on the Thai-Myanmar border. Because the KIO had earlier held a staunchly anti-communist position and the post-Zau Seng leadership allied with the Burmese Communist Party, a group of Zau Seng's followers, including his wife Shirley and Khawng Hawng, remained loyal to his legacy and asked the Thai government for permission to remain in Thailand. They were eventually settled in Baan Mai Samakkhi in Chiang Dao when HM the late King gave them 400 rai of land in 1982, following a royal visit. At first there were conflicts with the neighbouring Kuomintang, but according to Khawng Hawng, HM's representative Prince Bhisadet Rajanee, head of the Royal Project, stepped in and told the KMT that he would see them expelled from Thailand before allowing them to continue to fight against the Kachin.
The drive to Thailand's only Kachin village, is spectacular, the road winding its way through Chiang Dao's lush mountains to a bucolic village of around 900 by the Myanmar border. The majority of the villagers, who are now all Thai citizens, work for the Royal Project.
There is a clearing in the village which sprawls out across a small valley, where Manau poles stand, regal and unlike anything else one can find in northern Thailand. The poles are placed where HM the King first stepped foot when he landed in his helicopter during his 1982 visit.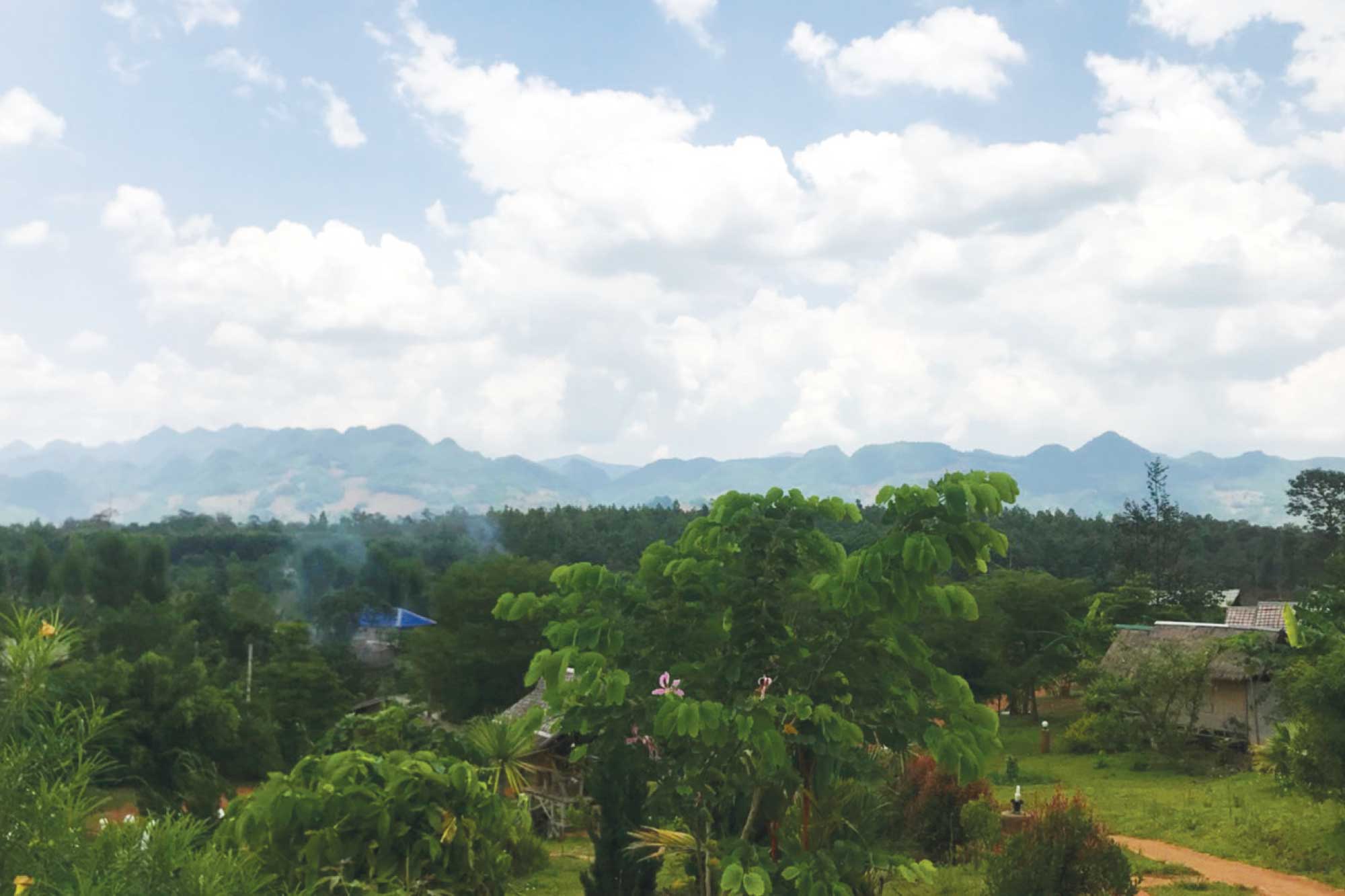 The traditional Kachin Manau festivals, which originate from traditional animist beliefs, are said to be a remarkable sight to behold. Though most Kachin are now Christian, they still celebrate the Manau, which involves a long line of dancers looping around poles, in an intricate snake like pattern. Traditionally held in January, the Kachin community in Thailand holds Manau festivals at Baan Mai Samakkhi on his HM's birthday in December every two years. Performances have also involved Manau experts and dance troops from Myanmar, as well those from the Kachin communities in China and north eastern India.
"I fled to Thailand twenty years ago," said a 58-year-old Kachin farmer who lives in the village. "The Burmese government were catching us and turning us into porters and the Kachin army were catching us and turning us into soldiers. I came alone, walking for months to get here. There were no women at the time, so like many of us, I married a Lisu woman. I feel so safe here." The farmer does not care much for politics and enjoys living a quiet life with his family.
"All the riches belong to us, but we aren't even allowed to manage ourselves," said a Kachin businessman, as we look out of his mountainside restaurant towards Myanmar's mountains in the distance. "We don't want to fight, but if we don't we will no longer have a home. At this point we are all focused on one thing, taking our country back. Fighting [in Kachin areas of Burma] has been going on for over 60 years, so yes, sometimes we feel almost numb. War has become the norm."
Curse of the Blood Jade
According to a report by non-profit group Global Witness published in 2015, Myanmar's jade industry — mined almost exclusively in Kachin State — is likely "the biggest natural resource heist in modern history." The report estimated that in 2014 alone, the jade sector was worth US$31 billion, which amounted to half of Myanmar's entire GDP. Along with jade, the mountains of Kachin State are literal goldmines which also hold vast deposits of amber. Old growth teak trees cover swathes of forests and being at the tail end of the great Himalayan range, the potential for hydropower is seeing China ready to invest billions of dollars in the region.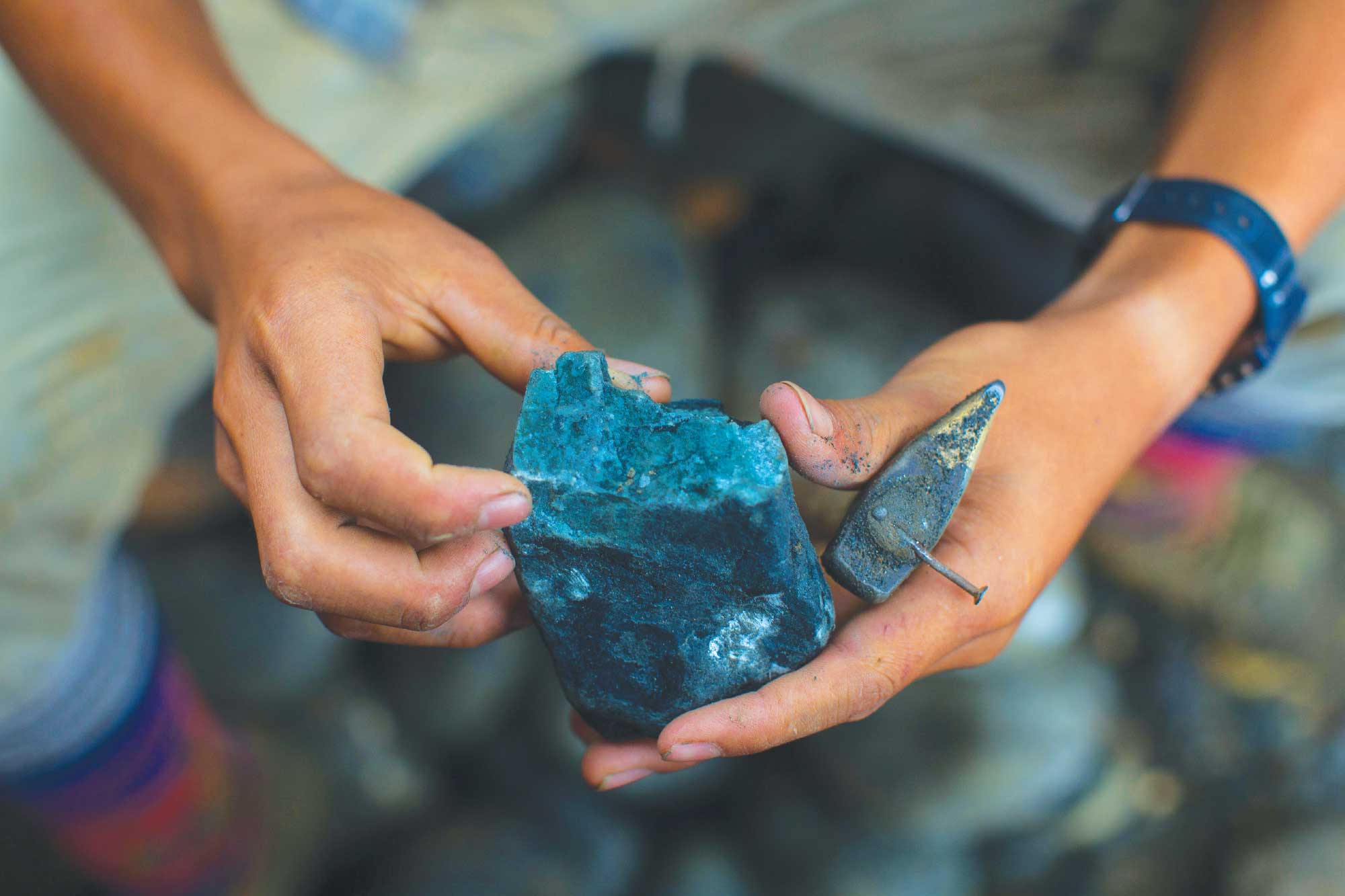 The wealth which is contained in the land could potentially make the Kachin some of the richest people in the world, but what some describe as, "curse of the blood jade," has meant that there has been on going extraction and conflict as Chinese, Wa and Burmese companies carve out mountains and raze forests, taking jade, teak, gold and amber across the border into China, while Myanmar's generals and elites sign the rights away for vast and unaccountable stakes. This creates a situation in which locals were left to sift through the debris for detritus of jade and gold, risking their lives in the frequent landslides caused by the erosion of excavation.
"In the past jade was mined manually," explained McLeod, who has travelled extensively in Kachin state while working on a Kachin focused documentary. "During the ceasefire, when the central government took control of most of the jade producing area in and around Hpakant, a lot of heavy machinery was brought in and the whole place looks like a giant moonscape. No one really knows how much jade remains and no one knows the full extent of what's been mined already. Given the dire state of health care, education and poverty in Burma's north, it is clear local people have not benefitted from the wealth of their own land."
Land of Jade
Chiang Mai resident Bertil Lintner's experience with the Kachin go back to 1983 when he met a group of Kachins who came to Thailand to meet leaders of other ethnic armed groups. As a journalist, he felt compelled to go to isolated Kachin areas. He, his pregnant wife and soon their new-born child spent one and a half years travelling from India across vast malaria-ridden areas of conflict, finally arriving in Kachin State in 1986. He and his wife Hseng Noung wrote the Land of Jade, a book following his journey, which is considered one of the seminal books on the modern history of Myanmar's ethnic conflicts.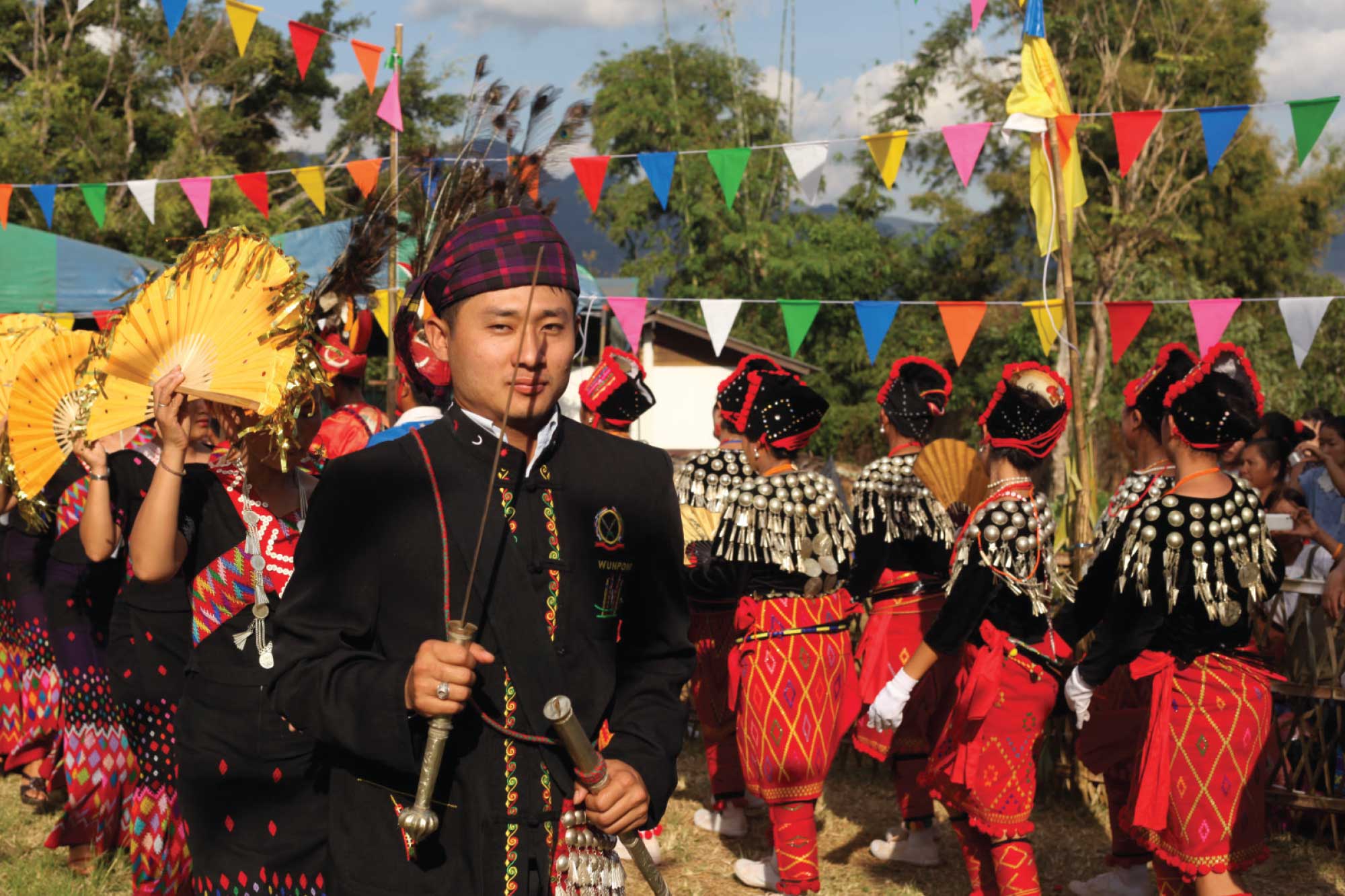 "The Kachin have five clans which they all belong to," said Lintner. "There are also about six to seven tribes, but regardless of what tribe you belong to, you must be part of a clan as they cut across all tribal boundaries. I had been given the clan name Nhkum on our journey, because without that name I would simply have not existed. When we arrived, they picked up my daughter and said, "This is my sister and just like that, we became a part of the Kachin."
"The Kachin are fierce warriors," continued Lintner. "Their first outside combat was when they joined the British in Mesopotamia to fight the Turks during WW1. Because of their habit of chewing beetle, the Turks were terrified of them, thinking that they were drinking blood! Then during WWII, they proved to be instrumental in helping the allies defeat the Japanese in Burma. During the victory parade in London there were only two native regiments who were allowed to carry their weapons, the Gurkhas and the Kachin. They even stopped off in India on the way home to crush an uprising."
The vast majority of Kachin are deeply devout Christians, having been converted by American missionaries in the late 19th century. It was also a Baptist missionary, Ola Hanson, who used Swedish phonetics to introduce the written word to the Kachin. (Recently residents of a small town in Southern Sweden were bemused to one day see a dozen or so Kachin, many dressed in traditional garb, singing hymns in front of Hanson's house during a church-funded visit.)
"Baptism is what binds them," continued Lintner, "the Kachin learn how to sing before they walk and in every house, you will see pictures of three things: church, school and the military."
"The church is very powerful and instrumental in supporting the KIO," agreed Ryan Libre, an independent documentary photographer and film maker who has lived on and off in Laiza for a decade. "They have helped build a strong educational system, implemented healthcare and offer a strong support network for the thousands who are internally displaced. The KIO have a functioning government which is surprisingly efficient considering the years of conflict, and many Kachin have told me that one of the reasons the resistance began in 1961 was due to the central government's ban on teaching Kachin language. These are people who are very proud of their heritage and are fighting tooth and nail to maintain it."
Drugs and Bibles
According to McLeod drugs are very big problem in Kachin State where heroin and amphetamines are easily available. Kachin State also sees the highest rate of HIV in Asia, according to local sources.
"I believe that this is the policy of the Burmese government to get us all addicted and to weaken us," says Khawng Hawng, though many international experts suggest the problem is more complex.
The Kachin community in places like Myitkyina has responded to the drug epidemic by mobilising vigilante groups, who detain drug users and dealers and force them into Christian run rehabilitation centres where they are compelled to go cold turkey and read the bible. "Nearly every family in Kachin State, has lost a relative to drugs. The response from Pat Jasan, an anti-drug movement, has been heavy handed but their drastic actions clearly receive widespread support," says McLeod. "People really don't know what else to do about this huge and very complex problem other than resorting to this very tough love approach. There's a widespread view that neither the government nor the international community care about what's going on, so they've resolved to taking things into their hands."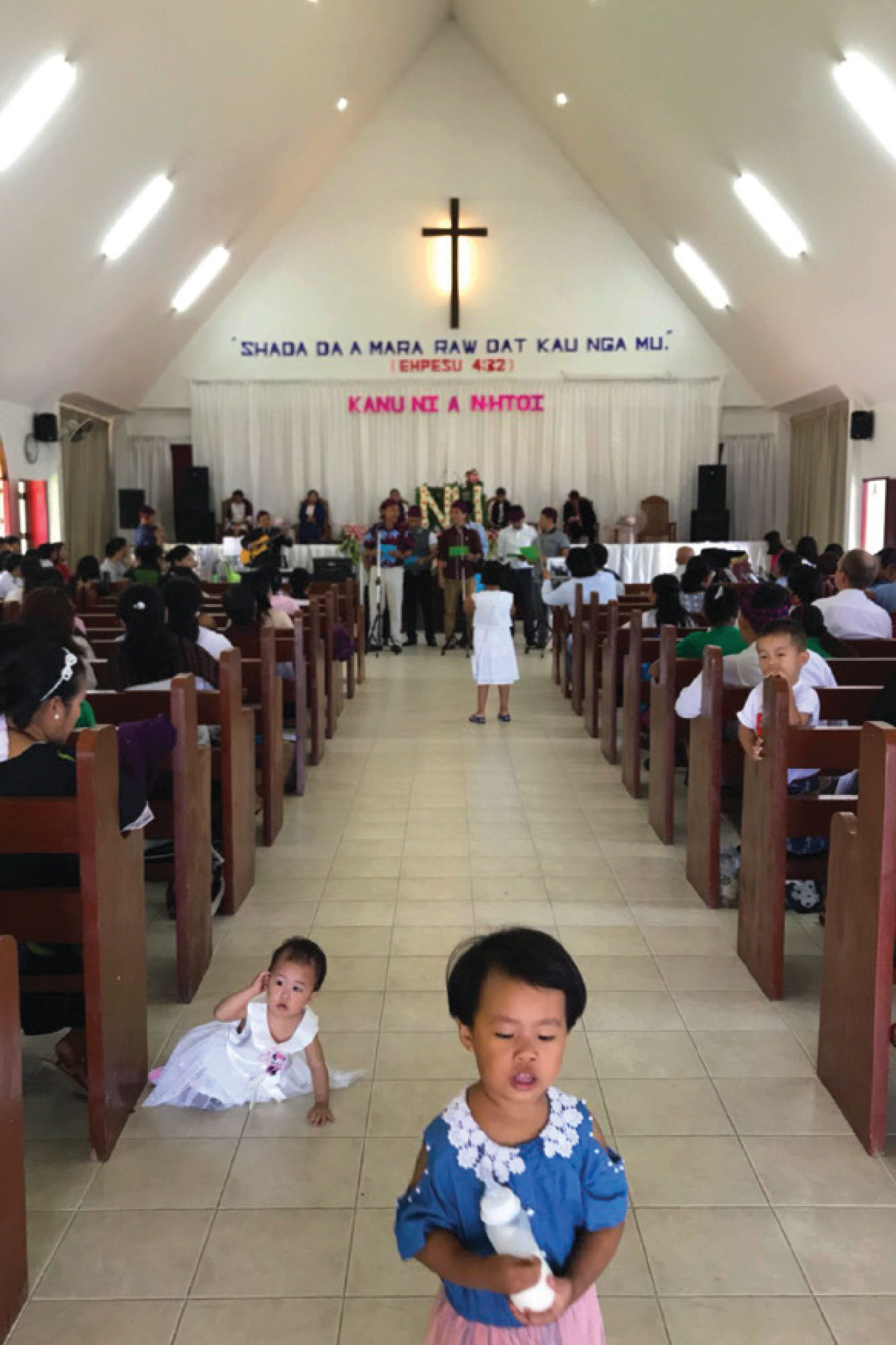 No End in Sight
"We're not fighting for some idea, but against this collective oppression that we have faced for so many years," said Kachin journalist Stella Naw. "It has been an intergenerational struggle for our collective survival and vision of equality. The army mistakenly seems to think eliminating the KIO by attacking all its military bases will be the way to do it while they fail to realise that grievances grow with each attack. We are, unfortunately, further away from peace than we were three years ago."
There has been more press coverage on the Kachin in recent months as violence has escalated. And though the Kachin feel that they have been long ignored, the Kachin diaspora is, according to Naw, very active, recently even organising the first "World Kachin Conference" in DC, where Kachin representatives of Europe, UK, North America, Asia and Burma discussed strategies on how to better coordinate advocacy activities in the coming months and years.
"There is a widespread sentiment among Kachin people that the world simply doesn't care about what's happening in Kachin and Shan states where in recent months some of the heavy fighting in decades has occurred," added McLeod. "Much of what's happening in the north, has been overshadowed by events in Rakhine State, the international media occasionally covers the Kachin conflict and the fighting in Shan State, but considering the scale of what's going on in the north, both in terms of displacement and lives lost, it is really being under-reported or if it is covered its being looked in a very simplistic and sensational way."
As to the peace negotiation process, Naw says that it is viewed by many as a way to disarm and silence the political demands of ethnic communities. "The fact that Aung San Suu Kyi is repeatedly urging the Kachin people to pressure the KIO to sign the Nationwide Ceasefire Agreement, makes them believe that she doesn't understand their concerns and challenges. She has no interest in representing the Kachin people's current needs and future political vision — equality. She is no different than any other central Burman leaders from the past."