CityNews Article Archive:
Film 'Boundary', a Documentary about Thai/Cambodia Border Issues, Banned
April 25, 2013
CityNews – The film, which addresses the long-running conflicts on the Thailand Cambodia border, was banned by the Ministry of Culture's film screening office stating it was "a threat to national security and international relations." Nontawat Numbenchapol, the director of Boundary, told the press in April that he will appeal the ban.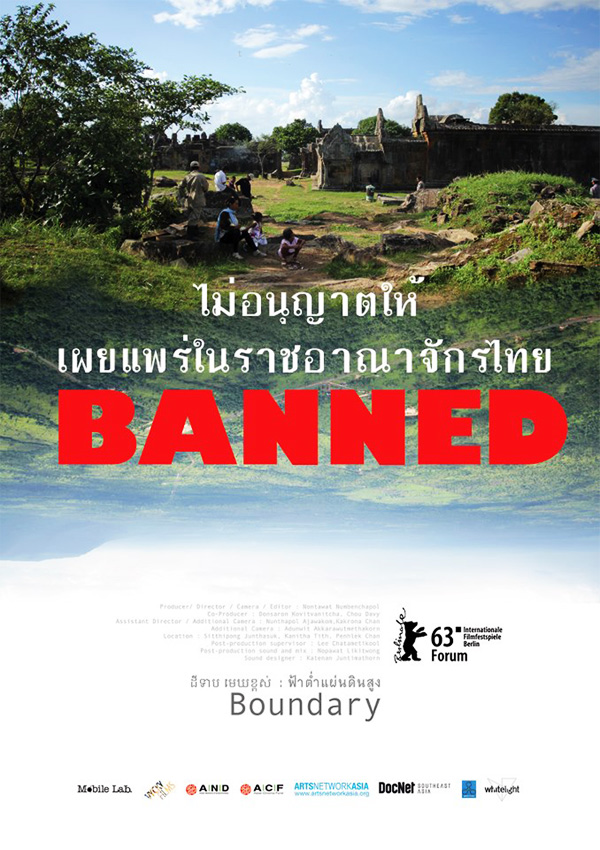 The dispute over land on the borders of the two countries goes back to a 1962 International Court of Justice ruling that the World Heritage Site 'Preah Vihear' temple is in Cambodia, not Thailand. Since the ruling the Thai government has protested claiming that the site is in fact in Thailand.
The film takes into account the people whose lives have been most affected by the dispute, the people who live on the boundaries, people who have suffered because of the conflict. The director's intention he has said was to give the faceless and silent a voice, as those who have suffered most are the ones who the media has not focused on, instead often writing stories with the purpose of whipping-up nationalistic fervour. However, the censorship office has said some of the film's claims by these previously faceless are 'harmful to society.'
In response Nontawat was reported as saying, "I made this movie to create the space for people living near the border to speak their mind. Now I have to work harder not only to let people know about the border issue, but also about freedom of expression."
He joins a list of Thai artists and filmmakers whose films have been banned or censored. Cannes Palme d'Or winner Joei Apichatpong, interviewed here in Citylife, has been outspoken on the issue of censorship for years. He told Citylife in the interview how appalled he was when his film 'Syndromes and a Century' was heavily censored, or entirely blacked-out in parts, because a doctor was seen drinking alcohol, or a young man was seen to be sexually aroused. Joei told Citylife, "They think the scenes will disrupt social stability, that political films will polarise people. But when they talk about disrupting national security anything can be lumped in to that." Joei and other filmmakers in opposition to censorship started the 'Free Thai Cinema' movement, but it seems the censors are still loathe to permit any kind of realism in cinema or give voice to the oppressed.
The 2011 film, Insect in the Backyard, was banned outright because it discussed homosexuality and apparently was detrimental to "public morality", and the political 2012 film 'Shakespeare Must Die' was also banned because the censorship potentates believed people should not be exposed to a fiction that they believed "has content that causes divisiveness among the people of the nation." It was said that the film, an adaptation of Macbeth, metaphorically outlined issues of monarchy and the last decade's Thaksin-centric politics.