Nimman Social Cafe and Bar at ALEXA Hostel
As one of Nimman's newest hostels, Alexa wanted to make an impact. Though still establishing itself as a hostel, workspace, cafe and bar, the modern, casual and social style of the open-aired venue seems to be making a hit with travellers, nomads and locals alike. Apart from the hostel itself, which is sleek and sophisticated, with a range of bunk dorms, single story dorms and private rooms that share toilets and showers at cheap and cheerful prices, the hostel's very own bar and working space, nicknamed Nimman Social, seems to be taking off.
Sit back on the veranda and watch people pass you by while you chillax to music and get some work done. Take a break and go shoot some goals at the table football with a new friend, or sit back and enjoy an ice cold draught beer as the sun sets behind the Nimman skyline.
We recently featured the Black Naranja – an espresso concoction that uses fruit syrup ice cubes and orange punch – in Spoon&Fork and we still stand by it as one of our favourite non-alcoholic menu items. The café bar also does food, with many one dish delights and finger-licking appetisers that help fill that hole in your tummy any time of the day. If you visit on a Thursday or Friday, then expect to enjoy the beautiful sounds of Anna and her live band who play between 8.30 and midnight.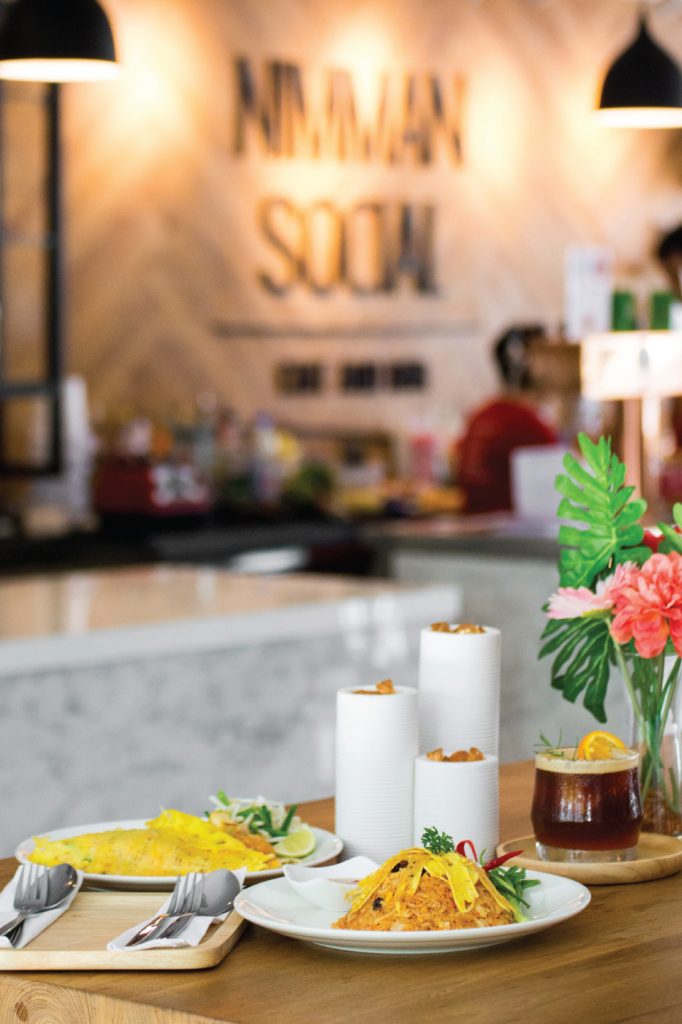 Café and Restaurant open daily 7pm – midnight
2/8 Soi 3 Nimmanhaemin Road
Facebook: alexahostel
Facebook: nimmansocial
Location
2/8 Soi 3 Nimmanhaemin Road
Category
Clubs and Societies, Hostel
Venue Type
Cafe
Cuisine
Bakery
Activity Type
General
Hotel Type
Hostels
Opening Times
7pm – midnight