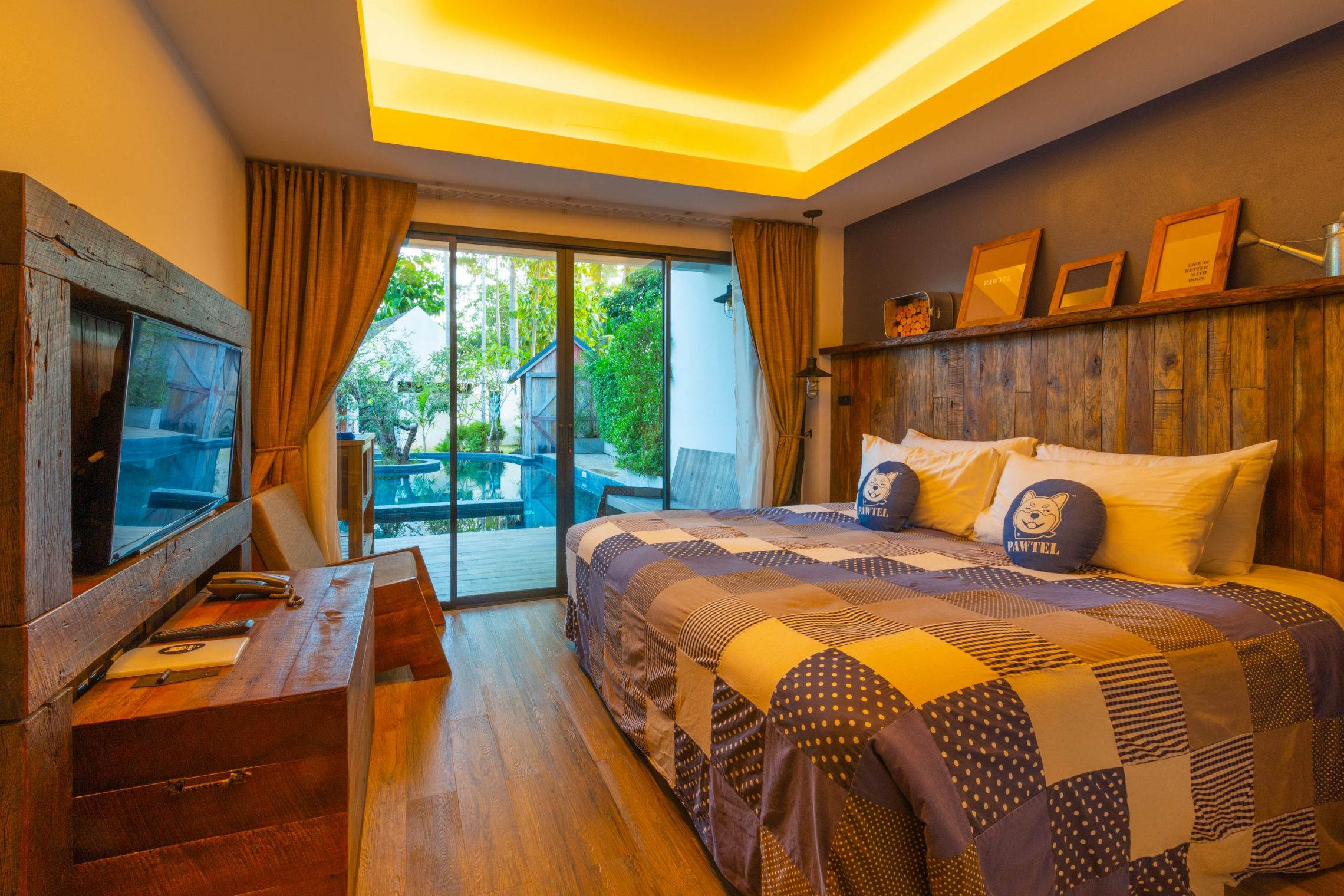 This minimalist country barn cafe is set in PAWTEL which is a hotel for dog lovers in the midst of the beautiful natural scenery of Mae Rim, near Prem Tinsulanonda International School.
Bring your beloved dog, after all, we dog lovers know that our furry friends aren't always welcome everywhere. So it is a real treat to find somewhere they are.
The café has a zone separating those for dogs and their people and the general public. The menu is generous, with a great selection of food and beverages and this café has become popular with people who like to sit and relax over a cup of coffee or a lunch while their dogs frolic in the swimming pool with their poochy mates.
Popular with residents of Mae Rim, passing cyclists and of course dog lovers, this is a casual and fun café designed to meet the needs of humans and dogs.
The highlight of the menu is the curry dish created by  'P'Son' the main chef, a true southern-style curry with homemade chilli paste. And the various pizzas and pastas are also super popular, as is the home made cheesecake. The coffee beans are local, and the café serves up strong Espresso Affogato Americano Mocha and various coffee offerings, both hot and cold. For those who do not drink coffee, there are many other options such as Thai tea, peach tea, green tea, smoothies, cocoa, Italian soda etc. In addition, there is a promotion for those who are eco-friendly, so bring your own glass (less than 16 ounces and size) get 5 baht discount. For anyone who likes ice cream, there are many flavours to try.
Following their success, they are now also offering catering services, whether it is a romantic, private dinner a deux under the stars, or a party for a large group of friends, the folks at Pawtel can handle it!
Address: 341 M. 2, Tambon Huay Sai, Amphue Mae Rim, Chiang Mai 50180
Open: 10a.m. – 7:30p.m. Closed every Monday
Tel: 053-044605
Facebook: Pawtel Chaing mai
Website: www.pawtelchiangmai.com
Location
341 M. 2, Tambon Huay Sai, Amphue Mae Rim, Chiang Mai 50180
Category
Boutique
Hotel Type
Boutique Hotels
Opening Times
24 Hours