CityNews Article Archive:
The Minister of Natural Resources and Environment to get Tough on Crime
August 20, 2012
CityNews – on the 20th August at The Empress Hotel, Chiang Mai, Preecha Rengsomboonsuk, the Minister of Natural Resources and Environment, presided over a seminar on preservation, rejuvenation and reforestation in order to prevent encroachment upon national park lands in the sixteen northern provinces.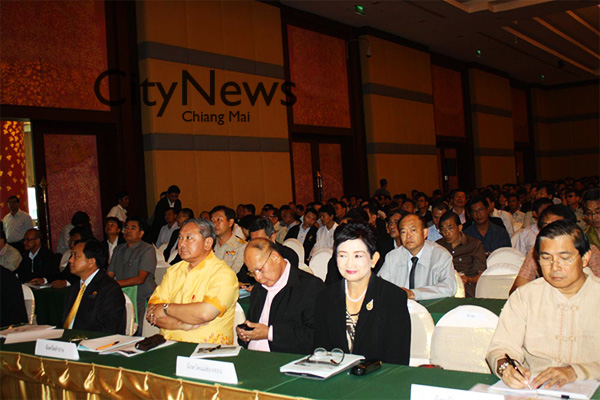 At the seminar
Seminar attendees included governors of various provinces, the commissioner of the fifth region police, the chief of the Muang District police, national park and forestry officials and a total of 2,000 relevant participants.
The minister said that in the past numerous offices were in charge of different areas and levels of responsibility and had very poor communication. This allowed encroachers to take advantage, investors to gain a foothold, villagers to squat causing landsides, flooding and other problems. The current government has therefore announced its intention to start working closer together between departments and the Prime Minister is said to have paid particular attention to this issue. Forestry and National Park officials have been told to work closer with local officials such as head s of villages and local administrative bodies.
However, in the past, it was discovered that it was often the officials themselves who were logging illegally and offering support and protection for investors. From now on officials will be placed in one location for up to 4-5 years, instead of steady rotation, which it is hoped will mean that they can become more dedicated to a job and follow through more. Officials found to act in an illegal capacity will also be fired immediately and prosecuted to the full extent of the law.
? ?
? 20 ? 55 ? ?.? ?.? ? ? ? ? ? ? ? 4 ? ? 16 ?.5 ? ? ? 2,000 ?
?.? ? ? ? ? ? ? ? ? ? ? ? ? ? ? ?.?
? ? ? ? ? ? ? ? 4-5 ? ?