CityNews Article Archive:
Police Seize Illegal Snakes and other Wild Animals in Mae Rim Attractions for Tourists
October 3, 2012
CityNews – Over 150 special operation officers from the Department of National Parks, Wildlife and Plant Conservation, teamed up with police from Mae Rim Police Station on the morning of 3rd October, to investigate four animal tourist attractions located on Samoeng Road, Mae Rim.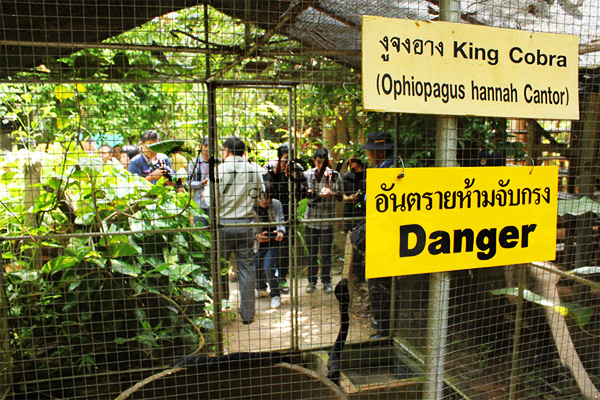 The King Cobra Chiang Mai show, Maw Sa Snake Farm, Mae Rim Snake Farm and the Monkey Centre were all checked for Reserved Animal Permits, in accordance with the Wild Animal Reservation and Protection Act of BE 2535.
'Reserved Wild Animals' refers to rare wild animals appearing on the list attached to this Act, and those declared to be rare by Royal Decree.
The King Cobra Chiang Mai Show was targeted first, and after inspection officers seized two King Cobras and eight other snakes, which the owner claimed to have bought from local villagers who had caught the snakes in the jungle. Kamolthip Thamlee, 43, admitted to not having a licence for the animals.
Two reticulated pythons and two types of reserved birds were seized from Mae Sa Snake farm where over 150 snakes of 20 different breeds are kept, along with Indian and Thai Peacocks amongst other birds, and 34 reserved animals were discovered at Mae Rim snake farm. Although owner Nittaya Kaewjan (60) claimed she had registered the reserved animals, she was unable to provide any evidence and the animals were seized by officers.
Finally at the Monkey Centre, owner Sudarat Downer, claimed she had registered for the permit in 2003 for all types of monkeys and snakes. However after investigating, officers found that there were still some animals that had not been registered at the centre.
Jongklai Worapongsathorn, the director of Wildlife Conservation Chiang Mai Office, maintained that those who illegally owned reserved animals without permission will be sentenced to either four years imprisonment or a 40,000 baht fine.
Snakes seized from the farms included king cobras, boa constrictors and pythons, along with other animals such as pig-tailed macaques and pheasants. Non-poisonous animals seized will be sent to the animal development centre in the Om Koi district and poisonous animals will be sent to the Queen Saovabha Memorial Institute.
CityNews – เจ้าหน้าที่ปฏิบัติการพิเศษกว่า 150 คนจากกรมอุทยานแห่งชาติสัตว์ป่าและพันธุ์พืชร่วมมือกับตำรวจจากสถานีตำรวจแม่ริมเมื่อเช้าวันที่ 3 ตุลาคมเพื่อสำรวจสถานที่ท่องเที่ยวสัตว์สี่แห่งที่ตั้งอยู่บนถนนสะเมิงแม่ริม
การแสดงของราชางูเห่าเชียงใหม่, ฟาร์มงูมอสะ, ฟาร์มงูแม่ริมและศูนย์ลิงได้รับการตรวจสอบใบอนุญาตสัตว์ที่สงวนไว้ทั้งหมดตามพระราชบัญญัติสงวนและคุ้มครองสัตว์ป่า พ.ศ. 2535
'สัตว์ป่าสงวน' หมายถึงสัตว์ป่าหายากที่ปรากฏในรายการที่แนบมากับพระราชบัญญัตินี้และสัตว์ที่ถูกประกาศให้เป็นพระราชกฤษฎีกาหายาก
การแสดงของคิงคอบร้าเชียงใหม่นั้นมีเป้าหมายเป็นอันดับแรกและหลังจากเจ้าหน้าที่ตรวจสอบได้จับงูจงอางสองตัวและงูอีกแปดตัวซึ่งเจ้าของอ้างว่าซื้อจากชาวบ้านในท้องถิ่นที่จับงูในป่า กมลทิพย์ธรรมลีอายุ 43 ปียอมรับว่าไม่มีใบอนุญาตสำหรับสัตว์
งูหลามสองตัวและนกสงวนสองชนิดถูกจับจากฟาร์มงูแม่สาที่เก็บงูกว่า 150 สายพันธุ์ 20 สายพันธุ์พร้อมกับนกยูงอินเดียและไทยท่ามกลางฝูงนกอื่น ๆ และพบสัตว์สงวน 34 ชนิดที่ฟาร์มงูแม่ริม แม้ว่าเจ้าของนิตยาแก้วจันทร์ (60) อ้างว่าเธอได้ลงทะเบียนสัตว์สงวนแล้ว แต่เธอก็ไม่สามารถแสดงหลักฐานใด ๆ ได้และสัตว์ก็ถูกเจ้าหน้าที่จับ
ในที่สุดที่ Monkey Centre เจ้าของ Sudarat Downer อ้างว่าเธอได้ลงทะเบียนขออนุญาตในปี 2003 สำหรับลิงและงูทุกประเภท อย่างไรก็ตามหลังจากการสืบสวนเจ้าหน้าที่พบว่ามีสัตว์บางตัวที่ยังไม่ได้ลงทะเบียนที่ศูนย์
Jongklai Worapongsathorn ผู้อำนวยการสำนักงานอนุรักษ์สัตว์ป่าเชียงใหม่ยืนยันว่าผู้ที่เป็นเจ้าของสัตว์ป่าสงวนโดยไม่ได้รับอนุญาตจะต้องถูกตัดสินจำคุกทั้งสี่ปีหรือปรับ 40,000 บาท
งูที่ยึดมาจากฟาร์มประกอบด้วยงูจงอางงูเหลือมงูเหลือมงูเหลือมงูเหลือมและสัตว์อื่น ๆ เช่นลิงแสมและไก่ฟ้า สัตว์ปลอดสารพิษที่ถูกยึดจะถูกส่งไปยังศูนย์พัฒนาสัตว์ในอำเภออมก๋อยและสัตว์ที่เป็นพิษจะถูกส่งไปยังสถาบันที่ระลึกของสมเด็จพระนางเจ้าพระบรมราชินีนาถ