CityNews Article Archive:
Police, Central Prison, and Civil Court Get on Skype
March 30, 2012
CityNews – In an effort to improve communications between the three departments as well as save time and money, the police, central prison and civil court have signed an MOU agreeing to start using advanced technology, especially Skype.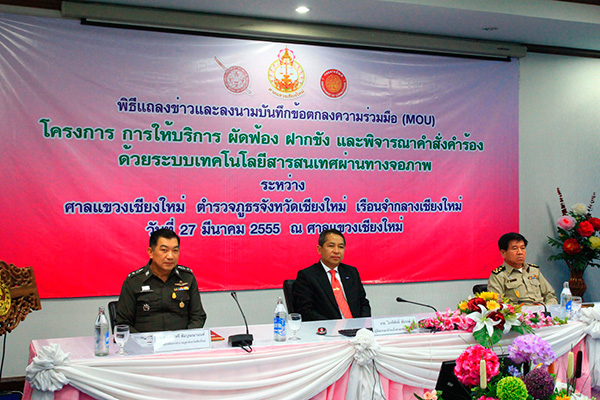 Keitisak Chaiwong, the Chief judge of the Chiang Mai civil court, along with Montri Sumboonanon, the deputy police commander of Chiang Mai, and Piroon Norkeaw the Chief of Chiang Mai Central Prison, arranged a press conference and signed an MOU together at the 5th floor of Chiang Mai Civil Court at 9 a.m., 27th March 2012.
Files including image files will be sent via the internet when passing on suspects or inmates from organisation to organisation and the information will be collected into a database which will help aid transparency between departments, allow tracking and record keeping as well as save man hours and money.