CityNews Article Archive:
Local Chiang Mai Foundation for Disabled Persons says they Continue to be Harassed by Neighbours – UPDATE
February 11, 2013
Foundation Gets Told to Move out to the Hills – Sub-District Office Denies Conflict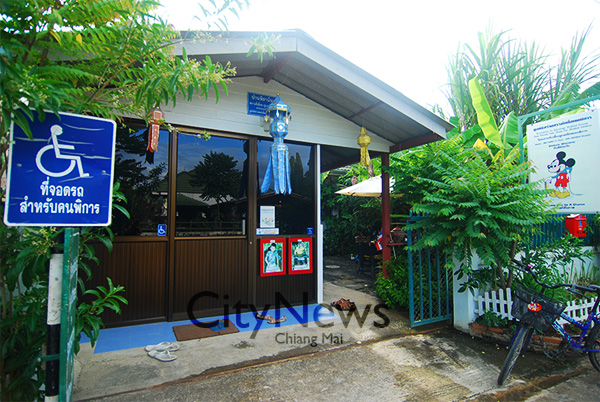 Shortly after we published the story below Donald Willcox, along with three members of his team at the Foundation, attended a meeting at the sub-district headquarters upon request.
Willcox informed CityNews that, "The tambol (sub-district) has its own local laws regarding businesses operating in residential moo baan, and they insist that these laws apply to us. We have been ordered to remove any workshop equipment that has wheels and in our case that includes our air compressor which we use to fill the tyres on wheelchairs, and our bending machine which we use to bend push rims."
The latter being a machine that Willcox says he and his team haven't even used for over a year.
He explained that today, Monday February 11th, a team from the tambol office will inspect the workshop to "make sure we have complied" to regulations.
Although, Willcox continued, "other welding businesses and homeowners who have air compressors for painting, car washing, and for tyre filling are not being asked to remove their wheeled machines." He added that there are other businesses, including a water delivery person, who use wheeled carts in spite of the regulations imposed on his foundation.
Willcox went on to say that the tambol has accused his foundation of being a business. "It's not a business," said Wilcox, who was on the phone from Mae Suai delivering 17 wheelchairs, "we don't sell anything."
He also explained the lack of compassion of officials at the local tambol office saying that they told him that the solution to this problem would be for "the government to select an unused mountain top and gather all disabled persons together and ship them off to this mountain top where they can live removed from society and free of harassment."
When CityNews spoke to Udom Inkam, the head of the sub-district, he responded by saying that, "This problem has been going on for a few years. Our office has received complaints from the neighbours of the foundation. They told us that they had little kids to take care of, and the noise from cutting steel and the smell from spraying wheels was not good for the children."
Inkam said he thought that the neghbours and the foundation had already come to an agreement, whereby the foundation would cut and spray somewhere else but fix the chairs in the same place. He also said that the sub-district office had absolutely no problem with the foundation, and that they only responded to complaints.
Willcox told CityNews, however, that, "There are literally dozens of small moo baan in our district where perhaps hundreds of homes have wheeled equipment that is used every day, but they are not being harassed.So much for the constitution of Thailand and its non-discrimination clause guaranteeing the rights of the disabled."
CityNews – Donald Willcox, Founder and President of the Foundation To Encourage The Potential Of Disabled Persons and Freedom Wheelchairs, says that some of his neighbours continue to complain that the presence of disabled persons creates a negative impact on the community.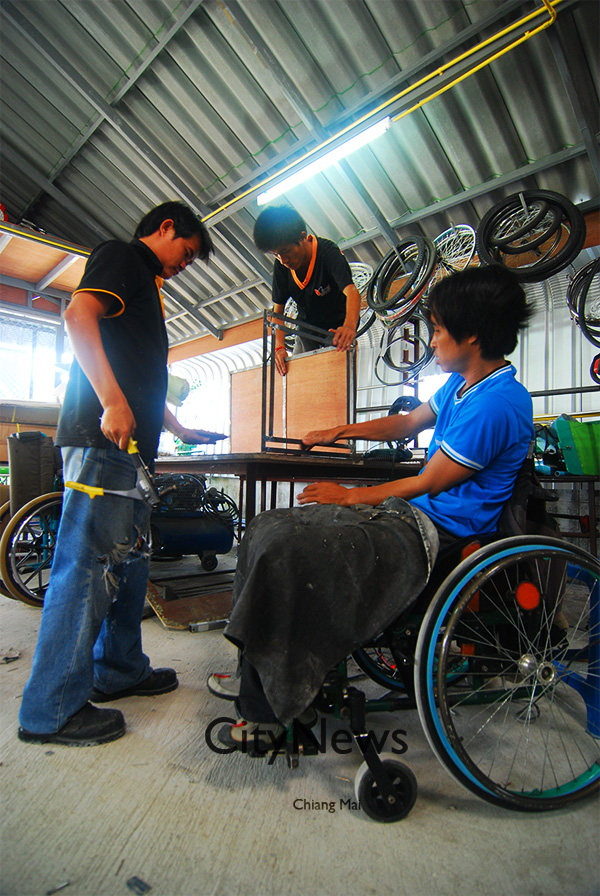 Working at the foundation
Moreover, Wilcox told CityNews, they also register official complaints about a disabled presence in their small house in a rural moo baan located in Amphur Doi Saket.
"Obviously their goal is to shut us down or force us to move in spite of a Thai law that defines disabled discrimination as a crime punishable by fine or imprisonment" says Willcox.
Willcox told Citylife in an article in September 2011 how residents living in the same Moo Ban as his foundation confronted him saying that they didn't want to see disabled persons within their moo baan because they made the area look bad and caused a negative impact on property values.
These individuals "aggressively dislike the presence of disabled persons," Willcox said, "even though many of our free services directly benefit the whole community and the Thai government itself".
He added that "Just since December 5th, we have donated more than 300 free wheelchairs to Thai disabled persons, most of which were presented at distribution events sponsored by government officials. Locally and regionally we are also providing free reading glasses by the thousands of pairs and only last Saturday provided 159 people in Moo 7 Amphur Doi Saket with glasses and a further 250 more to be additionally served during the month of February in Tambol Mae Kue. On and on it goes year after year….now more than 3,400 free wheelchairs donated to people the government had ignored."
Yet, Willcox explained that letters of complaint are repeatedly being written to the Doi Saket district office to harass them into moving out of the moo baan.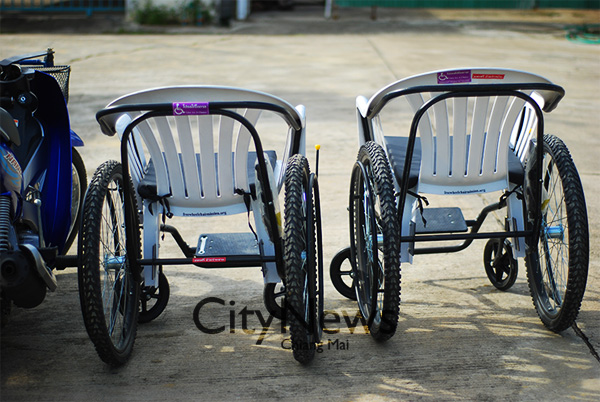 A pair of finished wheelchairs designed and built at the foundation
"In the past 90 days we have turned on our welding machine only twice, once to weld 4 shelves to a storage unit to store reading glasses which were donated back to the community. For 88 of those 90 days we not only completely stopped welding in the moo baan but also moved most of our welding outside the residential moo Baan area (in an effort to extend cooperation and friendship)," Willcox says, but the complaints continue.
He explained that there are three welders located in this small moo baan, one of which is a major business but the foundation's very minimal welding is the only one generating complaints.
"Moo baan massive karaoke speakers can blare until 2 a.m.," he said, while "neighborhood drinking parties can go on all night, and others can weld without complaint, but if a disabled person turns on a welder twice in 90 days, Amphur Doi Sakhet receives written complaints and we are required to respond whereas the complainer is not required to do anything other than continue complaining. To answer a complaint requires all our staff and management to attend a several hour tambol meeting while the person who complains only feels empowered by a convoluted system where he or she can sit as a VIP watching us defend ourselves."
He now aims to start a letter writing campaign addressed to the head official of Amphur Doi Sakhet asking that "disabled persons employed by our foundation be treated with respect as provided by Thai law and by International Law which Thailand has joined as signatory."
"Perhaps if enough letters arrive," he says, "the amphur will begin to understand that it is counter-productive to impose a defensive posture for a foundation that has already provided countless free services to the disenfranchised disabled persons of Amphur Doi Saket."
He invites your letters of support addressed to Nyeyoke Amphur Doi Saket, Chiang Mai, Thailand – or email: samaik22b@gmail.com
Amphur means district
Tambol means sub-district