CityNews Article Archive:
Chiang Mai's Expat Football Team Come Close in Bangkok Tournament
April 20, 2012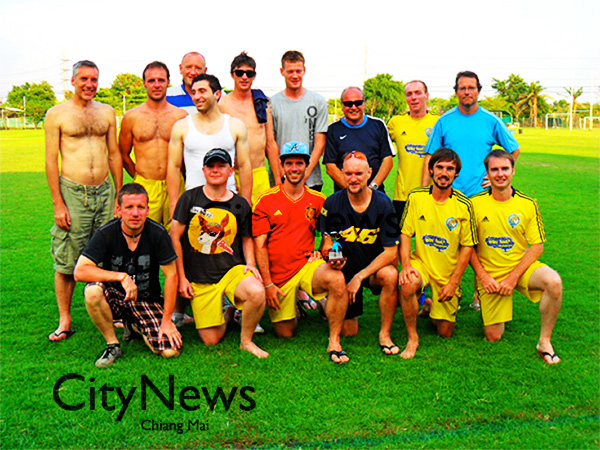 CityNews – The Farangutans, Chiang Mai's first and only expat football team, went down to Bangkok in April to play in the German All Stars S.E. Asia football tournament. Around 40 teams from Asia and beyond play in three categories: main, senior, masters. Chiang Mai had one team in the main and one in the seniors.
The two day tournament was far from easy as the Farangutans played without substitutes in the intense heat and had to mix up the teams on both days due to injuries. They also had the eventual winners, Singapore Olympique Gaulois, in their group on the first day– who they drew against 0-0 – as well as the runners up – who they lost against 0-1. The Farangutans did however win the Plate Competition, (1.Cup, 2.Plate, 3.Bowl). The seniors also did well and came in third place in the senior league that consisted of 9 teams.
The Farangutans was established in 2002 by local journalists, teachers and NGO workers, most of whom spent much of their time with their sponsors, The UN Irish PUB. Their first games were mostly played against a Burmese Shan team though the Farangutans soon went from strength to strength and were eventually invited to play in the Chiang Mai senior leagues. In 2004 they won the Chiang Mai Senior Cup with memorable wins, and scuffles, against the Chiang Mai police and Air-force teams. Their team these days features many young players as well as some of the original line-up. They play in Chiang Mai 7 and 11 a-side competitions as well as go on the occasional tour.
www.farangutans@yahoo.com