CityNews Article Archive:
Chiang Mai FC Involved in a Thriller of a Game
August 26, 2012
CityNews – On 25th August, at 700 Stadium Chiang Mai Stadium, 'The Lanna Tigers' Chiang Mai FC played one of their most important matches of the season against 'The Yellow Dragons' Paknampho NSRU FC from Nakornsawan Province.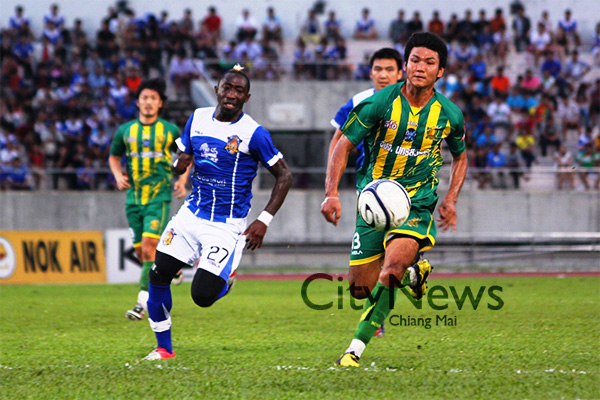 A difficult game for both teams
Paknampho took the lead in the first 5 minutes when their Cameroonian striker, Djiatcheu Jules Brice, seemed to use his hand to score the goal. CMFC's players tried to protest the goal but the referee didn't budge. In the 43rd minute Chiang Mai got the equalizer after Wutthipan crossed the ball from outside the box to Aliou Shek, the Senegalese striker who headed the ball into the net.
Paknampho dominated in the first part of the second half, most of their play coming from Machuca Noguera Anggello, their Paraguayan playmaker who was running at will at the Chiang Mai defenders. Machuca eventually got his goal to make it 1-2 although in the 65th minute the referee sent Machuka off after he left the field to get water during the game. CMFC took advantage and equalised in the 77th minute with a goal from Aliou Shek. The game finished 2-2.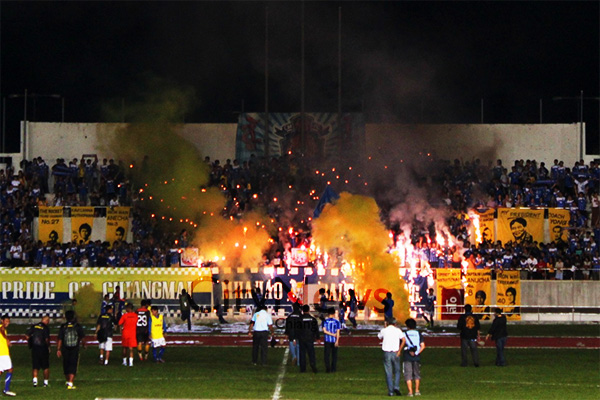 Chiang Mai fans