CityNews Article Archive:
Chiang Mai FC Breeze to Victory against a much Inferior Tak FC
August 13, 2012
CityNews – On 11th August, the 'Lanna Tigers' Chiang Mai FC played in an away game against 'Tiger Soldiers' Tak FC, at the Tak Main Stadium in Tak Province.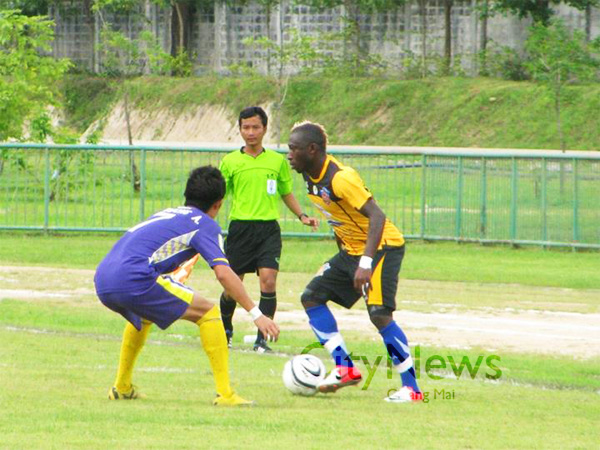 Ousmane Toure, one of the African imports
Before the game started, there had been heavy rain and so the pitch was waterlogged and muddy when the players got on the field, making it difficult to play fluid football.
Nonetheless in the 21st minute Chiang Mai took the lead when Rungrat Phumjantuek scored. In the 36th minute Senegalese Aliou Shek scored again and the half ended 0-2.
In the second half Chiang Mai FC came out storming and were paid for their efforts with a string of goals. Aboubakar, the Ivorian striker hit the target twice, while Ousmane Toure and Anucha Chaiwong also scored. The game finished 0-6.
Chiang Mai FC is still in the league's top position with 62 points from 26 games. The next game will be on Wednesday 15th August against Sukhothai FC at 700 Year Stadium.
Thanks to ? ? for photos
Top 3 Scorers in the League are all from Chiang Mai FC:
Aliou Shek 15 Goals
Anucha Chaiwong 14 Goals
Aboubakar 12 Goals