CityNews Article Archive:
Catching 'The Bug'
May 13, 2012
Welcome to the Golf Blog where I'll be bringing you course reviews, information on where to practice and get lessons, tips and advice, behind the scenes interviews along with golfing anecdotes from Chiang Mai and beyond.
I've been in this fair city for just over a decade and since my arrival all my outdoor pursuits seem to have moved indoors. Tennis, football, cricket and basketball have been replaced by darts, pool, Facebook and the gym. Growing up back in the UK, golf never really showed up on my sporting radar. I just didn't have the patience or attention span for it. My demeanor demanded something more cathartic, something that involved a ball that I could take my aggression out on. Whenever I did feel like venting my anger with a golf club in hand, it was always down at the local driving range with a few mates where we used to hone two very particular golfing techniques. The first was the hook shot over the protective fencing and into the adjoining housing estate. TV antennae served as flag sticks and the roofs were our greens. The second and far more difficult skill, one which no golfing professional would need in his or her repertoire, involved both pinpoint accuracy and split-second timing as the target this time was the collection cart. We could barely place the balls on the tee fast enough, let alone hit them properly, in a rush to be the first to score a 'hit'. So it came as no surprise that with untiled greens and stationary fairways, the handful of times I actually stepped onto a golf course proved rather unrewarding.
Now that I've grown up, almost, it seems that my patience and attention span have grown along with me and so, about eighteen months ago, when two work colleagues of mine suggested a round of golf, it seemed like the perfect time to take on a new challenge in Chiang Mai. A couple of days later, at a painfully early eight o'clock in the morning, we met up at Hang Dong Golf Club.
After paying the green fee, renting clubs, buying balls and stocking up on Gatorade and bananas, we made our way to the first tee where we were soon joined by our caddies. Caddies? This was a big surprise to me as the only caddies I had ever seen before were on television carrying bags for Sir Nick Faldo, Tiger Woods et al. It was also the first of the Thai Rules of Golf I learned: no caddy, no play. It was actually a nice surprise as I didn't fancy lugging a set of clubs around under a relatively mild 32-degree morning sun. Kitted out and caddied up, we were ready to go.
Seeing a crowd of about a dozen fellow golfers also waiting to tee off did nothing to abate the tension I could already feel building in my arms and legs. I teed up and my caddy eagerly handed me a driver which I promptly exchanged for a four iron. Having not hit a golf ball in several years, I figured this a much more sensible and realistic option. As I stood on the first tee with almost thirty pairs of eyes on me, I wondered why on earth I hadn't gone to a driving range the day before. With a very rusty swing of the club, I managed to guide my ball onto the fairway, albeit only about a hundred yards along and with a flight path resembling that of an aging chicken. Several shots and several minutes later we successfully negotiated the first hole and made our way to the next, where I would discover one of the caddy's many talents. A sliced four iron sent my golf ball sailing over the trees and heading towards the third fairway. "FORE!!!!!" screamed all of my group's caddies in unison. They screamed it so loud that even I, the perpetrator, almost ducked for cover. It wasn't a "fore left" or "fore right" that would have given people a vague idea which direction the ball was heading in, but rather an entire course encompassing fore that caused a flock of birds to take flight from an adjoining paddy field. The second hole at Hang Dong is a par five that dog legs around to the right (unfortunately not far right enough for my slice that day) and culminates with a sloping green so evil, it probably contravenes the Geneva Convention. The only flat place on the putting surface is at the bottom of the hole and if you miss your putt, then the next shot you're faced with is often a chip back onto the green. I don't think any of us walked off the second hole that day with anything better than a quintuple bogey.
The following hour passed with hooks, slices, fat shots, thin shots, "FORES!!!", lost balls, missed balls and, on occasion, well-struck shots. We then arrived at the eighth hole – a short par three with an island green and a backdrop so stunning that it even managed to negate any disappointment caused by balls which didn't manage to find their way across the water. After two short walks back and forth over the bridge connecting the green with the mainland and a relatively uneventful ninth and final hole, we had finished. An embarrassing check of the scorecard revealed that I had amassed a score that even Sachin Tendulkar would be proud of, but I could feel myself coming down with 'the bug' and knew I would be back for more punishment, albeit after a few trips to the nearest driving range.
Hang Dong Golf Club facts and figures (all prices in Thai baht):
Number of holes: 9. Opening hours: 6am to 6pm.
Green fee for 9 holes: 200 weekdays, 220 weekends (160 after 3.30pm).
Green fee for 18 holes: 340 weekdays, 360 weekends.
Caddie tip for 9 holes: Up to you, but around 200 is good.
Golf cart: 200 for 9 holes, 350 for 18 holes.
Set of clubs: 200 for 9 holes, 300 for 18 holes.
Bag of golf balls (used): 100.
Telephone: 053 426201
There are snack shops at the first (a good spot to grab a bite if you have to wait to tee off) and fifth tees and there are changing rooms in the clubhouse. There's also a small putting green, but no driving range. Good times to get there are either very early in the morning or around lunchtime, but don't be surprised if you have to wait half an hour to start or get pushed further down the queue by groups going around for a second time. This is probably the best value for money course in Chiang Mai and the fairways are pretty good, but it can often be difficult to find an even spot in the tee boxes. The greens are challenging and aren't too bad considering the cheap green fees. If you're new to golf and want to test yourself on a 'full-length' course, then this is a good place to start.
How to get there (Google Maps search 'Hang Dong Golf Club'):
Hang Dong Golf Club is located on canal road (Route 121), roughly 13 kilometers south of the Suthep Road intersection (Tom Payom market). Head south on the canal road, through the Royal Floral and Samoeng intersections. After the latter, the canal road becomes single lane and you need to continue for three kilometers, past The Masterpiece development on your right, and the golf course is on the left side of the road just after a Nippon Paints shop. It's easy to miss if you drive fast, so keep a look out for the 'Hang Dong Golf Club' sign and large, almost spherical golf ball.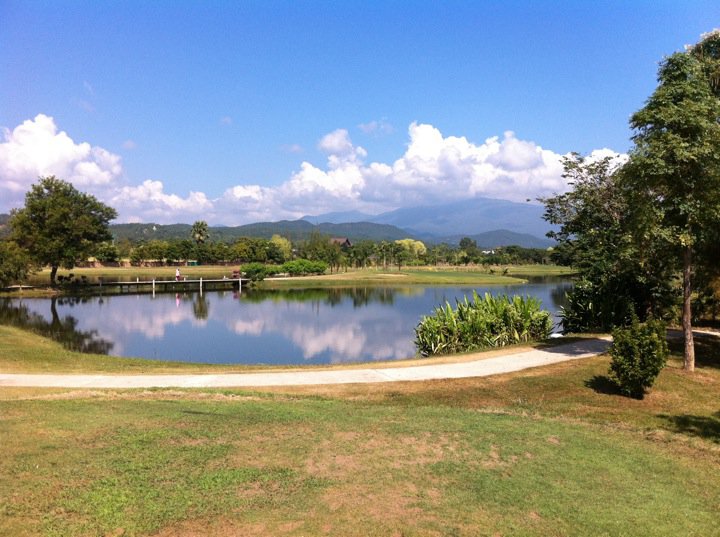 View from the eighth tee at Hang Dong Golf Club