CityNews Article Archive:
Another Death on the Roads in Chiang Mai – how long until things improve?
June 15, 2012
CityNews – On 14th June 2012, a 37-year old man named Naisawut Siwiroj died in a motorcycle accident while driving in the rain near Chiang Mai International Airport.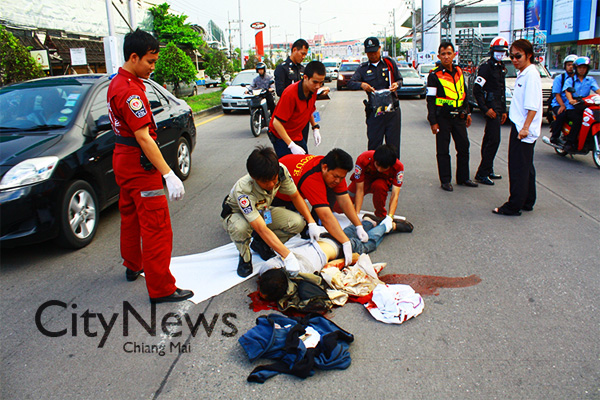 A sad scene, a reminder to us all of the dangers of riding without a helmet
At 6 p.m. on 14th June 2012, Col. Wittaya Wiyayong was notified of a motorcycle accident at the bottom of the bridge towards the intersection near Chiang Mai International Airport on Mahidol Road.
At the scene of the accident, the body of a man in a grey shirt and blue jeans was lying face down in the middle of the road. There were lacerations on his face, and his skull was fractured police said. Lying on the road in the vicinity of his body was a black and white Kawasaki D-Tracker motorbike with a Chiang Mai licence plate. It was later discovered that Naisawut worked at a printing factory and rushed home every day before it got dark and to avoid bad weather.
After an investigation Wiyayong concluded that driving fast under heavy rain caused Naisawut to lose control of the motorbike, prompting the bike to skid, leaving marks 50 metres from where the body was found. Naisawut was thrown off the bike police thought, sending him head first towards the ground. The impact caused immediate death because, police informed the media, Naisawut was not wearing a helmet. Fatal accidents in Thailand could be drastically reduced of riders of motorcycles wore helmets says the Public Health Office, who have released many reports in the past on Thailand's well known dangers facing anyone who takes to the streets on a vehicle.
Car and motorcycle accidents have been pervasive throughout Thailand for some time, with the number of accidents reaching their peak during holidays and festivals that are celebrated across the country. In a recent Guardian story it was reported that "Thailand ranks worst in the world for motorbike casualties".
According to Thailand's Ministry of Public Health, motorcycle accidents kill 27 Thais and injure 438 every day. Of those drivers involved in accidents, 80% were not wearing helmets. In 2005, motorcycle accidents was one of the leading causes of death among Thais with 159,867 severely injured and 9,877 killed. Road and transport accidents were the second major cause of death, with 65% of the road accident deaths involving children.
? ?
? 18.00 ?. ? 14 ? 55 ?.?.?.? ? ? ?. ? ? ? 1 ? ? ? ? ? ?.?.?
? ? ? ? ? ? ? ? 37 ? ? 144 ? 13 ?.? ?.? ?.? ? Kawasaki ? D-Tracker X ? – ? ? ? 572 ? ?
?.?.?.? ? ? ? ? ? ? 50 ? ? ?
? ? ? ? ? ?