CityNews Article Archive:
An End to Drink Driving in Chiang Mai? Police to Bolster Checks all over the City
September 24, 2012
CityNews – Starting from 1st October police have said that drinking driving in Chiang Mai will be vastly reduced due to their new checkpoint initiative. From midnight until 3 a.m. each day there will be alcohol breath-testing points all over the city in an effort to reduce accidents and crime.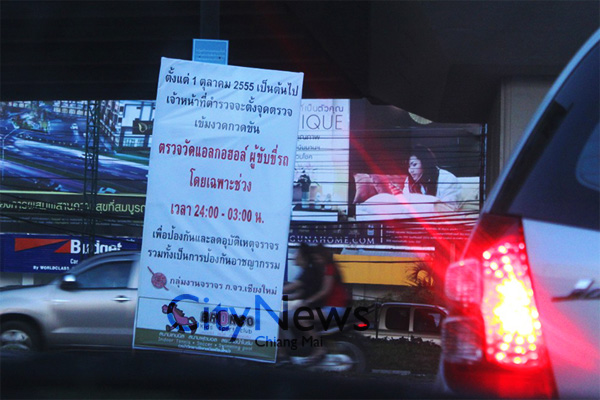 Sign warning about drink-driving
Police will set up the points at various places around the city, though these points will change from day to day. Those who are tested and are found to have an alcohol volume of more than 50 milligrams will be arrested and then sent to the police station to a holding cell unless bail is paid. The person will be sent to court at the earliest date. The court will order you to pay a fine and/or take on some community service.
? ?
? ? ? ? ? 1 ? 55 ? ? ? 24.00 – 03.00 ?. ? ?
? ? 50 ? (mg% ) ? ?