CityNews Article Archive:
A Modest Proposal – Solutions to Pollution
May 24, 2012
CityNews – Various groups concerned with Chiang Mai's environment, particularly the problem of smog each year during the burning season, have done a commendable job in bringing the issue to the public eye and raising awareness of the dangers of pervasive smog.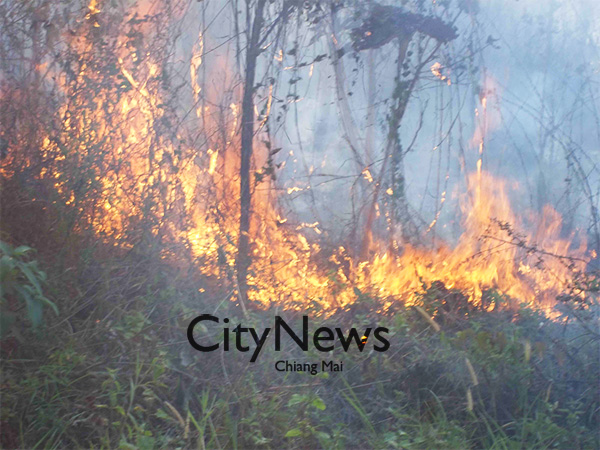 Huey Tung Tao fire front enters riparian zone
Environmental group Our Chiang Mai, along with members of the breathe campaign and Chiang Mai University academics, have come to a number of conclusions as to how to attenuate the annual pollution. The next stage is the implementation of these ideas.
Ricky ward of Our Chiang Mai has recently come up with a plan of action that he is in the process of getting endorsed by local activists and scientists. Ward wrote that "I would like to suggest a timetable for implementation of a nationwide no burning program to the government without delay." Ward hopes once the plan is endorsed Prime Minister Yingluck Shinawatra will be obligated to take note.
The Proposal
1. July 1st: The Prime Minister delivers a special address to the people announcing:
a) The intention to outlaw all burning of forest, government, waste and farming lands from 1st September 2012;
b) Establishment of a commission to provide public information on burning and to oversee a process of consultation;
c) 15th-28th July A national consultation whereby all rural communities identify how a cessation of burning may affect legitimate economic activities and what kinds of assistance may be required to support the local economy;
d) 15th-28th July A national consultation for urban communities which are asked to pair with rural communities to support a transition to end burning;
e) 30th July-18th August the commission collates results of the national consultations with recommendations for government action;
f) 15th-24th November Fire hazard reduction and fire suppression training for all government officers and staff involved in rural travel;
(Note: dates below apply to the north & northeast. Different dates may apply elsewhere)
g) 25th November Provide rudimentary fire suppression equipment for all vehicles used in government rural travel and require all government officers to carry out primary fire suppression when a fire is encountered;
h) 1-8th December To coincide with Father's Day and Thai Environment Week declare this to be fire hazard reduction week to mobilise communities to remove long grass and genuine weeds along roadsides, in forested areas and other places venerable to wild fire.
i) Commencing from 7th January 2013 with most activity during the school holiday period in March & April – The Nationwide Student farming camps whereby secondary and tertiary students assist with crop planting preparation.
More points will need to be added related to proclamation of laws and regulations and for budget provisions.
If you are interested in getting involved with environmental issues in Chiang Mai, or think you may have valuable input concerning environmental issues then you will find relevant information and contact details at www.ourchiangmai.com