CityNews Article Archive:
Gay Boyz À Go-Go
First time gay visitors to Chiang Mai are often not quite sure what to expect. Their pre-conceptions of the commercial gay scene in Thailand will likely have been set by previous visits to the decadent go-go bar scene of Bangkok's Soi Twilight or Pattaya's Boyztown, yet everything else they read about Chiang Mai informs them of an ancient city of culture, temples, natural beauty and a laid back, peaceful lifestyle. So when it comes to the commercial gay scene what will they find here?
Chiang Mai's four male Go-Go bars are best described with the cliché "same same but different". None are real Go-Go bars, but rather host bars with a show and they all have similar types of guy working there. Unlike the bright and colourfully lit street where their bigger Bangkok competitors reside, Chiang Mai's bars seek to maintain a low profile; all are discreetly located in small Soi's in the Chang Puek district.
All Chiang Mai's current bars have each been open for several years and are well operated with reasonable reputations, at least, as reasonable a reputation as a bar selling sexual dreams can have! Pricing is similar: there is no cover charge but a single drink will set you back at least 200 Bt. If you are not alone it pays to order a bottle and mixers rather than pay by the drink.
The hosts are generally dressed in street clothes (Jeans, T-shirt) or shirt and tie style uniforms rather than skimpy underwear. The shows run for an hour or two. Quantity and quality depends on the number of customers and available guys so can vary a lot from night to night. There are no live sex shows though most include unabashed nudity and some simulated sex acts. Shows usually include Lady-Boy cabaret acts: typically sequined frocks and lip syncing to big diva songs.
Clientele is a mixture of Thai and foreigners, mainly men, but you do get some women too, often in groups. Thai's often come in groups, as do ex-pat foreigners and make more of a party night of it, whilst foreign tourists usually come alone to watch the show. Before the show most of the bars are quiet with many customers arriving at the show start time.
Same, Same, but these are differences:Adam's Apple: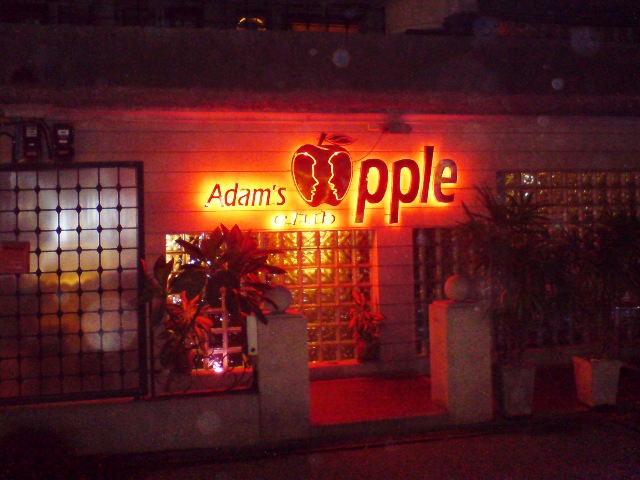 Adam's Apple Club
After major renovations, Chiang Mai's oldest host bar was re-opened a couple of years back by an outgoing American whose personality defines the club. It's smart, with a modern, almost clinically clean environment and atmosphere, state of the art light and sound systems and smooth service. The show includes several cabaret routines, some nude go-go, with one or two boys dancing, and erotic dance sequences with nudity. It's always popular with tourists given its long notorious history and foreigner ownership, but, Thai customers like it too. Recently, it got more risqué with the hosts now dressed only in white underwear.Circle Pub:Chiang Mai's premier club for Thai customers has numerous muscle guys that appeal to both the Thai Gays and Thai ladies who flock there at weekends. Although smart and clean, the décor is rather chintzy, in a Thai way. Professionally run it has a slick show with two performances a night, but the prices are on the high side. It is possibly the least appealing for foreigners unless your taste is muscle guys.Free Guy:"Free guy" is the most laid back club, replacing proficient management with fun and smiles. Their biggest claim is "no Lady-Boys" and the show is all boy next door types, with almost every act being a more or less imaginative scenario for the participants to remove their clothes and demonstrate what they have to offer! The catwalk style stage makes sure no one misses anything, and between acts they have three Go-Go dancers on podiums in sexy underwear.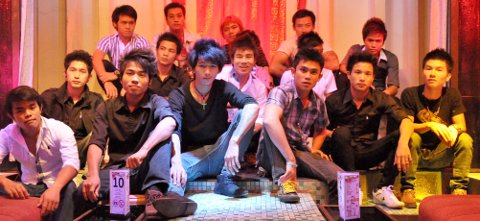 The guys at Free GuyNew My Way:"New My Way" is always a lively place, more recently the type of guy here is getting more like Circle Pub's muscle men. The show is long, from about 10 p.m. to midnight, and has a variety of cabaret, erotic nude acts and dancing. "New My Way" is quite compact which makes it always seem full and adds to a good atmosphere.
For more details and addresses of the above bars visit Radchada Café's Gay guide to Chiang Mai: Host bars