CityNews Article Archive:
A Little Guide to what you might do during Loy Krathong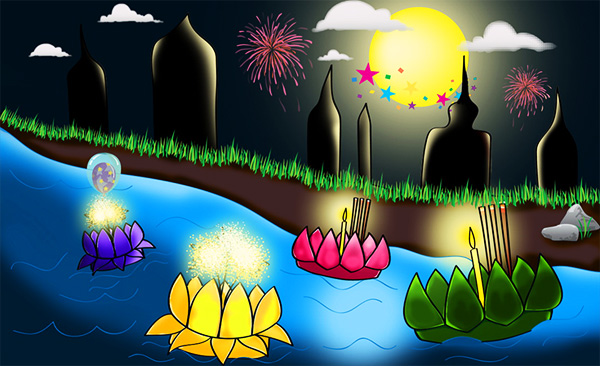 CityNews – Loy Krathong is celebrated during the full moon of the 12th month in the Thai lunar calendar and usually falls in November in the western Gregorian calendar. This year, Loy Krathong 2012, will be celebrated on Wednesday, 28 November. While a popular festival, Loy Krathong is not marked as a public holiday in Thailand, much to the chagrin of us workers. Nonetheless, the city will fill up with out-of-towners, parties will be held, some people will pray, and others will go to hospital with burns to the face they received from being too funky with fireworks. It's a jolly old time, the weather is cooling down, and people are merry on the vapours of festival spirits.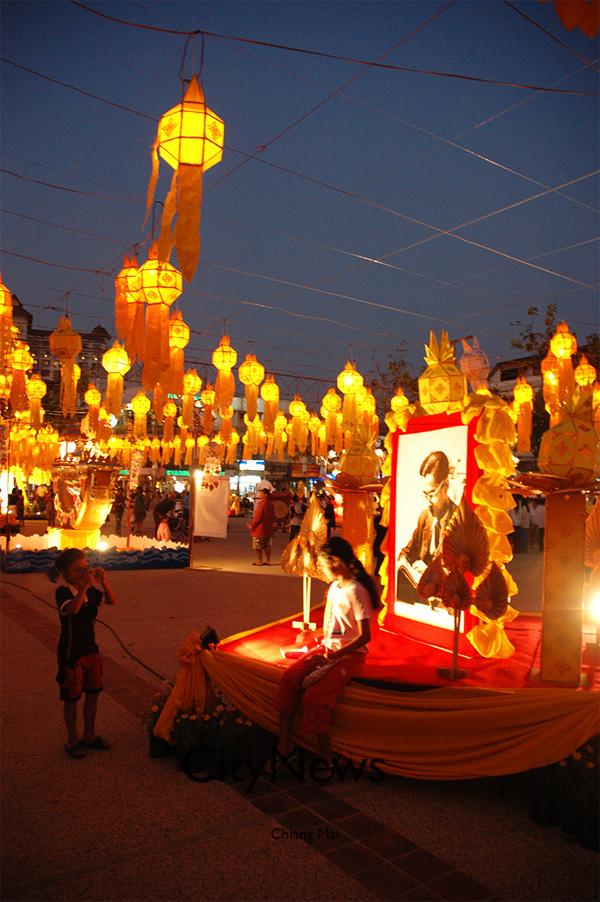 Chiang Mai: The Loy Krathong Festival mostly takes place along the Mae Ping River on the two nights of the full moon. You basically have two choices, one is the more traditional holiday which would mean floating your kratong down the river and perhaps visiting the temple. It's packed down by Narawat bridge and some people question the safety of the fireworks, so be warned. And then you might always just have a nicer meal and a few beers at a restaurant. Here are some things you might do:
Dining
Khum Khuntoke and Plubpla Restaurant (behind Big C Extra) Chiang Mai from 28th – 29th November will be putting on a special Loy Krathong night(s). Call 053 304 121 to book your Khantoke
Mandarin Oriental Dhara Dhevi Chiang Mai will have an 'authentic Thai dinner buffet' for 1,900 baht per person plus a welcome drink. There will also be a Kad Mua, traditional dance, shows, krathongs and lanterns also will be provided. Call 053 888 566 for reservation.
At Le Crystal there will be a four course dinner with a complimentary of glass of sparkling wine, lanterns and homemade floats for 2,000 baht. Call 053 872 890 to make a reservation.
At Rati Lanna Riverside Spa Resort, on 28th November, celebrate Loy Krathong by the Ping River in Lanna Contemporary Atmosphere. Experience cocktails, Lanna Authentic cuisine including Kad Mua, and international BBQ buffet, live bands and Lanna performances. Price is 1,800 baht net per person. Starts 6 p.m. Call 053 999 333 for reservations.
Holiday Inn Chiang Mai celebrate the full moon under the 'Temple Theme Décor' on 28th November with games and Thai classical music. Enjoy the Thai and international cuisine buffet dinner at 1,200 baht net per person with Krathong and three games per ticket. Call 053 275 300 for information.
At Shangri-la Hotel for 600 baht net per person you get an international buffet, a krathong and a lantern, as well as a trip to the riverbank at Silapa Thai Lounge and Bar. Call 053 253 888 for reservation.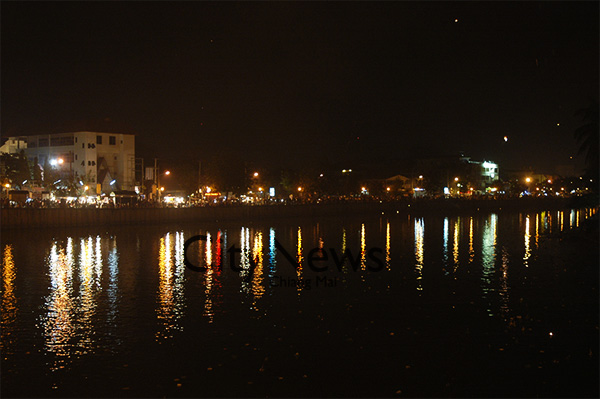 Down by the river
More Romantic?
Riverside Bar and Restaurant are offering a boat trip along the river where you can wine and dine in the water with your lover. It is a 75 minute cruise leaving the pier at 8 p.m. Boat charge is 110 baht for adults and 55 baht for kids aged 5 – 10 years old. Reservations are recommended: 053 243 239.
Go up to Doi Suthep and stop at anyone of the viewpoints to see Chiang Mai at night and the beauty of lanterns in the sky.
Take your lover on a Chiang Mai ride and see all the exhibitions at the Three Kings Monument, Ta Pae Gate, and around the moat.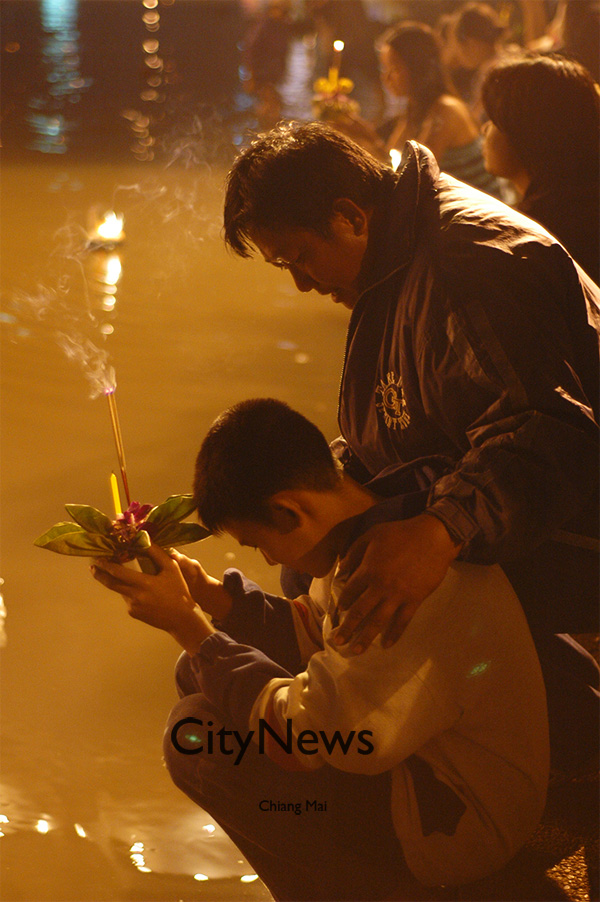 Making a wish
Parties?
Just about every bar or restaurant will be in the festive spirit come Loy Kratong. The bars and pubs below have all advertised a special Loy Kratong night, though it will likely be much of the same…
28th November at: Soho Bar, Chiq Bar, Warm up Café, Infinity, Monkey Club, Spicy, and Zoe in Yellow.
A bit of Culture?
At the Night Bazaar, 21st Yeepeng Lantern Festival on 27th November at 6.30 p.m.
Lamphun Loy Krathong Festival 2012 from 27th – 29th November at Ta Kham Bridge, Muang, Lamphune. Activities include on 27th November, Krathong parade, on 28th November, the opening of Loy Krathong Festival and Kad Mua (local market) and on 29th November, Krathong Yai parade, youth beauty contest, fireworks. For further information, call 053 530 683 or www.loikrathong.net
In Mae Hong Son, from 26th – 28th November, 'Ballroom Dancing Loy Krathong,' Three days and two nights with many activities and tours to places such as Mae Hong Song city, Pai and more. 6,950 baht plus transport service from Chiang Mai. Call 081 250 6460 for further information.
At Tudongkhasathan Lanna, behind Maejo University, on 30th November, experience 'Lanna Traditions' as well as performances and lantern floating at night. Tickets cost $80 USD per person.
At Tudongkhasathan Lanna, behind Maejo University, on 24th November, attend group meditation followed by thousands of lanterns floating into the sky at night.
At Night Bazaar, from 9th – 30th November, Yeepeng Lantern Exhibition
On 27th November, from Ta Pae Gate – Pantip Plaza, Krathong Lek parade at 7 p.m.
From 28th – 29th November, fireworks in front of Chiang Mai Municipality Office at 8 p.m.
On 27th November, see Yeepeng youth beauty contest at Ta Pae Gate.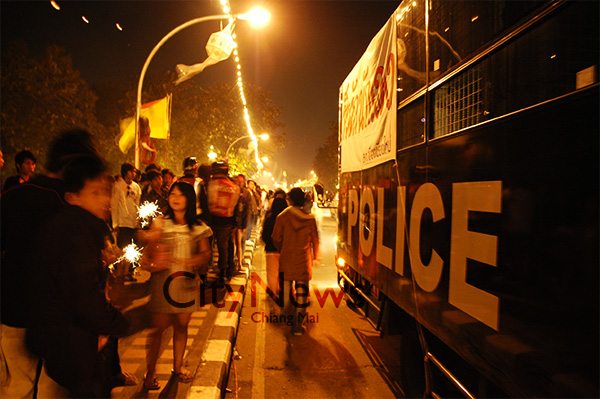 It gets a little crazy down by Narawat bridge
Promotions
At 137 Pillar House, from 27th – 30th November, Loy Krathong package includes round trip to the Chiang Mai International Airport with a limousine, two nights accommodation, fruit basket on arrival, daily breakfast, Kad Mua dinner and entertainment, lanterns on 28th November. The price is 22,700 baht or $760.
At Le Meridien Chiang Rai, discover an enchanting night by the Kok River. Room, breakfast, tickets for two persons and 20% spa discount for 6,750++ baht. To discover, call 053 603 323.
Four Seasons Resort Chiang Mai, two night festival from 29th November – 1st December including breakfast, Loy Krathong Dinner at Terraces, transfer to Chiang Mai to float krathong and then lantern release at Tudongsathan Lanna in Sansai. For further information, call 053 298 181.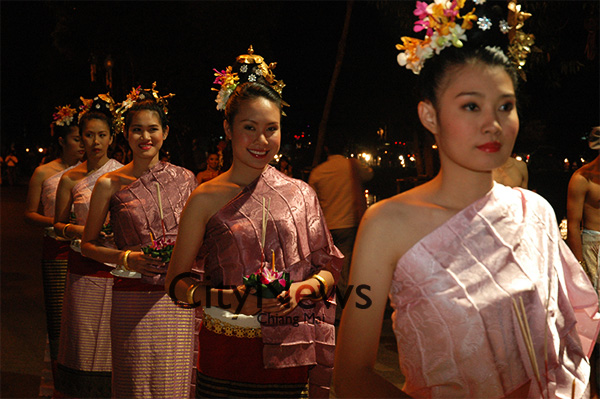 At Holiday Inn Chiang Mai, dinner for two persons and one night accommodation with breakfast on 28th November. Call 053 275 300 for more information.
At Rawee Waree Resort and Spa, Loy Krathong package for 5,555 baht a person including two days and one night accommodation in deluxe resort with breakfast, a krathong, a lantern, 20% discount at Pont Café, 10% discount at Pang Spa, welcome drink and hotel facilities. Visit www.raweewareeresort.com for further information.
At Sheik Istana Hotel, dine with promotion including 799 baht Moroccan set menu, special drinks and floating krathong at the riverside. Call 053 273 142.