CityNews Article Archive:
Where Should I get a Tattoo in Chiang Mai?
December 3, 2013
Tattoos are an art form, and not only are they about the beauty in the design, but they also tell the story of our lives. That's why we need to trust the place or person who does the tattoo. That's not easy if you don't know the area. Well, we know the scene in Chiang Mai, we know the artists, and some of us have tattoos.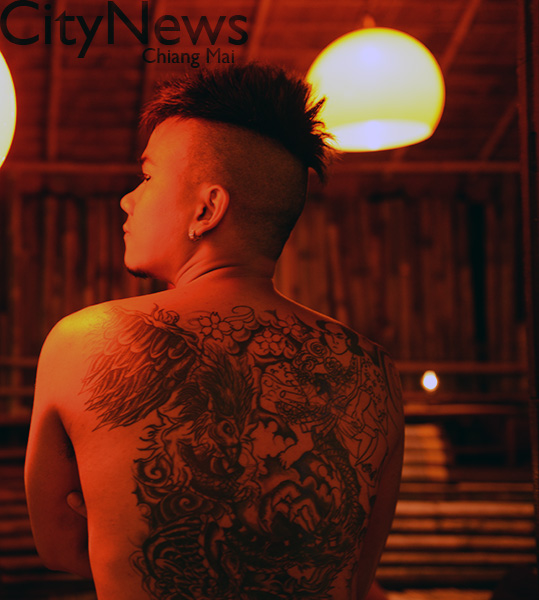 Before you get your tattoo you should search for the place that can do the style you want. If you have an idea, you might want to give examples of your idea to the artist. Remember that each shop will have artists who are good at a certain style. It's no use going to a sushi restaurant for a hot dog. Choose your shop wisely.
You should also make sure that where you go is clean and safe, that needles are sterilised and changed for each client. The artist should wear gloves while tattooing, and use ink for tattoos only.
Tattoos can hurt, but it seems most people are ok with the pain. They don't hurt that much. Don't bother getting drunk before you get the tattoo as being drunk doesn't really make a difference to the pain frequency. It's also thought that being drunk might thin the blood and the tattoo will be negatively effected.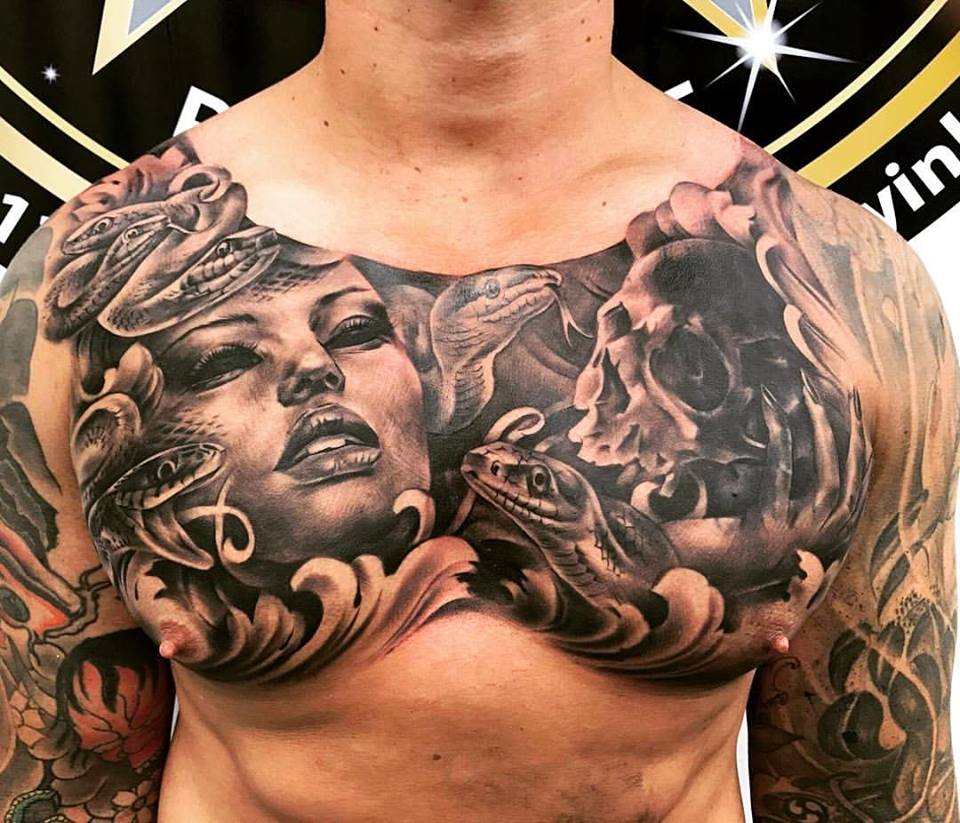 Celebrity Ink Tattoo Chiang Mai
This globally recognised tattoo studio that started in Phuket has now opened their doors in Chiang Mai as of July 2017. Their modern shop is stylish and friendly, with a high degree of cleanliness standards. Sanitising your hands and taking off your shoes is compulsorily, and when it comes down to the work itself, there is no cutting corners. A new needle will be used for every new precision and no needle is re-used. All of their inks are imported from the USA and are authorised under the Professional Tattoo Association of Australia. You can book a free consultation and start working out designs before you have even arrived, and their tattoo artists are second to none.
44/2 Loy Kroh Road, Chiang Mai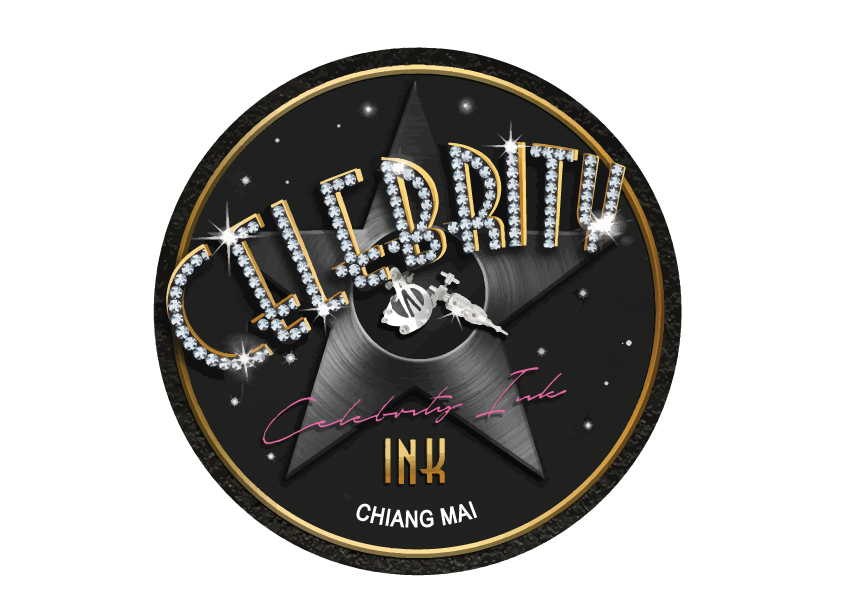 Facebook: Celebrity Ink Tattoo Chiang Mai
Instagram: celebrityinktattoochiangmai
Twitter: @celebrityinkcnx
celebrityinktattoochiangmai.com
Panumart Tattoo
Panumart Tattoo, a family-run tattoo studio has re-opened its doors, this time in the old city. Moving from their old, out of town location, this newly opened tattoo studio has notes of both Thai and western styles throughout, with cleanliness standards and high quality machinery paired with a laid back relaxed Thai style atmosphere. Send a message on their Facebook page or give them a call and share your ideas with the owners and see what you can come up with, in a relaxed environment with no pressure to get anything done if you are still undecided. The inks used include brands such as Electric Ink, Radiant Ink and Eternal Colors, as Panumart Tattoo is dedicated to high quality, vegan inks, service and art. Head artist Ahm is a professionally trained tattoo artist and has a background in art and design – a talented artist who prefers inking up more realistic images, but has the skills and the experience to do anything you may want.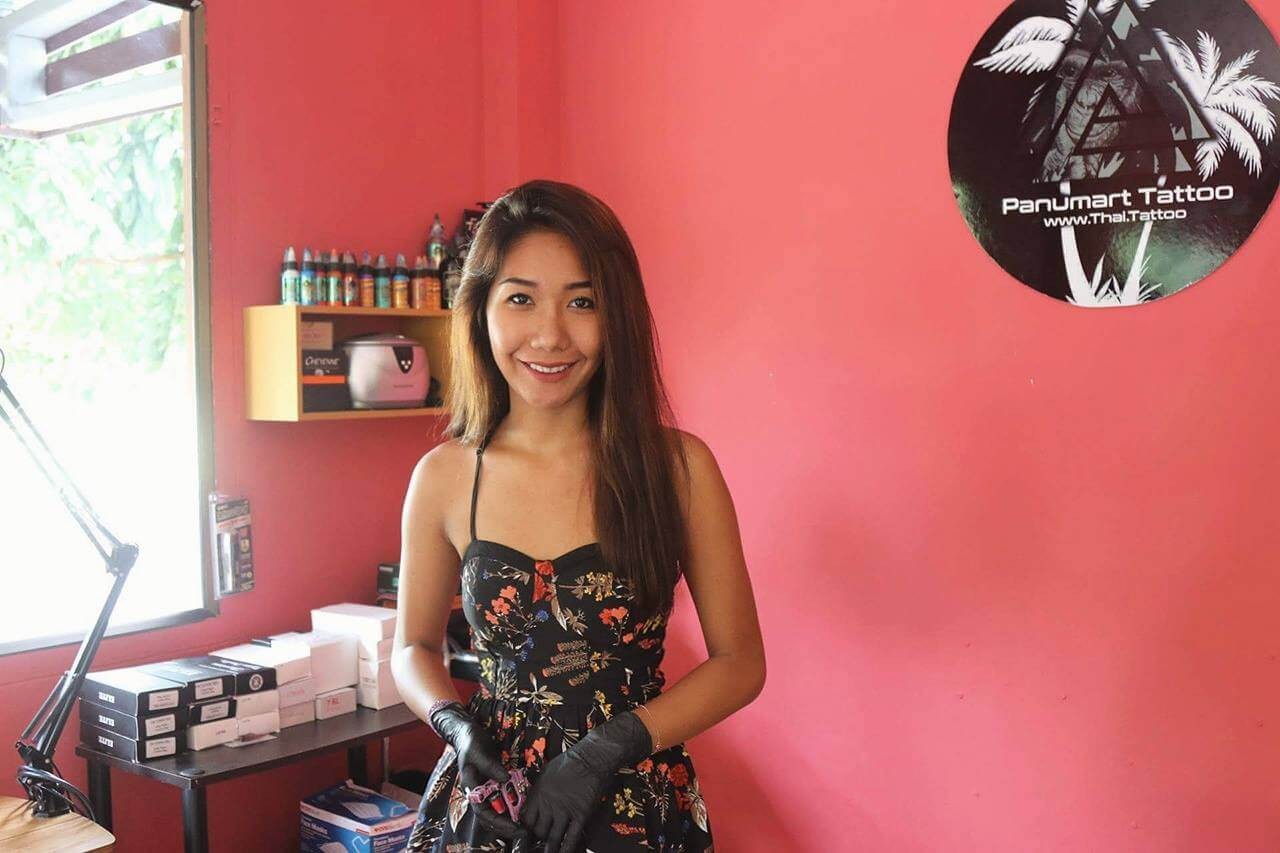 Open 11am – 7pm
77/3 Samlaan rd, Mueang, Chiang Mai 50200
Facebook: Panumart Tattoo – Chiang Mai
IG: Panumart_Tattoo
097 098 4517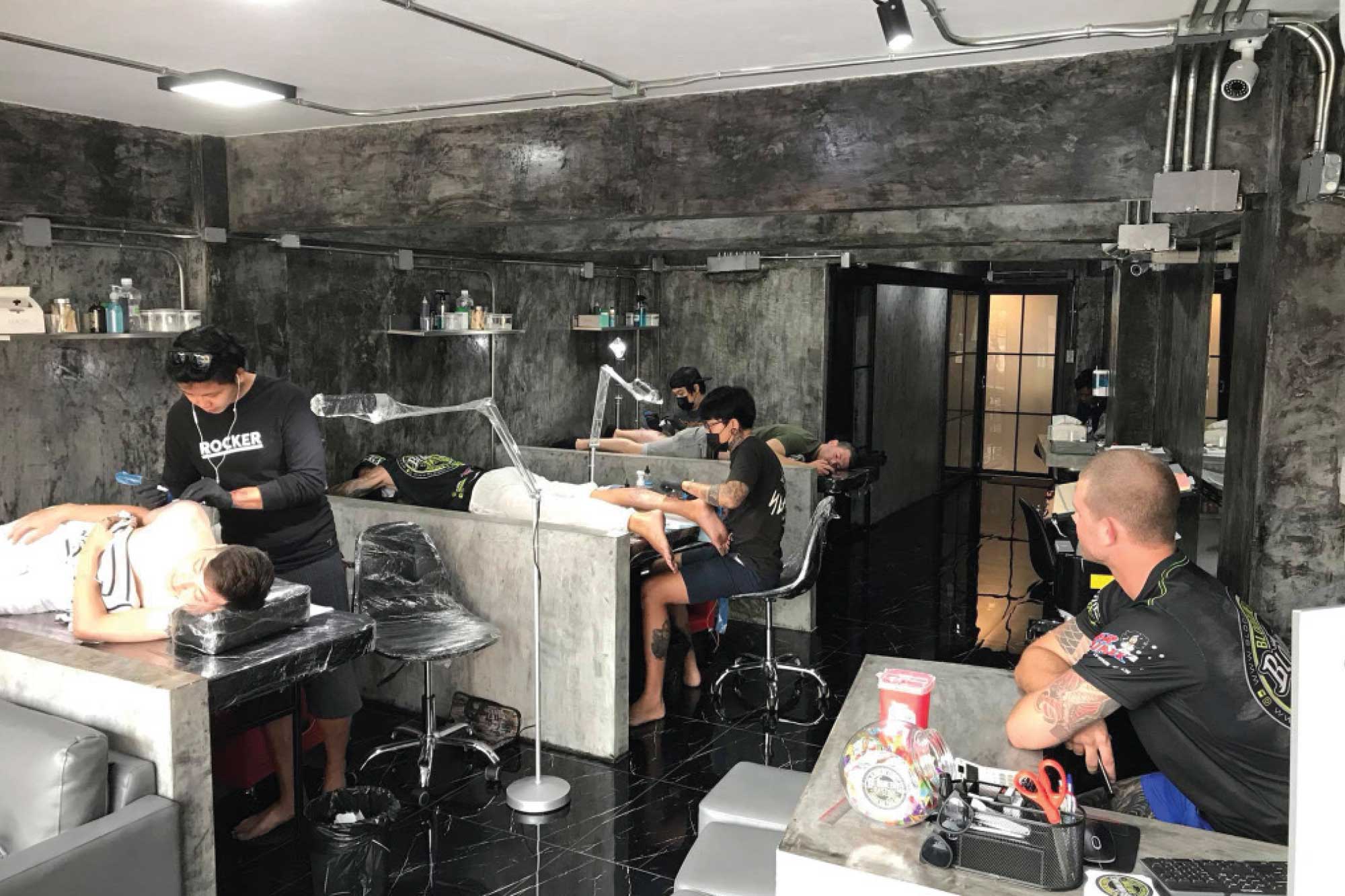 Bloodline Tattoo Chiang Mai
Bloodline Tattoo has brought its first branch to Chiang Mai, following its successes in Phuket. This tattoo brand growing in fame have brought in some of the best Award Winning tattoo artists from Chiang Mai, Thailand and Southeast Asia, easily making them one of the best shops around for tattoos, with the ability to tattoo every style and every design imaginable. The Bloodline Tattoo team recently took 1st for Black & Grey, 1st for big job and 2nd place realistic at the 2018 Chiang Mai Tattoo Convention. The business is run by a warm, and friendly Australian owned team who speak English,Thai and Chinese so communication is never a problem. The staff are known be very personal with each, and every client making sure they have the best experience possible. Bloodline Tattoo uses the best imported inks and disposable tattoo equipment and hold a full tattoo license in Thailand.
Open 11am – 11pm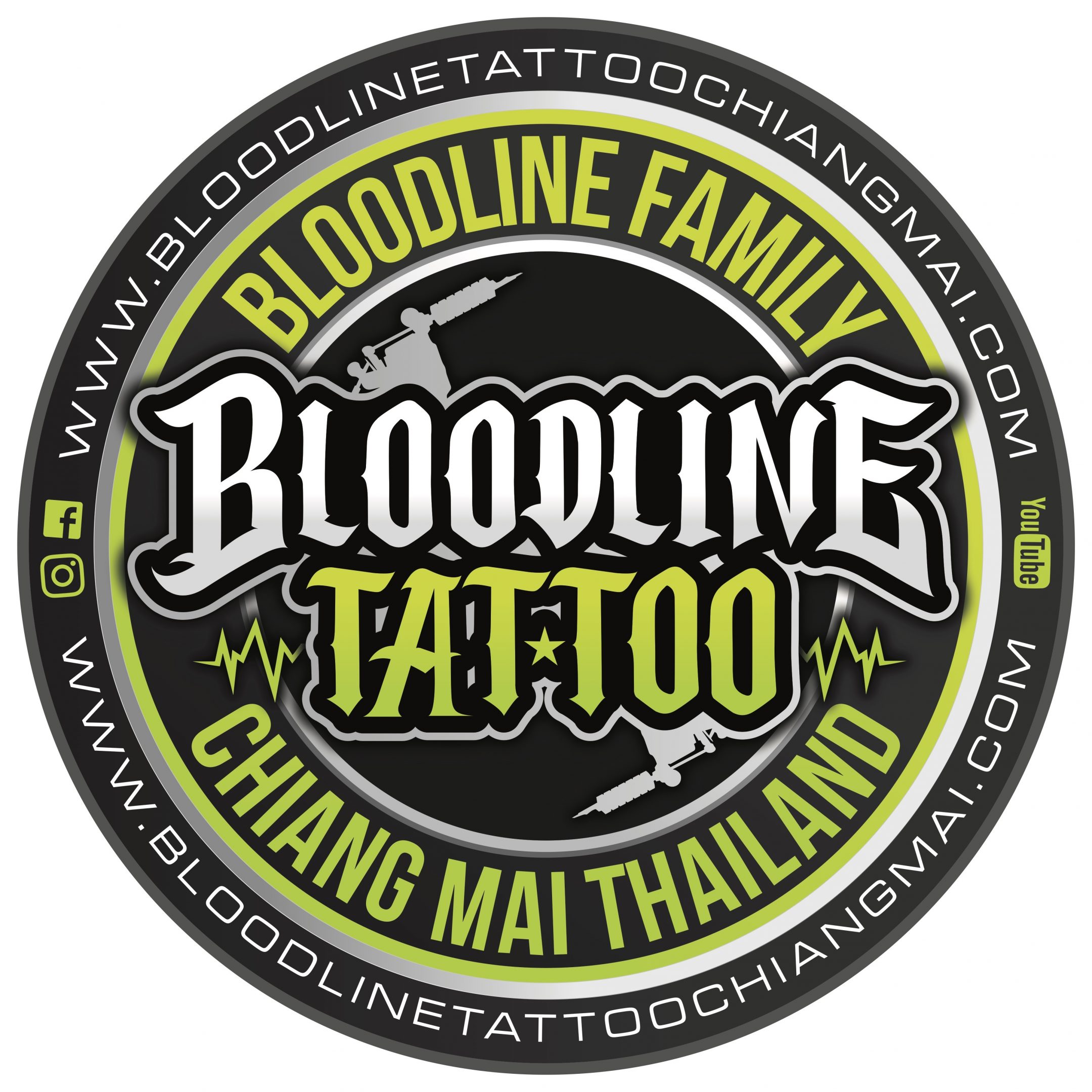 25/4 Loi Kroh Road, Chiang Mai
086 924 4820
Facebook: Bloodline Tattoo Chiang Mai Thailand
Instagram: @bloodlinechiangmai
Email: info@bloodlinetattoochiangmai.com
www.bloodlinetattoochiangmai.com 

Baan Khagee Tattoo
Baan Khagee Tattoo is a charming studio tucked away in the mountainous area of Mae Wang district, Chiang Mai, about 10 minutes from the popular white water rafting destination. The owner, Nate, is an artist who loves nature and the simple lifestyle of the local people in the area. His tattoo design aesthetics reflect in the mixture of abstract, realistic and line drawings of animals and nature.
A unique aspect of Baan Khagee Tattoo is the fact that they offer the children of Pang Ma-O, a small mountainous village of 20 households, a wide variety of activities for the children from English language classes, drawing, gaming, movie watching. Nate says that his passion is to connect what he loves to do, which is tattoo art, with giving back to the local community. Under his "Small Things Matter x Pang Ma-O" project, for each tattoo done by Nate, will mean that he will donate one hour of their time to kid' education.
Tattooing with heart, check them out.
Baan Khagee Tattoo Chiang Mai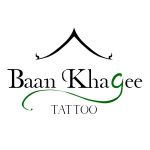 110 Mae Mut, Mae Win, Mae Wang, Chiang Mai 50360 Thailand
Tel: +66 81 043 9228
Website: www.tattoochiangmai.com/
Facebook: Baan Khagee Tattoo
IG: baankhagee.tattoo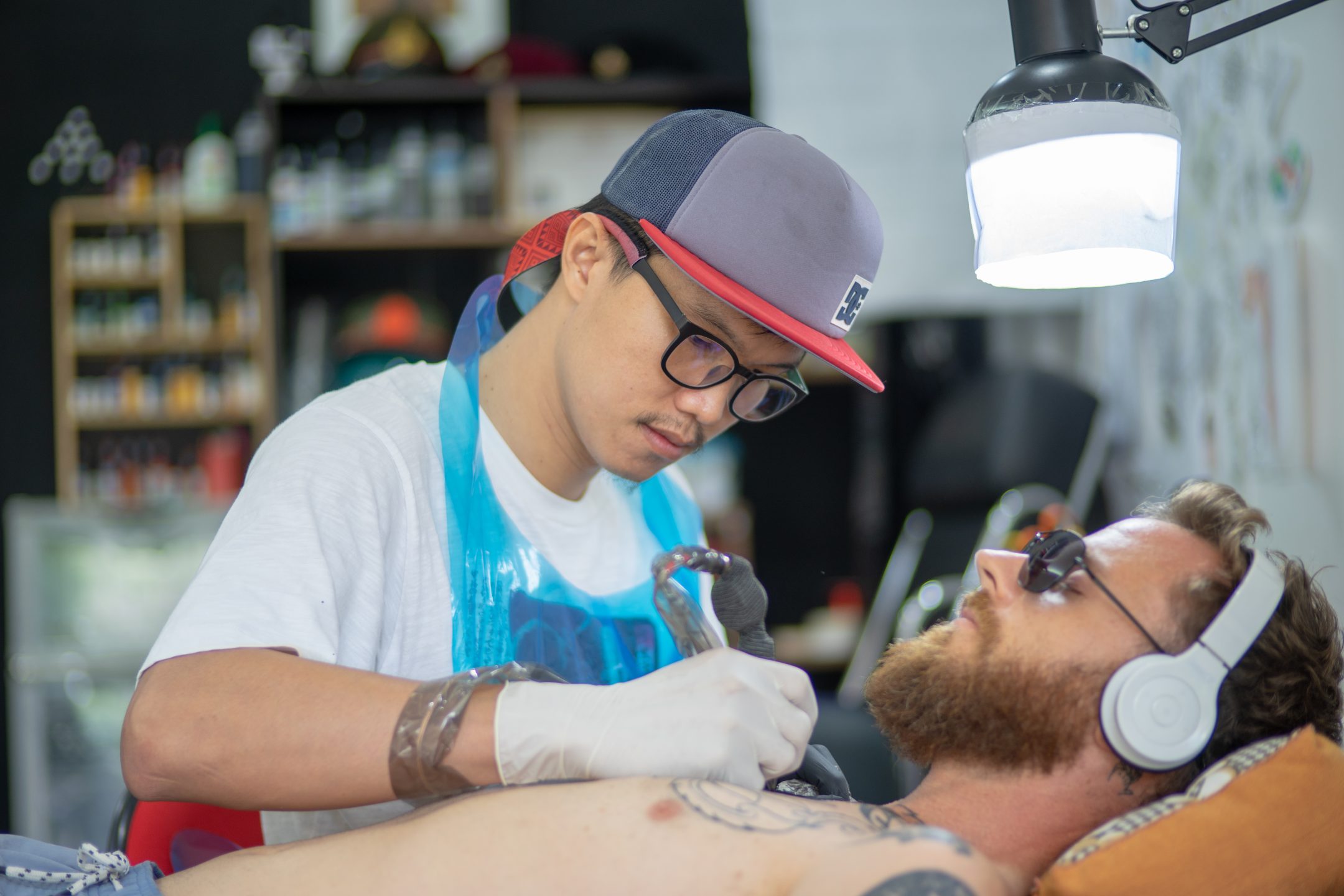 Jub Tattoo Chiang Mai
This funky studio is located at Nakornping Condominium on Ratchaphuek Alley. It is home to tattoo expert "Jub" who, after spending over 7 years mastering his skills as a tattoo artist, is now ready to express his passions through his own studio. While Jub is capable of doing any style that you are looking for, he is especially passionate about geometric design, mandala, line and dot work tattoos. Just check out his Instagram page for inspiration! Jub is serious about customer's well-being too, using only medical grade cleaning kits and the best tattoo equipment available, including single-use kits and US imported vegan friendly ink. Jub Tattoo Chiang Mai is fully certified in both hygiene standards and environmental health. If you are looking for a true artist who treats tattoos as a way of life, check out Jub tattoo Chiang Mai.
Open 11am – 8pm (Closed Sunday)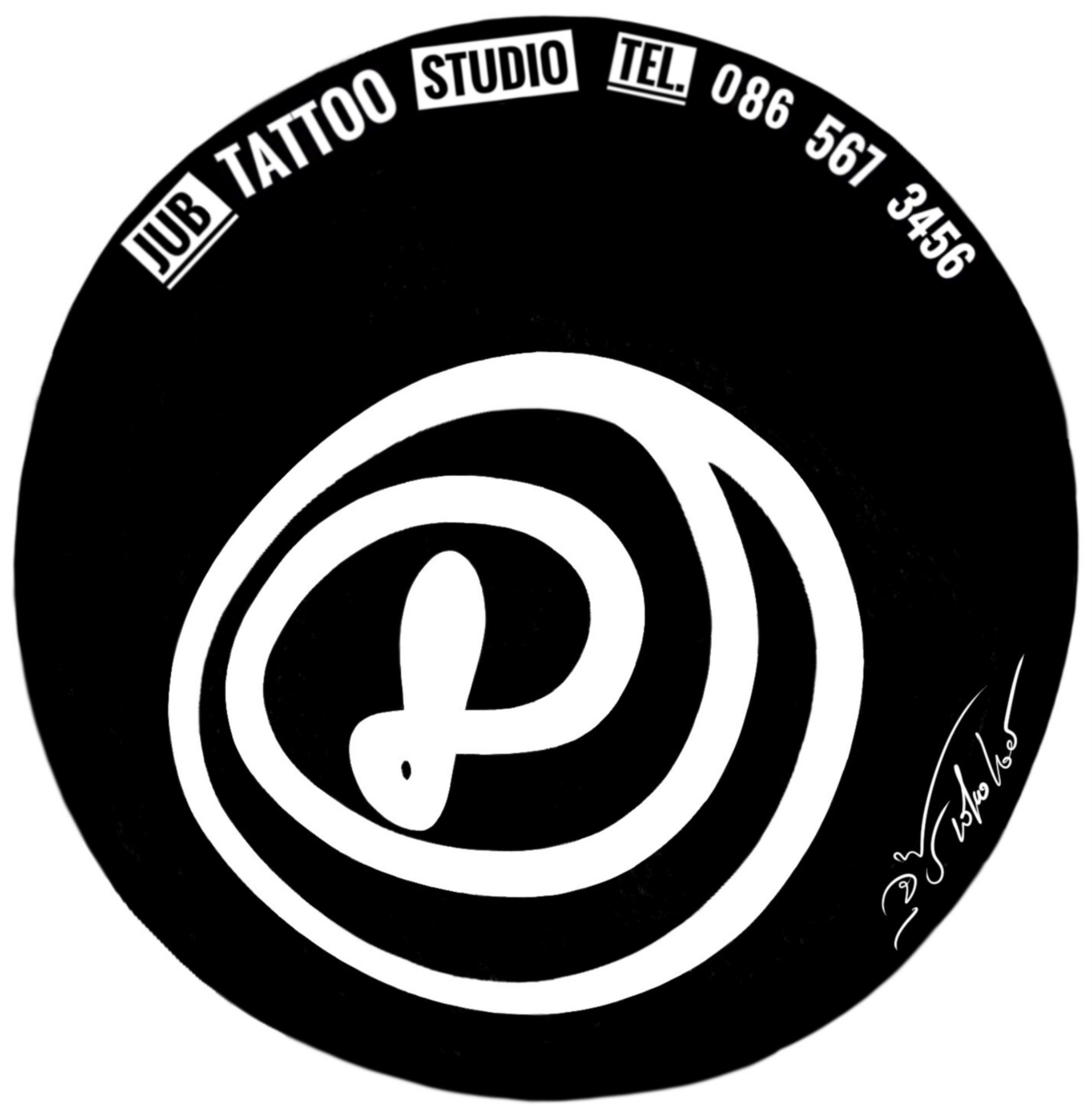 2 Ratchaphuek Alley (Nakornping Condo, near Huay Kaew Road)
Facebook: Jub Tattoo Studio
Instagram: Jub_tattoo_chiangmai
Jubtattoochiangmai.business.site
Tel: 086 567 3456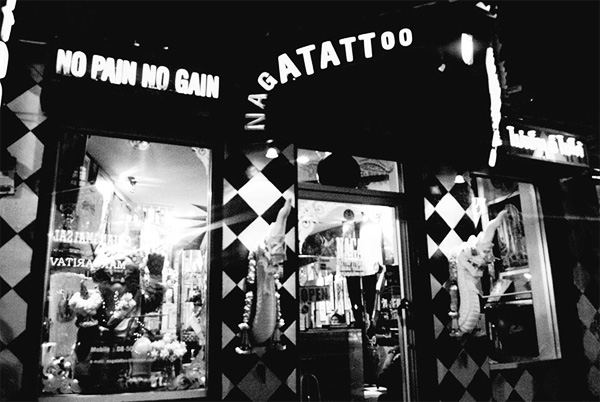 Naga Crew Tattoo
Open 3 years in Chiang Mai this studio is home to 4 artists that can work at the same time. They were the first modern shop to have expert artists drawing tribal tattoos and traditional Thai style tattoos. You can choose from machine tattoos, or bamboo tattoos.
Naga crew is located at 73/1-2 Loi Kroh Rd. Chiang Mai
085 041 2302 or 086 728 3990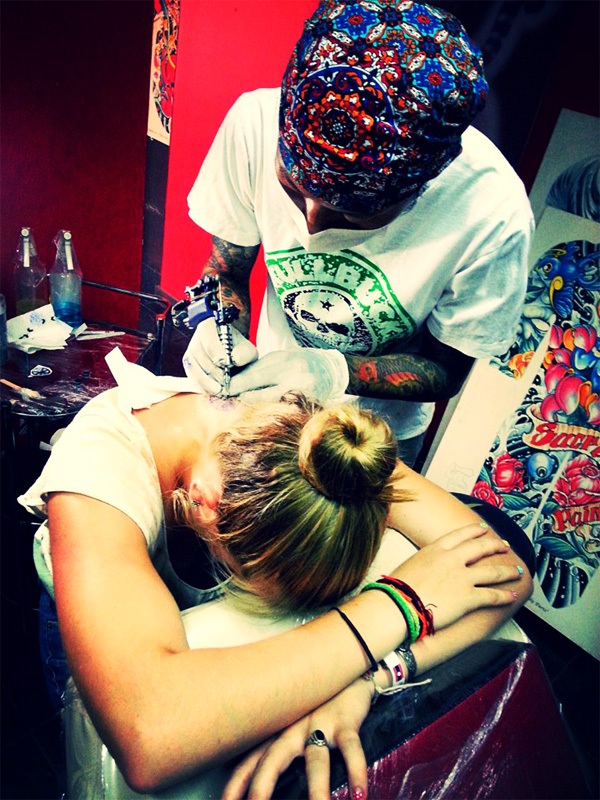 Déjà vu Tattoo
A great place Thai style tattoos and bamboo tattooing. A great friendly service that will recommend to you what you might want. Déjà vu has many professional artists.
Studio at Kad Boon Yu Zone (Zoe in Yellow area)
Call 081 445 3508 or go to their
www.facebook.com/dejavuchiangmai

Sam Tattoo
A professional tattoo artist with 19 years experience, Sam tattoo is one of the best artists in Chiang Mai. They provide custom designs or magic tattoos (Thai traditional tattoos).
Sam tattoo is located at Kalare Night Bazaar
Call 089 884 0462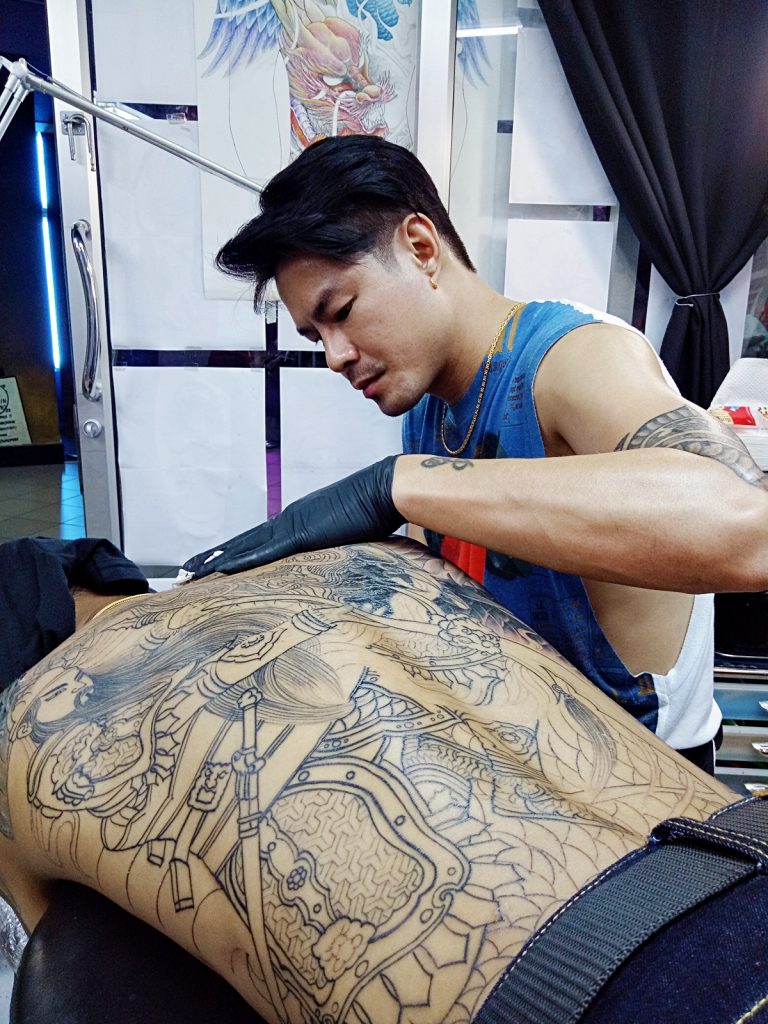 For nearly a decade, Best Sure Tattoo studio has been providing impeccable designs customised for variety preferences of the customers in Chiang Mai. Here you will find artists who are well-rounded in pretty much every technique including the free hand designs and the even the traditional bamboo tattoo (aka hand-poked tattoo) that only a handful of artists are capable of. Now, the studio has opened courses for an aspiration artist. Even if you purely have the will to learn but lack of any skill, there is a basic course for you to begin your track. And of course, there is an advance course for those to wish to further develop the skills and technique. The course is opened for both Thai and foreigner.
At Best Sure Tattoo studio, there is also a barber to serve all gentlemen with a casual friendly ambience. The studio has a second branch under the name Indyink. Pay a visit whichever location that suits you.
Best sure Tattoo & Art Gallery
086 776 6883, 084 992 5919
Facebook: Best sure tattoo Chiangmai
Instagram: Bestsuretattoochiangmai
88/67 karnkanokville 9 m.2
San Kiang , San Kampharng , Chiang Mai
10 minute from rialway station
Indyink
204 Ratchapakhinai Road, T. Sri Phum
Open 11am – 10pm
Tel. 086 776 6883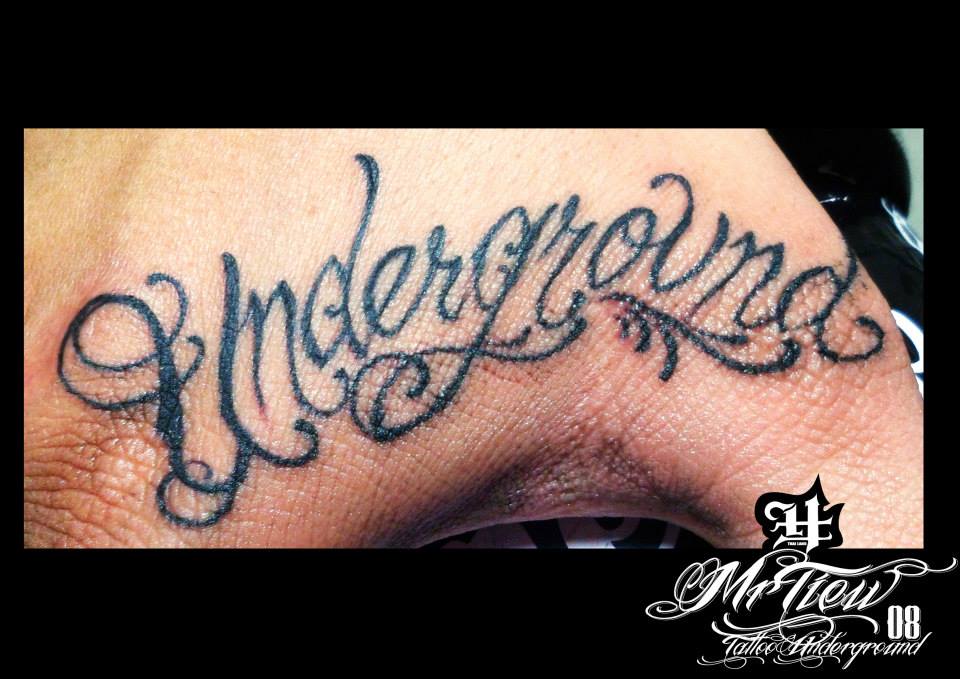 Tattoo Underground 08
Tiew, the owner of the studio, is an expert in Mexican tattoos, Christian tattoos, portraits, black & grey tattoos, or old school styles.
Call: 087 691 9765