CityNews Article Archive:
Can the desire for beauty become dangerous?
October 19, 2012 -&nbspGeorgia Williams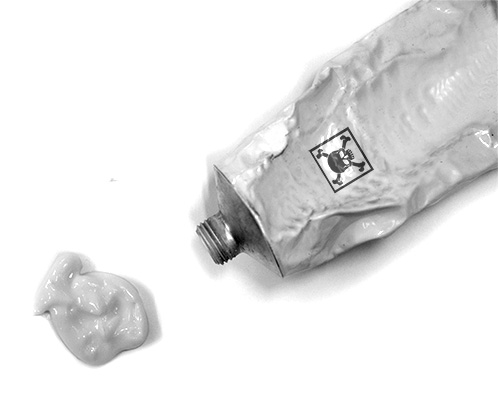 All around the city of Chiang Mai, and indeed the rest of Thailand, advertising campaigns are largely dominated by a kind of phenomenon that is generally unheard of in the West. Billboards, posters and TV and radio adverts promote the most demanded beauty product among women in Thailand – skin whitener.
It baffles most westerners when they first come to the country. Skin whitener? Who would want to whiten their skin? Skin whitening agents are sold literally everywhere; a selection are even on offer at the local 7-eleven, for skin whiteners on the go. At home women use fake tan and fry themselves under UV lights, and the typical western view is that darker skin is more beautiful. Similarly, Thai women apply illegal creams with sometimes deadly toxins to their skin in a desperate struggle to look more white, and, apparently, more beautiful.
In today's society, appearance is everything. Perhaps even more important to some than personality, intelligence, and health. In Thailand, it's all about keeping face; dark skin links to agricultural work in the rice paddies, and a poorer social status whereas white skin suggests office work and, more importantly, money and it is common to hear the phrase, "pay tham phiw" ("going to get white skin") in rural areas when describing a girl moving away from farming fields to office based jobs in Bangkok.
According to Special Chem, skin whitening products were used by 58% of the women in Thailand between the ages of 18 and 64 with a monthly household income of at least 20,000 baht in 2010. In 2004, whitening lotions made up over 60% of the cosmetics industry in Thailand, according to The Taipei Times. And it's not only Thailand; the rest of Asia seem just as obsessed with white skin. According to the World Health Organisation, in 2004, nearly 40% of women surveyed in China were regular users of whitening cream, and in India, 61% of the dermatological market consists of skin lightening products. In 2004, roughly 10% of Thai females income was spent on whitening products (Bird, Caldwell, & DeFanti, 2010).
In the last decade, the skin whitening industry in Thailand has exploded and is predicted to hit 2 billion dollars (over 61 billion baht!) this year, according to The Guardian. I spoke to a lecturer from Chiang Mai University's Women's Studies Department and she told me that, "the Korean influence means white skin now looks pretty, cute and attractive for men," however, "only ten years ago, the traditional Thai beauty was not white… companies make Thai women seem inferior to those with white skin."
Are the media and company advertising campaigns exploiting Thai women? It would seem that way. Nearly all beauty products found in Thailand include 'whitening' agents, whether the customer wishes to become paler or not. Advertising campaigns often use Caucasian models, claiming that products can make the consumer just as pale. With names such as 'Skin Success' and 'Looking Good', Thai women are led to believe that whiter skin is right. The website for Cosmetics company 'Magic Potions' convey the messages, "improve your wellness for a fuller life" and suggests that whitening lotions can lead to a "fit beautiful body" and a "more pleasing profile". Signs were placed on the Bangkok Sky train only last year that read "Reserved for white people only" over seats, by way of advertisement – almost a mirror image of race segregation in the West a hundred years ago. These kinds of messages would cause uproar and be deemed racist should they be published in England.
According to the Women's Studies Lecturer, who wished not to be named, "there are even some businesses in the University campus that give whitening masks and massages for only 120 baht, so girls go there after classes." Whitener is advertised all around, with target markets becoming younger and younger. "Young women are just following advertising, I asked a young girl why she truly wanted to become whiter, and she replied, 'I don't know.' Even soft drinks claim to make skin whiter; Thai girls think that if they get 1000ml of vitamin C a day, they will become paler. The age of consumerism has lead to the discourse of true beauty."
The launch of a new body wash that promises to whiten females intimate areas in just four weeks left newspapers bewildered and feminists infuriated all over the world last month; advertising claims that a white vagina will make Thai women more attractive to Thai men. "Different creams are advertised specially for different parts of the body, like hands, face, arms… they are just making money from products that women don't really need," the Lecturer explained.
Advertising seems to be almost brainwashing the minds of young Thai women.
I contacted Nivea and they explained, "advertisements of course reflect an ideal strived for, including sun tanned individuals regarding tanning products or individuals with pale complexions for whitening products."
They added, "as a manufacturer of cosmetic products, we try to develop products which respond to cultural preference".
Legally administered beauty products, approved by the Food and Drug Administration (FDA), contain only weak ingredients and are likely to make little difference to the skin, if any at all. However, a large number of the skin products on sale both in and out of beauty shops in Thailand don't comply with FDA guidelines and include much stronger ingredients such as mercury, which can harm the skin and effect many other parts of the body.
Although mercury can reduce the amount of melanin in the skin where it is applied, the use of mercury infused products can lead to mercury poisoning; mercury has been detected in the blood, urine, and milk of women using the whitening lotions. The presence of mercury can lead to serious brain, kidney and nerve damage, as well as impairing vision and even causing infertility. The ingredient hydroquinone can cause dermatitis and severe skin discolouration, and steroids, which are often up to 1000 times more concentrated in skin bleach than in creams to treat eczema, can cause skin thinning, acne and red stretch marks.
Moreover, the skin creams can also act as the hormone cortisol, which controls stress in the body. Blood pressure can be raised, and osteoporosis, diabetes and swelling of the face and abdomen can be caused. The body can be tricked into ceasing with natural cortisol production which can be extremely hazardous if use of the cream is suddenly stopped.
I questioned Nivea about the safety of their whitening creams, to which they replied, "many of our products used outside in the sun (e.g. face care) contain sun protection filters" and that, "we develop our products in view of helping consumers to maintain their skin's health and beauty."
Studies in Cambodia on similar products to those sold by the Thai beauty industry indicated that in 2007 and 2008, about one-third of skin-whitening creams for sale in Phnom Penh markets contained more than 2000 ?g/g of mercury. A similar study in 2011 found that mercury was still present in cosmetic creams in Cambodia, no doubt meaning that Thai whitening creams are mercury contaminated.
And it is the poorer generation of Thais who will be hit the hardest. Illegal bleaching creams can be purchased at extremely low prices. Cases of irreversible skin discolouration are not unheard of; Thai woman Panya Bunjan, who appeared on 'Jessica Simpson's The Price of Beauty' in America was left with patches of burnt pink skin where the pigment will never return all over her body, and lost her job as a waitress due to her condition because, ironically, she looked 'ugly'.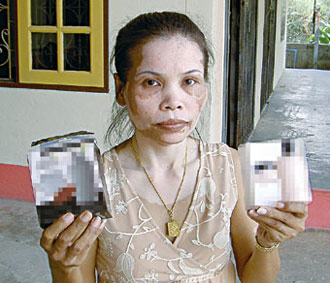 Panya Bunjan
These were all factors which left me shocked and wondering why Thai women still use these products when the research indicates such high risks. I couldn't imagine applying a toxic cream that could impair my vision or affect my kidneys in the long term, even if I did want to become 'paler like a Korean'.
I asked the CMU Women's Studies Lecturer whether Thai women and girls aware of the ingredients in the products, to which she replied, "Information about ingredients are not really published much, I think they don't know about this. But I also think some Thai girls don't care. Ask the students, you will see."
I then asked a group of female students at the University what they thought about whitening agents. "It makes you more beautiful," was one reply, whilst, "it can make you feel better," was another. The girls were reluctant to answer whether they knew what ingredients were in the products. "I buy it from a well known shop," one of the girls told me, "so I can trust it."
Worrying, given the facts. And perhaps just as worryingly, I asked one of the girls exactly why she wanted to become whiter, to which she replied, "other girls become whiter so I want to be whiter too." A typical answer in a conformist society. Advertising is clever; set a new ideal beauty and a lot of Thai girls will strive to copy this without a question as to why. They are told it is beauty, and they accept it.
Is there a standard global concept of beauty anymore? With the beauty cosmetics industry catering for cultural needs for beauty, it would appear not. Large companies such as Nivea, Channel and Vaseline adapt to different cultures and cater for their beauty needs. With the help of the media and large scale advertising, they can exploit and perhaps even control what women in different countries look like, and want to look like.
It would seem even men's ideas of beauty are warped. "It comes from advertising. A beautiful dark girl will struggle against a white girl who is not beautiful. Men get ideas about white skin from TV and Korean movies and music," the CMU lecturer told me. I asked a young Women's Studies graduate whether she personally cared for white skin, to which she replied, "No. I think a little tan looks healthy. I like a white face, but don't care about rest of the body." Still, some element of desire for white skin cannot be evaded.
The era in which we live has long since believed in accepting ourselves for who we are. Plastic surgery, dieting pills, and now editing skin (or at least attempting to) is a common part of life. But with inconclusive research from lack of long term studies, the effects of skin bleaching remain in the shadows, and large companies will continue to make money through commercialisation and exploitation of unknowing innocent victims, as always.