CityNews Article Archive:
Argument Gets Heated Over Who Gets Canal Water
May 30, 2012
CityNews– The Chang Khian community of Chiang Mai has been up in arms lately complaining that they don't have enough water to use. This comes after a Chiang Mai Irrigation project to share water from the Chang Khian Canal to the Suthep Scout Camp area. Villagers of the Chang Khian area use the canal water for many things, mostly cleaning and washing.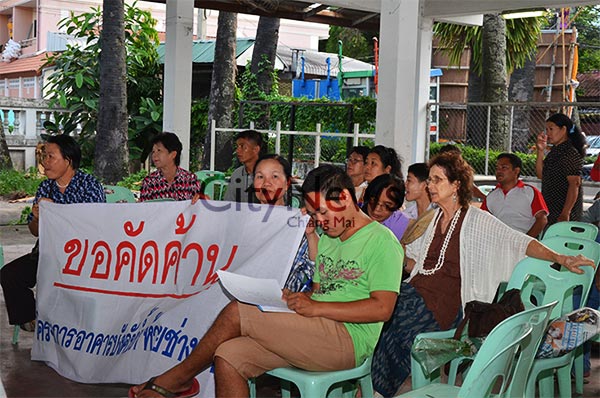 Residents at the meeting
On 28th May Chang Khian villagers attended a meeting with the Irrigation Office about the problem. The Irrigation Office informed villagers that there is enough water to share with other areas. They also mentioned that during the rainy months, so much excess water comes down from the mountain that it is best to channel them to other areas and communities. It is planned to channel the excess water to the scout camp area so that it will run down natural water ways. Some water will also be channeled to a reservoir behind the new International Convention Centre.
There will then be a building constructed to manage the Chang Khian water and a 342 metre canal, will run near the scout camp to the Nong Hor Buddhist Centre. This will not affect the citizens of Chang Khian, insisted authorities. Permission for all these projects is currently being sought from the Doi Suthep-Pui National Park authorities.
Villagers from moo 1, 2 and 4, however, argued that right now there are 235 houses in their community and the need for more water in increasing as the village grows. They also added that in the summer the river runs dry. We sometimes even need to buy water for our use, they added. They also said that over the past ten years water has become noticeably scarcer and even natural resources such as crabs, fish, and shrimp are hard to find. They urge the national park authorities to look into the effect on the ecosystem on the whole before making a decision.
The national park authorities assured residents that they would be very thorough in their analyses.
CityNews's photographer, who attended the event, explained how the meeting almost broke out into a fight between officials and residents as they couldn't come to an agreement.
Note: Many Thais still use water from canals, rivers, streams, in city neighbourhoods. Often water is pumped out of the nearby source and sometimes cleaned.