CityNews Article Archive:
Amnesty International at Chiang Mai University on the Middle East and Freedom of Expression
June 19, 2012
CityNews – On 14th June, from 1- 4 p.m., Amnesty International Thailand and Faculty of Law, Chiang Mai University hosted the Amnesty Annual Report 2012 review with a panel discussion titled 'Justifiable Acts: Free the Criminals or Forget the Coup'.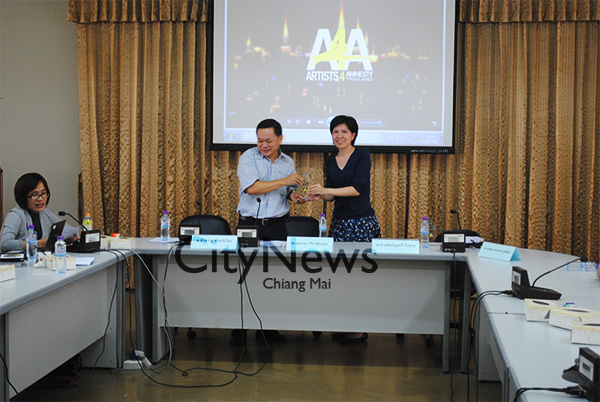 Ajarn Kwanrawee Wang-Udom (female)
The talk was given on the 4th Floor, Social Sciences Building, Chiang Mai University, in front of freshmen and seniors from Chiang Mai University, as well as researchers and reporters.
The meeting started with an introduction from Parinya Boonridrethaikul, an executive director of Amnesty International Thailand. She delineated to the audience the worldwide Amnesty report regarding different situations world wide such as the Middle Eastern crisis, the Nepalese migration, as well as crowd dispersal in Syria.
Parinya stated that the report expressed that governments all over the world, a total of 91 she said, still repressed people's freedom of expression. These countries, that included Thailand, are supported by powerful western governments including the US.
Freedom of expression, or lack thereof, was an urgent matter in Thailand says the Amnesty Report. The six main issues on the Amnesty Human Rights report for Thailand are:
1. South Thailand Insurgency
2. People being Forced to Live in Exile
3. Military Crackdown in May 2011
4. Freedom of Expression
5. Immigration
6. The Death Penalty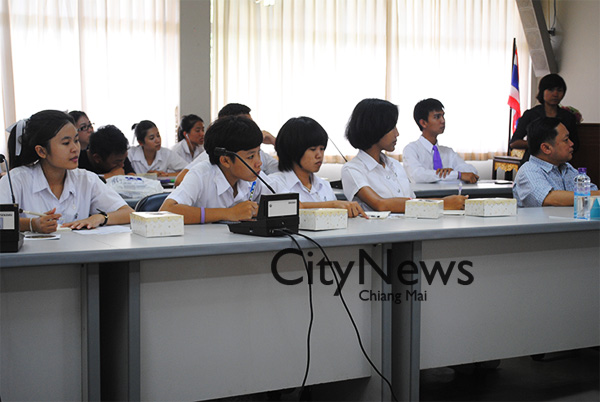 Freshman listening to the talks
Last year Amnesty International Thailand expressed that 'Prisoners of Conscience' or any prisoner charged for expressing their views, for example Prachathai editor, SMS Uncle, or Joe Gordon needed to be reviewed.
Parinya told the audience that Amnesty International Thailand has sent letters to the Thai government asking for the immediate release of prisoners jailed for their political beliefs. She added that Amnesty Thailand has also sent letters to Amnesty International in many other countries asking for support concerning these cases. Amnesty International Canada, for example, said Parinya, has sent gifts and letters to encourage the jailed Prachathai editor.
The death penalty is an ongoing issue that Amnesty International Thailand has been campaigning against for years. Letters have been sent to the Prime Minister to no avail. Amnesty reported that the prisoners of death are almost always poor and suffer within the 'justice system', which supports only those with financial means.
The Faculty of Law meanwhile had a panel discussion on: "Justifiable Acts: Free the Criminals or Forget the Coup", where three scholars: Associate Professor Somchai Preechasilapakul, Ajarn Tossapon Tassanakulpan from Faculty of Law, Chiang Mai University, and Ajarn Kwanrawee Wang-Udom from the Centre of Human Right Studies and Social Development, Mahidol University talked.
"Coups have happened in Thailand 18 times," said Ajarn Kwanrawee, "or we might say that the government is changed every three years…So called Justifiable Acts always follow a coup," said Ajarn Kwanrawee. She went on to say: "For reconciliation, four main factors have to be taken into account: 1. Prosecution 2. Finding and disseminating the truth to the public 3. Compensation 4. Amnesty, which is problematic as there are many who oppose sweeping amnesty.
"If Thailand comes under the International Criminal Court, then amnesty will become redundant. Things which have happened in Thailand which are against the International Criminal Court legislation such as the army crackdown at Takbai in Narathiwat and the army crackdown in May 2011, should be sent directly to the International Criminal Court," said Ajarn Tossapon who used ICC to explain during the panel discussion.
"Do you know that June is a very important month?" questioned Ajarn Somchai. "Thailand's National Day was 24th June because it was the day that Thailand changed from an Absolute Monarchy to a Democracy, and 27th June was the first day Thailand had a constitution."
He added: "When it comes to amnesty, it is important not to offer amnesty to anyone who could cause social conflict. Amnesty is not about forgetting the truth".
CityNews – ? 14 ? ? 13.00 – 16.00 ?. ? 2555 ? ? "?: ?" ? ? ? ? 4 ? ? ? ? 1 – 4 ? ?
? ? ? ? ? ? ? ? 300,000 ? ? ? 91 ? ? ? ? 6 ? ? 1. ? 2. ? ? 3. ? 2553 ? 4. ? 5. ? 6. ? ? 40 ?
? "?" ? ? ? ? ? ? ? ? ? ? ? "?" ? ? ? ?
? "?: ?" ? ? ? 3 ? ?. ? ? ?.? ? ? ? ?.? ? ? "?" ? ? 2549
? ? "? 18 ? ? 3 ? ? ? ? 4 ? 1. ? 2. ? 3. ? 4. ? ?"
"? ? ? 2553 ?" ?
"??" ?. ? "? 24 ? ? 27 ?"
"?" ?. ? "?"