CityNews Article Archive:
American-Thai Tourist Falls in Waterfall
April 17, 2012
CityNews – An American-Thai tourist visiting Huay Kaew waterfalls on 17th April has slid off a rock and knocked her head, injuring her.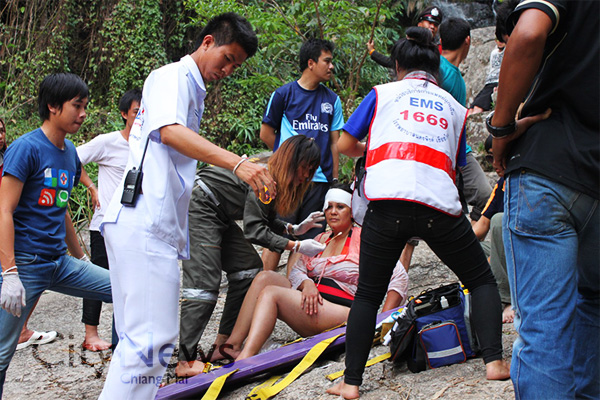 Huay Kaew Waterfall is a mere three minutes drive from Chiang Mai University entrance on Huay Kaew Road, and is in Suthep-Pui National Park.
The emergency rescue crew, along with policemen from the Phuping precinct responded to a call and found the tourist had fallen and been struck hard. She was located around 100 metres higher than the main visiting area. The 42 year old half Thai half US visitor, Carol Holbrook, received three injuries to her head and was rushed out with great difficulty due to the harsh terrain. She has been taken to Ram 1 hospital.
Her mother, Kanda, a Thai national, said that her daughter had come to Chiang Mai for songkran and was visiting the falls with three friends when the incident happened. She, along with her daughter and a niece were at the scene together.