Macbeth, Magic and Mayhem
July 7 - July 13
Summer Camp in CHIANG MAI (ages 9 – 16)
Experience one week of high energy English drama mayhem by day and campfire magic by night. (Plus lots of other fun camp activities!!)
"Shakespeare" can have a bit of a daunting ring to it, but DSHK aims to bust the myth that Shakespeare is "difficult" and prove that it can be both immediate, exciting and accessible.
Join us as we enter the world of big personalities…
Macbeth, mighty general and war hero. Lady Macbeth, Macbeth's wife, cunning as a fox, and as venomous as a viper. Love can be a poison, arsenic dipped in honey, and darkness can be born of goodness. A great epic is spun, as the two plot and conspire for the throne.
Taking stimulus from this compelling tale you will be challenged to create and perform in your very own short performance.
All this and more is wrapped up in the natural setting of Three Generation's Chiang Mai camps. Swimming, Camp-fire & BBQ , all meals provided and premier onsite accomodation are included.
You'll be sure make a few new friends by the fireside!
Appropriate for ages 9 – 16
Location: Traidos Three Generation Camps, 234 Moo 3, Huay Sai,
A Mae Rim, Chiang Mai 50180
Visit: www.camps.threegeneration.org/camps
To sign up please e-mail: camp@threegeneration.org
Or Call: 053 307 500 EXT5008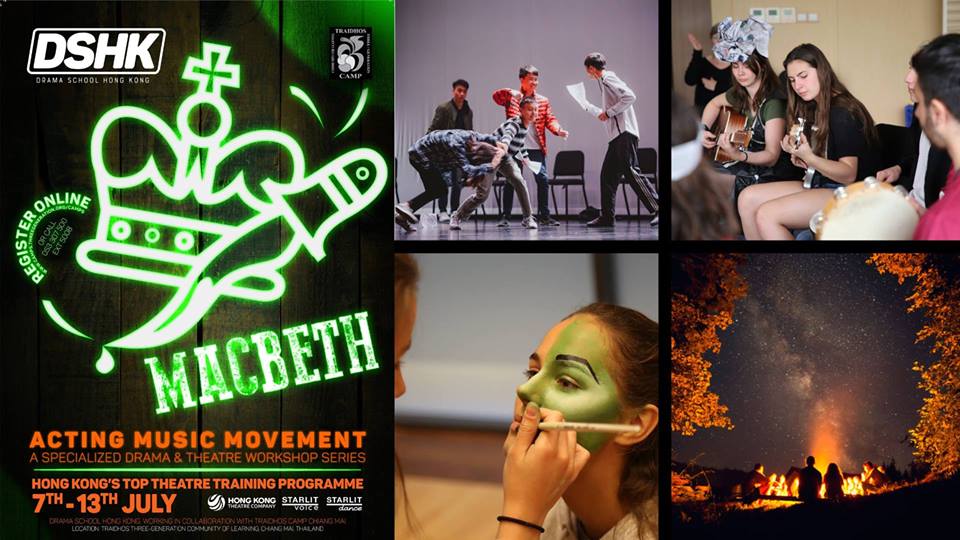 Event Details
Location:
Traidhos Three-Generation Community for Learning