Magical Blossoms 2 on April 18-24, 2023 at the Central Chiang Mai Airport
April 18 - April 24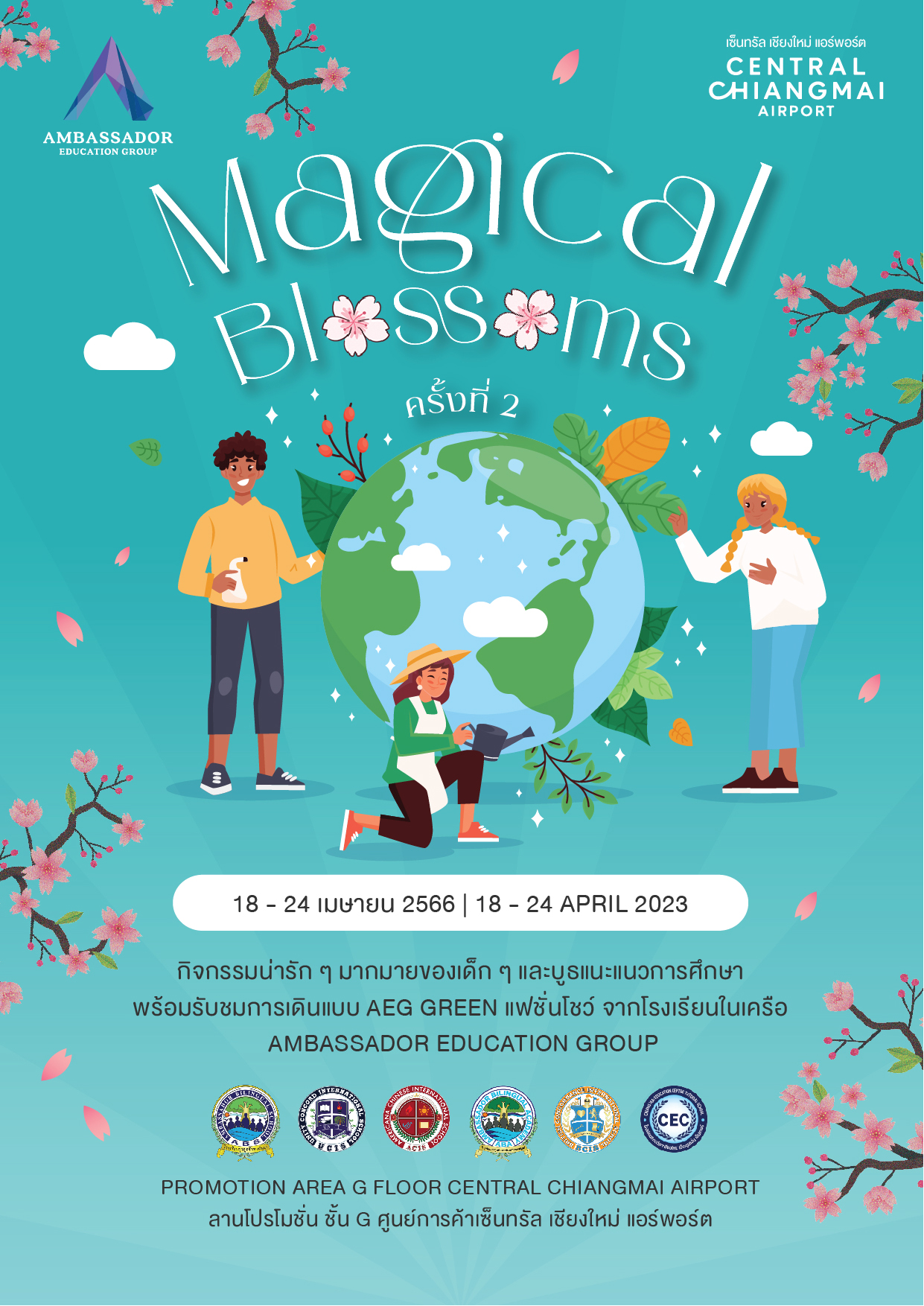 Ambassador Education Group would like to invite you to join us for "Magical Blossoms 2" on April 18-24, 2023 at the Central Chiang Mai Airport on the ground floor next to the aquarium. This event is organized under the concept that flowers can be bright, and beautiful, it naturally comes from caring, watering, and getting good fertilizer. In a similar way is like a little child that needs care, love, nurturing, knowledge, and good experiences for them so that they grow bright and bloom beautifully, wonderfully like a flower. As we focus on green initiatives we will have many events for Earth Day, including a recycling fashion show and a "Speak up for Earth forum".
At the event, you will meet with representatives from all our schools in the Ambassador Education Group (AEG),
– Ambassador Bilingual School (ABS)
– Ambassadors Bilingual Academy (ABA)
– Americana Chinese International School (ACIS)
– Unity Concord International School (UCIS)
– British Concordance International School (BCIS)
– Chiang Mai Tutoring School Education Center (CEC)
Throughout the event, potential students will be introduced to the teaching, curriculum, and activities for each school giving them the choice of which school best meets the needs of their family specifically.
We will also have activities that will enhance color, brilliance, fun, and skill-building for those who attend the event. This activity will bring STEAM (Science, Technology, Engineering, Arts, and Math) together to educate young people participating in the event under a beautiful atmosphere surrounded by cherry blossom trees, and wonderful performances on stage from our affiliated students that we are proud to present.
We will have many games and prizes for participants who join us for this special activity, daily from 11:00 A.M. – 8:00 P.M.
For more details please contact:
Call 081-9506659, 052-135061
Website: www.ambassadoreducationgroup.com
E-mail: [email protected]
Event Details
Location:
Central Chiang Mai Airport