Lanna International School open house
June 19
Lanna International School welcomes prospective families to our Open House on Saturday, 19th June 2021.
It will be held at the LANNA Primary campus at two times; 8.30 AM for Primary, and 1.30 PM for Early Years. Come get to know our staff, learn about our school philosophy, curriculum, latest addition of the STEAM programme, and see our new indoor Gymnasium, chemical-free Swimming Pool Complex, and the Water Splash Playground.
Register now, receive a Free Admissions Assessment promotion and secure your child's place! Find attached more information (PDF file) and an artwork (JPG) that you are free to share with your friends or social media channels.
โรงเรียนนานาชาติลานนาขอเชิญท่านผู้สนใจเข้าร่วมงาน
"เปิดบ้านโรงเรียนนานาชาติลานนา" ในวันเสาร์ที่ 19 มิถุนายน 2564 ณ โรงเรียนนานาชาติลานนาฝ่ายอนุบาลและประถมศึกษา โดยงานจะจัดขึ้นสองช่วงเวลา คือ เวลา 8:30 น. งานเปิดบ้านฝ่ายประถม และ เวลา 13:30 น. งานเปิดบ้านฝ่ายอนุบาล ในงานท่านจะได้พบปะ พูดคุยกับผู้บริหาร คุณครู เจ้าหน้าที่ เพื่อรับทราบ ปรัชญาและวิสัยทัศน์ของโรงเรียน รับฟังการแนะนำหลักสูตร STEAM ซึ่งเป็นหลักสูตร ใหม่ล่าสุดของโรงเรียน
พร้อมทั้งเยี่ยมชมอาคารโรงยิมและสระว่ายน้ำ สวนน้ำ Waterplay แห่งใหม่ ซึ่งเป็นสระว่ายน้ำอุ่นระบบโอโซน
ขอเชิญลงทะเบียนเข้าร่วมงานเพื่อรับสิทธิ์พิเศษการทดสอบเข้าเรียนฟรีในระดับอนุบาลและประถมศึกษา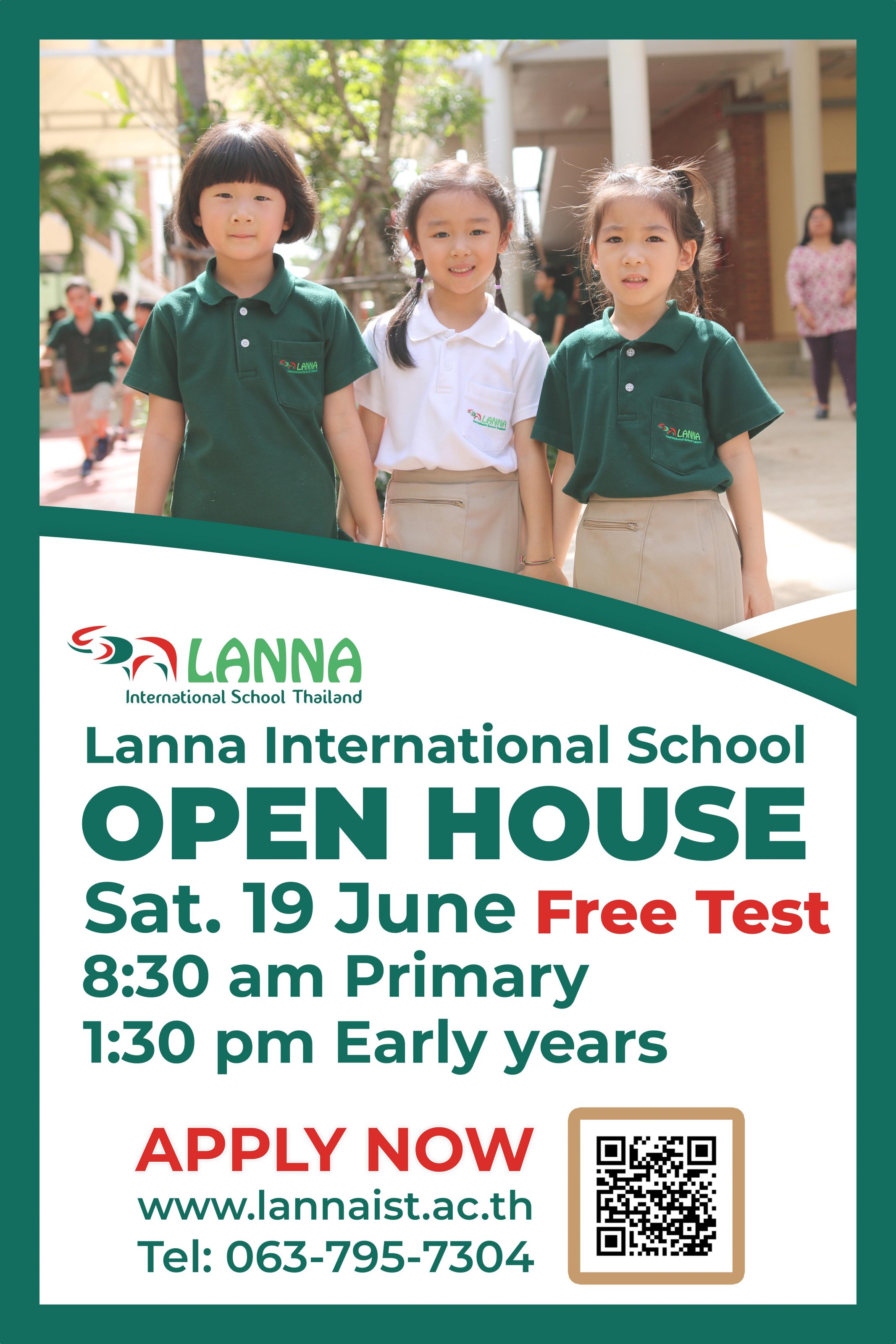 Event Details
Location:
Lanna International School