Thanksgiving at The Duke's
November 24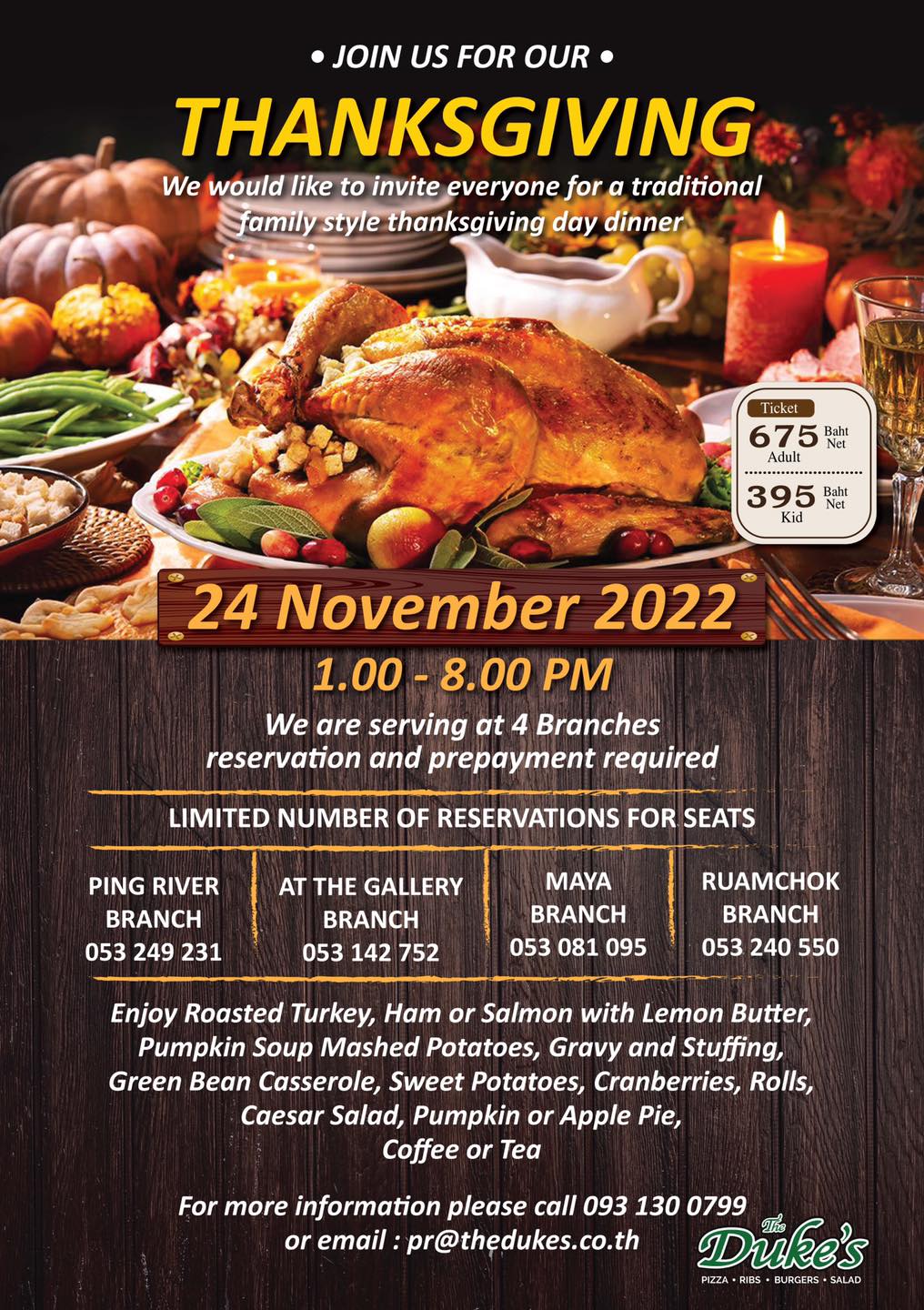 Thanksgiving is a time for families and friend to get together to enjoy a sumptuous meal and reminisce about the year gone by and the year ahead, At The Duke's you are part of our family.
We take pride in our food and in how we present it and family is what we think about. At The Duke's we serve fresh, hot food family style for Thanksgiving. Inside in air conditioned comfort with cold drink, bowls of fresh made stuffing, green beans, mashed potatoes, pumpkin soup, plenty of gravy and choice plates of fresh hot turkey, ham and salmon, finish that off with a nice cup of coffee and a few of The Duke's famous dessert, apple pie and pumpkin pie
So from our family to yours, Happy Holidays and have a great Thanksgiving.
This year we serve at 4 Branches, Reservations and Prepayment Required
Start at 13.00 PM – 20.00 PM
** The Duke's Ping River Branch
** The Duke's Maya Life Style shopping Mall , 4th Floor
** The Duke's Ruamchok
** The Duke's At The Gallery, Hang Dong
Ticket :
Adult 675 Baht Net
Kid. 395 Baht Net
" Limited Number Of Reservation and Seating "
" RESERVATIONS EVERY HALF HOUR "
At The Duke's we understand not everyone has the time to come and purchase tickets for our Thanksgiving meal. So we now have a new option to purchase your ticket 
2. Let her know how many people, which Branch, and which seating you
3. Gives us your name, phone number and email.
4. Last but not least we will give you the account information to transfer and purchase your ticket .
5. We will send you a email on your confirmation and Purchase of your ticket.
For more information please contact Kwan : 093 130 0799