Sunday Brunch at Centara Riverside Hotel Chiang Mai
June 12 - July 31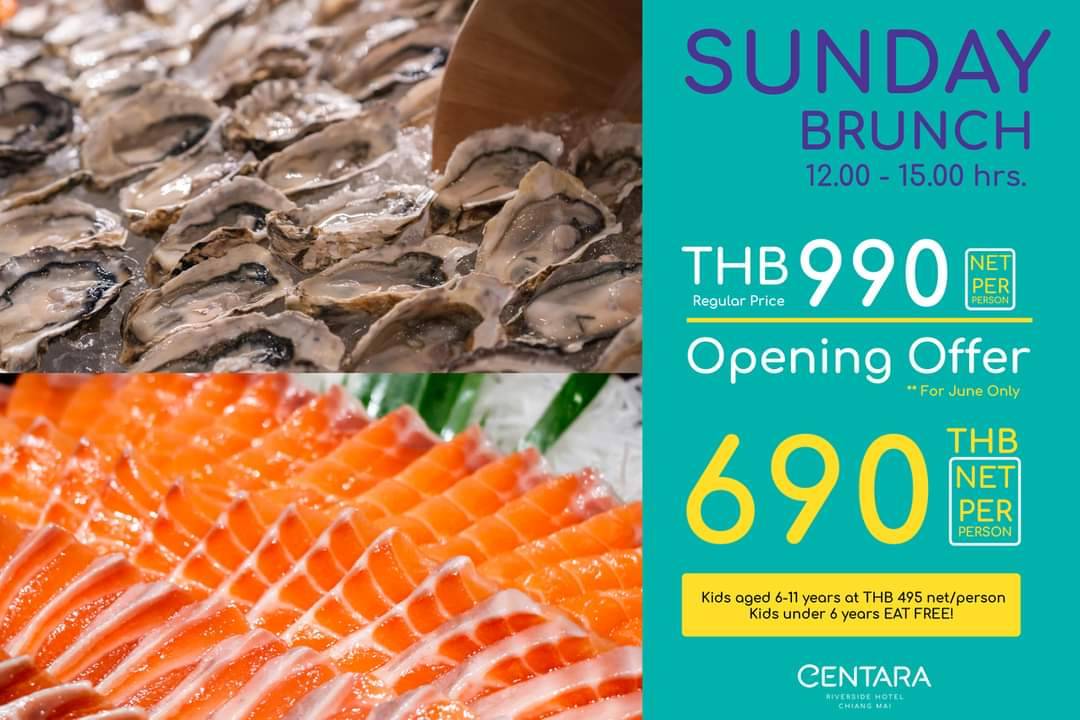 LET THE FEAST BEGINS!
𝐂𝐨𝐦𝐞 𝐣𝐨𝐢𝐧 𝐮𝐬 𝐞𝐯𝐞𝐫𝐲 𝐒𝐮𝐧𝐝𝐚𝐲 𝐟𝐨𝐫 𝐁𝐫𝐮𝐧𝐜𝐡 !
This better-than-ever brunch offers an indulgent buffet spread featuring not only the Western and Asian food selections, but also the best from the land, the freshest from the sea and other delicacies.
Highlights include a range of oysters, New Zealand mussels, sashimi, succulent lamb, BBQ ham and Dim Sum.
Don't miss our Opening Special – Only this June!
THB 690 net / person (from THB 990 net / person)
THB 495 net / child (Kids under 6 dine for FREE)
River Terrace
Every Sunday (starting from Sunday, 12 June 2022)
12:00 p.m. – 3:00 p.m.
For more information or advance reservations:
053 275300 | 053 801457
Line: https://lin.ee/twJWmty
Event Details
Location:
Centara Riverside Hotel Chiang Mai