Rabbit with a Chinese New Year Buffet Lunch at Furama
January 20 - January 22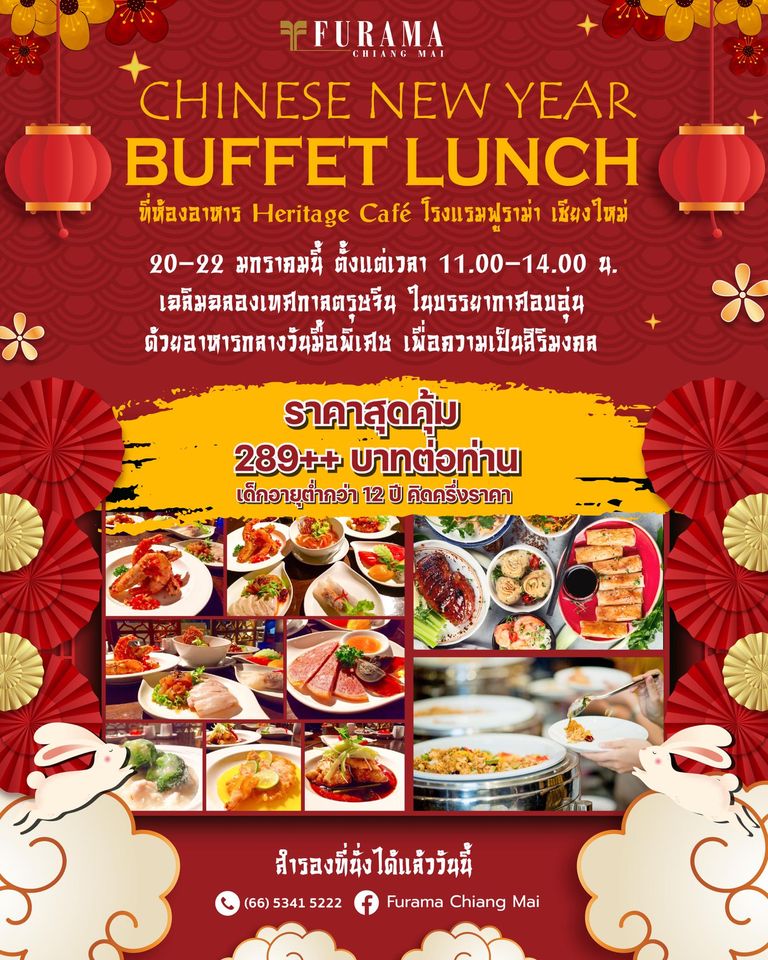 Say hello to the Year of the
Rabbit with a Chinese New Year Buffet Lunch! 
This Chinese New Year, bring your family and loved ones to enjoy a delicious buffet of auspicious Chinese food that the chef team intends to create and cooked with good ingredients. Especially ending with a dessert menu for this impressive meal
Available on 20th -22nd January 2023
11.00 am. – 2 pm.
Menu list
Salad Bar
Red Oak/Green Oak/Carrot/Corn/Onion/Cucumber
3 color peppers/boiled sweet potato (3 dressings)
Soup
Day 20 – Progressive Soup: Stewed Chicken with Chinese Medicine Ingredients + Golden Needle Mushrooms
Day 21 – Mung Mee Soup : Stewed Pork Belly with Five Spices
Day 22 – Happy Soup : Tom Chay Tofu Soup
Main dish
Day 20: Deep-fried Spring Rolls, Spicy Cucumber Salad with Peanut Chilli Oil, Spicy Jellyfish Salad in Sesame Oil, Steamed Dolly Fish in Soy Sauce, Three Layers of Pork Stewed with Bean Paste, Stir-fried 3 Vegetables in Oyster Sauce, Batter Fried Chicken Stir-fried sweet and sour dragon mustache noodles, steamed rice
Day 21: Fried Wonton Wrap Sausage, Jellyfish Salad in Sesame Oil, Fried Long Bean Salad with Sesame, Stir-fried Dolly Fish Fillet with Ginger and Spring Onion, Braised Chicken Wings with Soybean Paste, Crispy Eringi Mushroom Crispy Kale, Yangzhou Pork Fried Rice Chinese sausage, steamed rice
Day 22 : Chicken Wings in Red Liquor, Chinese Potato Noodle Salad, Jellyfish Salad in Sesame Oil, Deep-fried Pork with Orange Sauce, Batter-fried Dolly Fish Fillets with Mala Sauce, Stir Fried Lettuce with Egg White, Seafood Noodles ,cooked rice
Demon menu
Wonton Noodles with Minced Pork Soup
Dessert
Mixed fruit, Mixed cake, Cantaloupe Sago
Beverage
Hot Chinese Tea, Iced Chinese Tea, Water
Reservations: 0 5341 5222 
Event Details
Location:
Furama Chiang Mai