Inthakin Ceremony 2019
May 30 - June 6
Enjoy this festival unique to Chiang Mai
This annual ceremonial festival only happens in Chiang Mai! It is called the Inthakin (In-ta-kin) Ceremony and takes place over several days.
It lasts for 8 days and commences on May 30th and runs until June 6th.
It's also commonly known as the City Pillar Ceremony, which is a unique Chiang Mai tradition where the people ask for rain. Think of a rain dance if you will where people make offerings to begin the heavy rains for rainy season.
It is held annually at Wat Chedi Luang where the City Pillar is located. This pillar is considered a very sacred and important temple in the Lanna Kingdom and is often the most popular temple locals visit during Buddhist holidays to make merit.
The opening ceremony begins on May 30th in the morning within these three areas: Thapae Gate, Wat Chang Taem, and Wat Chedi Luang. Starting around 1 pm, a procession of government officials, and Buddhists, will walk a statue representing the Buddha spirit to Wat Chedi Luang. I'm not sure of the meaning behind the time, but the statue must arrive at exactly 2:09 pm. At this time, the rain ceremony will begin with monks chanting and praying.
Absolutely! Everyone is invited to come along, pay respects and join in. It is requested that you try to wear traditional Lanna clothing, or clothes you would wear at the temple wear . And of course act respectfully of the traditions and practices.
For the rest of the festival the public is welcome into Wat Chedi Luang everyday from 8 am to pour holy water onto the Phra Jao Saen Ha statue to honour the new King Rama X and place gold leafs on Buddha statues.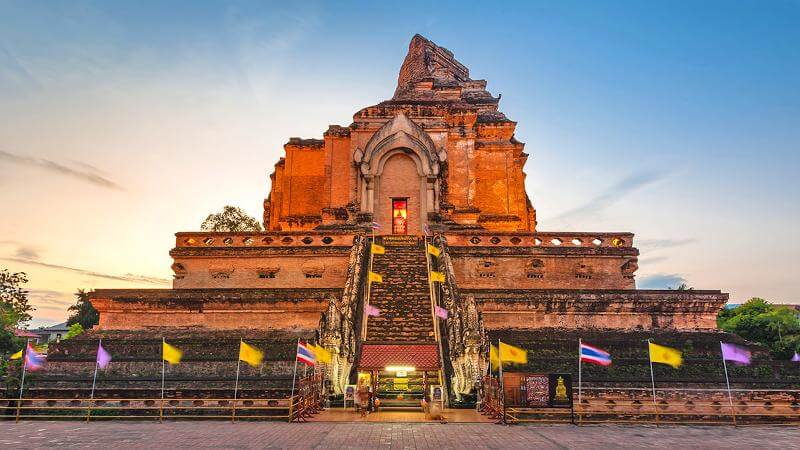 Event Details
Timing:
10.00 am - mid night
Location:
Wat Chedi Luang