Plant-Based & Sustainability Festival: Chiang Mai
August 6 - August 7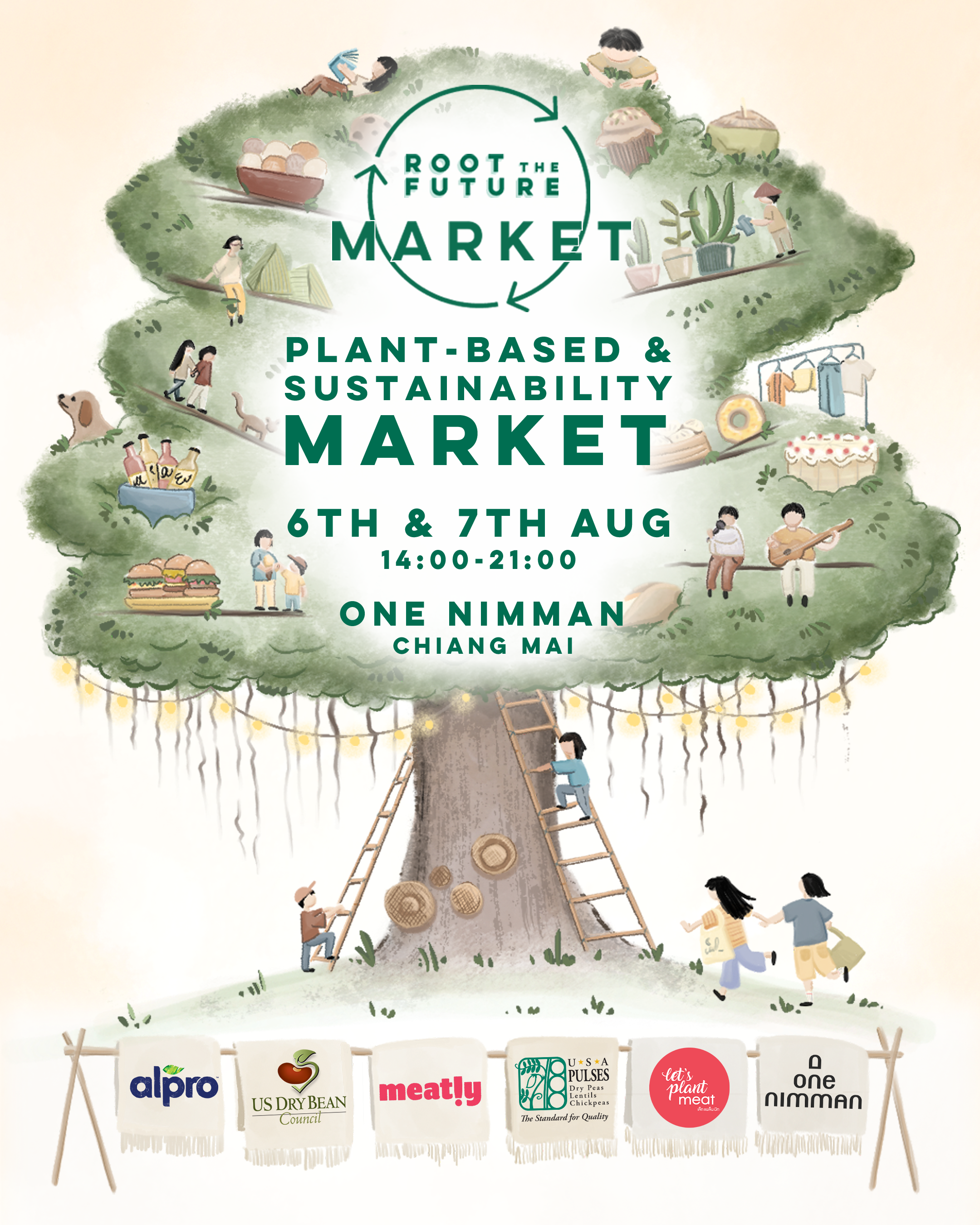 From the organizers of Asia's largest plant-based and sustainability festival, Root The Future have organized another planet-friendly celebration, this time in the centre of Chiang Mai! A free-to-attend market weekend in One Nimman Chiang Mai, on August 6th & 7th from 14:00-21:00!
Root The Future's Plant-Based & Sustainability Market boasts 40+ plant-based and sustainable product vendors. Plant-based food vendors will be offering everything from pizzas, ice cream, tacos, baked goods, rotis, katsu to burgers; all 100% vegan! Sustainability vendors will be offering everything from sustainable fashion, zero-waste products, eco-friendly crafts, plants and more!
During the weekend of this 2-day packed event, the The Plant-Based & Sustainability Market will also host live music and Chiang Mai's largest clothes swap in collaboration with Fashion Revolution Thailand. So don't forget to bring your previously cherished clothes and trade them for other preloved perfect pieces!
You do not want to miss this event…! Good news for anyone in Bangkok who wants to travel up to Chiang Mai for the festivities… Root The Future are teaming up with the Chiang Mai's award-winning luxury vegan hotel 'Away Chiang Mai Thapae Hotel', the winner of the plant-based food award's "Best Vegan-Friendly Hotel in Thailand", to provide 15% off for market attendees (just quote "RTF15" upon booking)!
Following 'Root The Future's ethos of sustainability, this event aims to be as zero-waste as possible, so all containers for ready-to-eat food will be plastic free and compostable, but if you want to go that extra step to save the planet, please bring your own bags, cutlery, straws and containers!
One Nimman welcomes all furry friends, so bring along your four-legged companions to enjoy the food, music and festivities!
The Plant-Based & Sustainability Market was made possible thanks to the support of 6 incredible plant-powered heroes, including One Nimman, Meatly, USA Dried Beans & Lentil Council, Let's Plant Meat, USA Pulses and Alpro.
The goal of this market is to raise awareness about climate change solutions, and how easy, accessible and exciting it is to incorporate these solutions into our day-to-day lives. This event aims to empower and inspire people to take the heart of this market home with them! Be sure to visit this event and show your support for this incredible community of inspirational change-makers and innovators!
Event Details
Location:
ONE Nimman Chiang Mai