Stand-Up Comedy AHMED AHMED (Netflix, CC) Live in Chiang Mai at Shangri-La Chiang Mai
June 24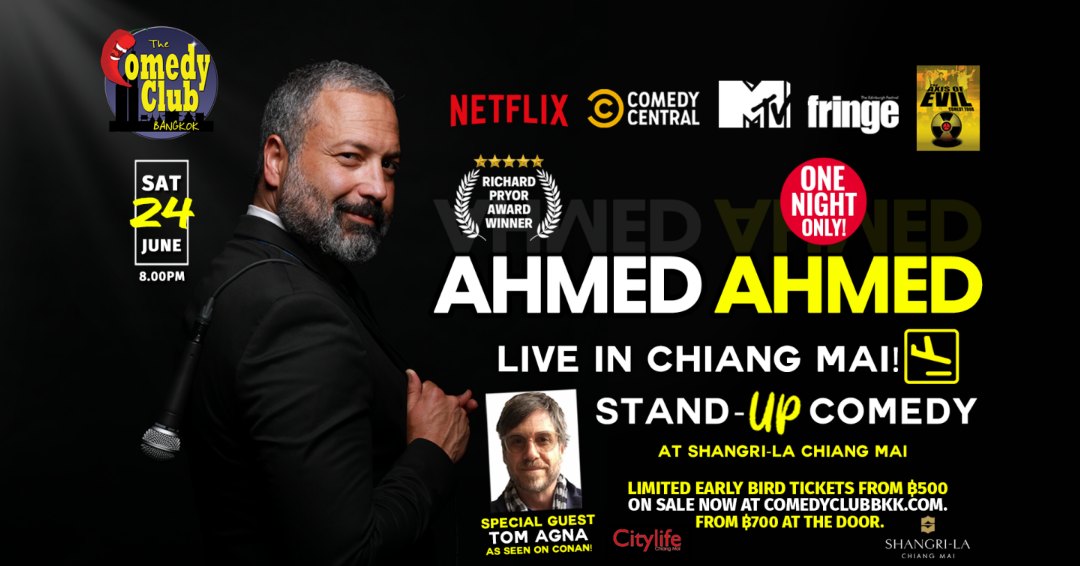 From L.A. to Chiang Mai, The Comedy Club Bangkok and Shangri-La Chiang Mai are very proud to present American TV comedian AHMED AHMED!
Moving to the US from Egypt at a young age, AHMED AHMED became a touring and TV comedian featuring on The Tonight Show with Jay Leno and actor in movies and sitcoms including IRON MAN and SULLIVAN & SON. He directed and starred in JUST LIKE US, his critically acclaimed NETFLIX stand-up comedy documentary and later exploded onto the international comedy stage creating and starring in THE AXIS OF EVIL TOUR alongside comics including MAZ JOBRANI, airing on Comedy Central! Also featuring local comedy star TOM AGNA, a living legend! As seen on Late Night with Conan O'Brien, Seinfield and The Chris Rock Show!
So after shows including DWAYNE PERKINS, DANA ALEXANDER and NEAL BRENNAN, Chiang Mai prepare yourself once again as AHMED AHMED is coming to bring back the laughs for one night only and only at Shangri-La Chiang Mai!
Event Details
Location:
Shangri-La Chiang Mai