Chiang Mai Holi 2023 at Amaravati Wellness Center
March 5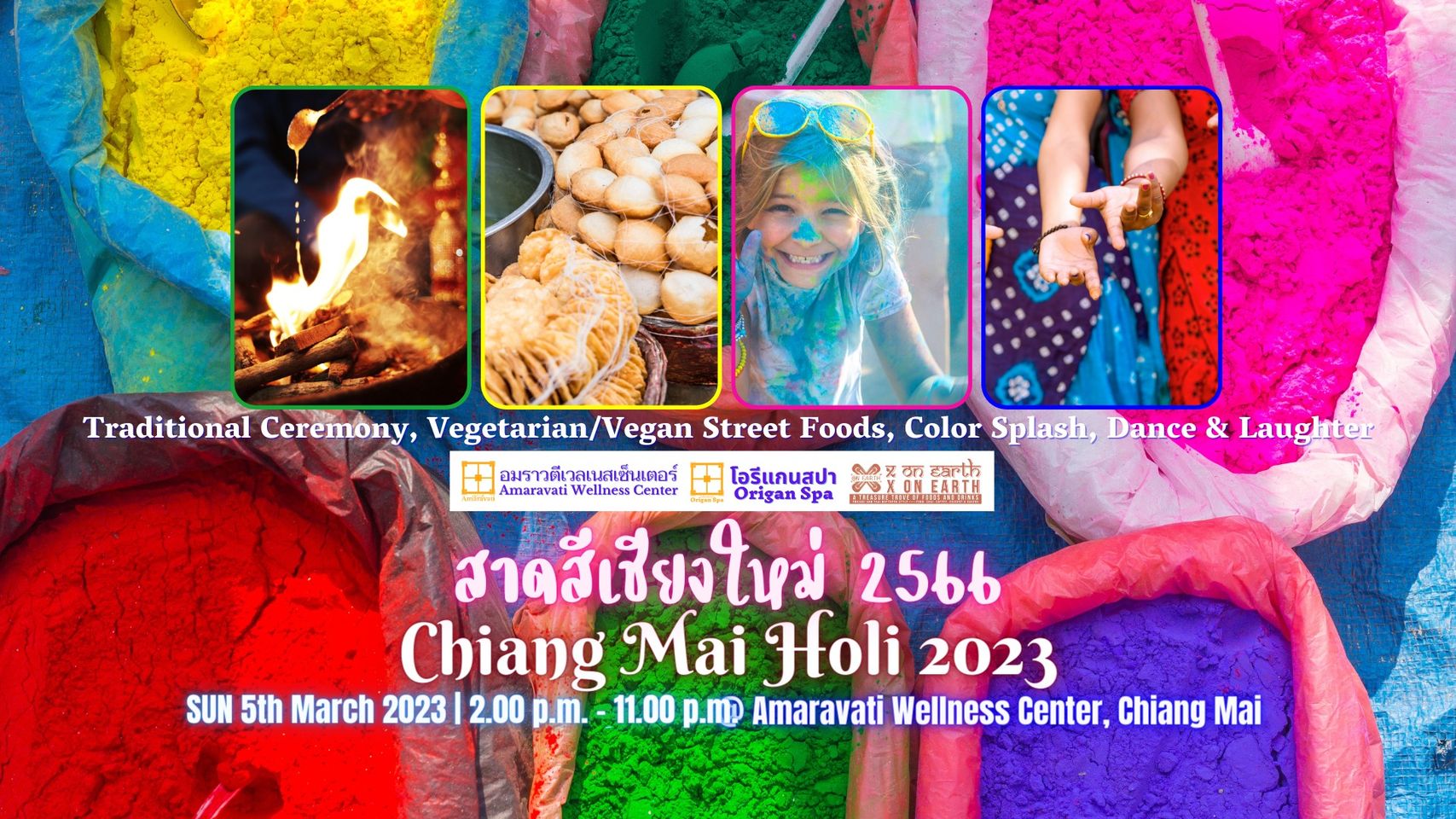 Celebrate at Amaravati Wellness Center, Maerim, Chiang Mai (near Four Season Resort) on Sunday 5th March 2023 from 2.00 p.m. to 11.00 p.m.
Let's celebrate with a Traditional Ceremony, Vegetarian/Vegan Street Foods, Color Splash, Dance, and Laughter.
Preparation for join with the festival :
1. Wearing comfortable dress, much appreciate Indian style dress.
2. Flow with the festival in a polite manner and respect people.
3. Indian street foods are available.
4. Definitely COLORS (food grade quality) are available, you can buy as much as you want.
รายละเอียดโปรแกรม | Program Schedule
2.00 p.m. – 2.30 p.m. เริ่มต้นลงทะเบียนเข้างาน | Registration.
2.30 p.m. – 3.30 p.m. สนุกสนานสระน้ำเกลือ และชาอินเดียพร้อมของว่าง | Enjoy our Saltwater Swimming pool with Indian Masala Chai and Snack (Indian Afternoon Tea).
4.00 p.m. – 4.45 p.m. เริ่มต้นเฉลิมฉลองเทศกาลด้วยฮาเรกฤษณะมันตรา โดยกลุ่ม ฮาเรกฤษณะเชียงใหม่ | Starting Holi Festival with Krishna Maha Mantra by Chiang Mai Hare Krishna Group.
5.00 p.m. – 6.00 p.m. เพลินใจกับดนตรีผสมผสานในแบบ World Music Fusion Instrumental โดย สุขุมและสหาย | Happiness music in style of World Music Fusion Instrumental by Sukhum and Friends.
6.15 p.m. – 6.45 p.m. สาธิตพิธีบูชาในเทศกาลโฮลี โดย บัณฑิตจากวิหารเทพมณเฑียร จังหวัดเชียงใหม่ | Presenting BUCHA (blessing) for Holi Festival by Bundit from Dev Mandir Chiang Mai.
7.00 p.m. – 7.30 p.m. การแสดงจากเด็ก ๆ | Performance from children.
7.45 p.m. – 8.30 p.m. การแสดงศิลปะวัฒนธรรมแบบลานนาจาก SaiPa FireArts | Cultural Performing Arts Lanna Style from SaiPa FireArts
8.45 p.m. – 9.15 p.m. ดนตรี และการเต้นแบบบอลลี่วูด | Bollywood Music and Dance
9.30 p.m. – 9.45 p.m. สาธิตวิธีการให้พร และใช้สีเพื่อการให้พร โดย ครูจีเนล เมตตา | Present the color tradition of Holi and how to bless each other with colors by Master Jeenal Mehta.
10.00 p.m. – 11.00 p.m. สนุกกับเพลง การเต้น และการสาดสี ในแบบฉบับอินเดีย | Enjoy Indian Music, Dance and Color Splash.
** อาหารสตรีทฟู้ดมังสวิรัติ/วีแกนและเครื่องดื่มให้บริการตลอดงาน | Street Food (Vegetarian/Vegan) and Drink provide all time during the event **
โปรดช่วยค่าใช้จ่ายเรา เพื่อร่วมกันสนุกสนานในครั้งนี้ | Please help us for participating in the event.
1. อัตรา 290 บาท สำหรับกิจกรรมและสี | 290 Baht for activities and colors
2. อัตรา 390 บาท สำหรับกิจกรรม สี อาหาร และเครื่องดื่ม | 390 บาท สำหรับ กิจกรรม สี อาหาร และเครื่อดื่ม
3. อัตรา 490 บาท สำหรับกิจกรรม สี อาหาร เครื่องดื่ม และบริการรับส่ง | 490 Baht for activities, colors, food, beverages, and transportation services :
– รับจากประตูช้างเผือก เวลา 13.00 น. | From Chang Puak Gate 1:00 p.m.- ออกจากอมราวตีเวลเนสเซ็นเตอร์ไปยังประตูช้างเผือก เวลา 23.45 น. | Out from Amaravati Wellness Center to Chang Puak Gate on 11:45 p.m.
พิเศษค่าบริการห้องพักลดราคา 40% จากอัตราปกติ ในคืนวันที่ 5 มีนาคม สำหรับผู้เข้าร่วมงานในครั้งนี้ | Special offer for stay overnight on 5th March at Amaravati with discount 40% from normal rate.
Event Details
Location:
Amaravati Wellness Center