American Education Student Fair
October 18
The U.S. Commercial Service, American Embassy, Bangkok cordially invites you to attend the American Education Event, which will be held on Thursday, October 18, 2018 from 6:00 – 9:00 pm at Shangri-la Hotel, Chiang Mai
14 college and university representatives will be at the fair to meet with you and your students and present their colleges and universities and recruit students in Thailand. Additionally, with the support of the Consular section of the Embassy, students are invited to attend a 5:30 – 6:00 pm session on how to obtain a student visa to the USA.
Student Visa Session!!
At 5.30 pm, the U.S. Consular officer, will be providing a presentation on student visa process to students and their parents. Please kindly share this opportunity to your networks and students who are interested in learning more about visa application process.
Highlight: Scholarship Program If you have potential students, please bring them to the fair. They will be able to learn about scholarship opportunities at the presenting colleges and universities. We encourage you to promote and share these opportunities with your students and networks. Students should bring multiple copies of their report cards, transcripts, TOEFL scores, etc. to the fair. This will allow the representatives to determine your admission and scholarship eligibility.
Pre-Registration at http://bit.ly/ISN2018CM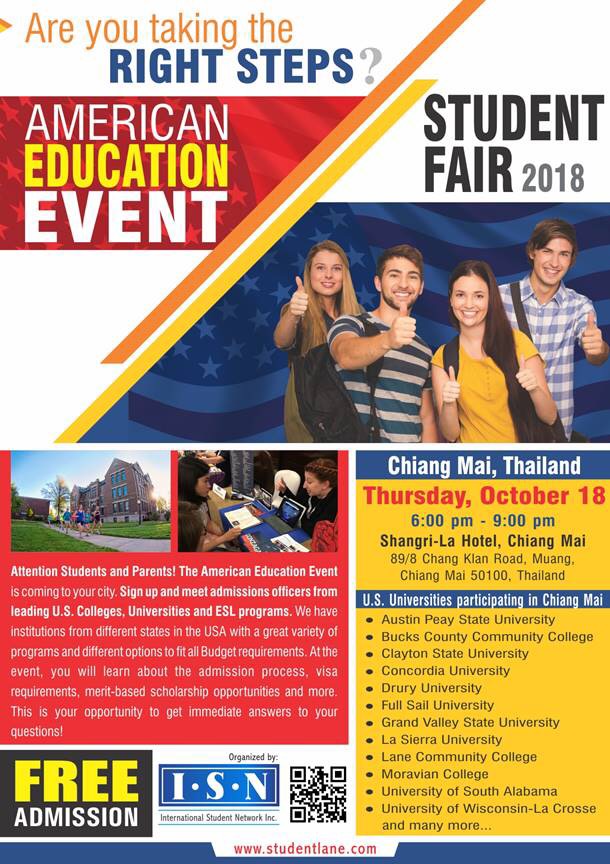 Event Details
Location:
Shangri-la Hotel, Chiang Mai