When he was a young boy, current Executive Sous Chef Songpol Ponkaew, used to go to the market with his mother as often as he could, helping her to stock up her little restaurant in Surin. He credits the daily visits to the market, meeting vendors and suppliers, and returning to the kitchen to help make various pastes in the mortar and pestle before heading to school each day, for his love of Thai cooking.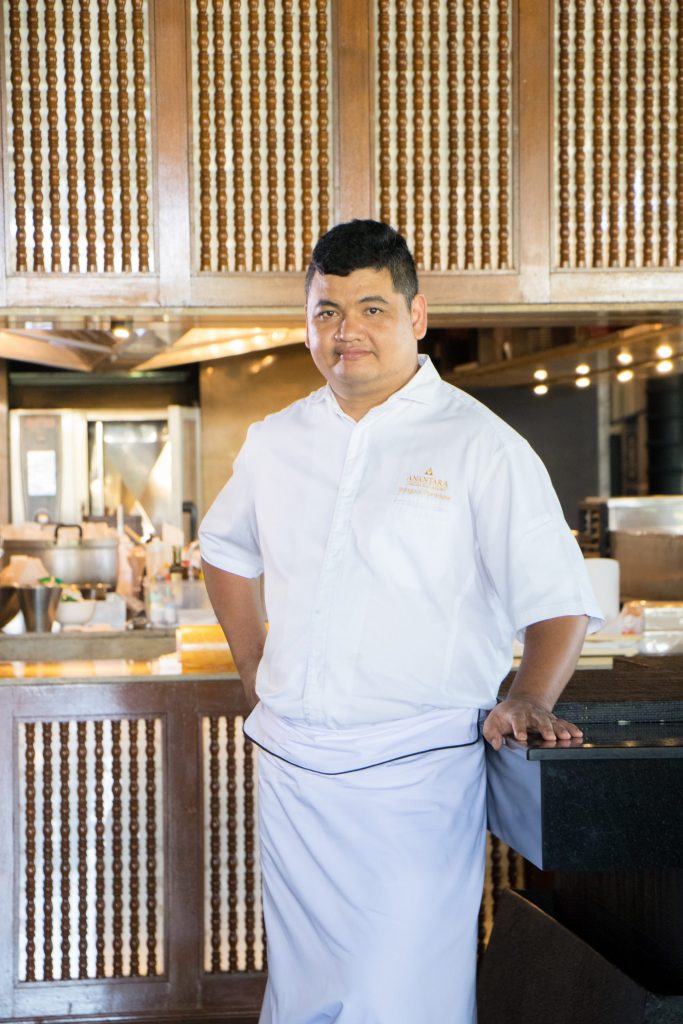 Executive Sous Chef Songpol Ponkaew Like so many chefs, Chef Songpol took a circuitous route to arrive where he is today, having enjoyed other careers in his youth, before finally following the calling of the kitchen. His first job was as a young chef in a small hotel in Samui where he wowed staff and guests with his recipe for Thai stuffed omelettes and fish green curry, slowly building up his experience and profile, until today, fifteen years later, where he is showing off his years of accumulated knowledge about Thai cuisine in Anantara Resort Chiang Mai's fabulous Service 1921 restaurant.
"We do things just a little bit different," explained Chef Songpol. "There are many famous dishes which we feature such as tom yum and red curry, but I have also looked at bringing back old recipes or rare dishes such as green curry with duck, or local methods of cooking which we simply elevate to a fine dining level." "Thai food is so varied and can be interpreted in so many ways," he continued. "We may have to tone down the spices to suit a more international palate, but we also make sure we are faithful to the real flavours and tastes of each dish. It is up to the imagination and we have the freedom to take things where we want to go. Sometimes I lose my way a bit, trying to use international techniques as substitution, for instance, but as long as I always remember the core flavours, then we're great." Chef Songpol has come a long way from his humble beginnings and has amassed quite a portfolio of experience, having been trained in Japan, Vietnam, and even Europe, much of which he brings back either as inspiration, or experimentation to enhance his beloved cuisine.
Pla Tom BuayMor Fai A Thai and Oriental double agent of  local red Tilapia fish soup in plum broth
GaengNue Yang BaiChaplu Braised beef shank conceal in yellow curry with betel leaf
Poo NimClugNga Deep fried soft shell crab with black and white sesame bribed by a spicy tamarind sauce
AbbPla Baby sea bream fillets captured out of the blue by northern Thai herbs and grilled in a banana leaf The Service 1921 Restaurant & Bar, Anantara Chiang Mai Resort 123-123/1 Charoen Prathet Road, T.Changklan Tel. 053 253 333 Email: chiangmai@anantara.com www.service1921.com