Shangri-La, Chiang Mai's Gastronomic Destination,
with Two-Starred Michelin Chef
Last week we wrote , with bated breath, about the imminent arrival of Chef Gaetano Trovato of Tuscany's famed Arnolfo Restaurant, gushing over the fact that this would be the first time a two-stared Michelin chef comes to Chiang Mai. And, after last night's sneak feast, we are feeling even more effusive.
As part of the ongoing 'A New Culinary Era in Chiang Mai' series, Shangri-La hotel is inviting acclaimed and award-studded chefs from around the world to come and treat our palates. Between the 20th-24th February, Chef Gaetano will be presenting lunch and dinner set menus – with various wine pairing options – and Shangri-La will become a gastronomic destination foodies should not miss.
Amberjack, melon, celery
As we sat down in anticipation, one person at the table wondered out loud, "What's the difference between a one star and a two star chef?" We were soon to find out.
A chilled glass of bubbling Pitas Spumante from Veneto arrived along with our amuse bouche simply titled 'amberjack, melon and celery', laying the foundation for the meal to come. Fresh baby cubes of fish and melon were mixed in with zingy lemon curd mellowed somewhat by the salty bursts of lumpfish caviar, popping in the mouth in tandem with the spumante.
free range chicken, caramelized onion, spelt, zolfino beans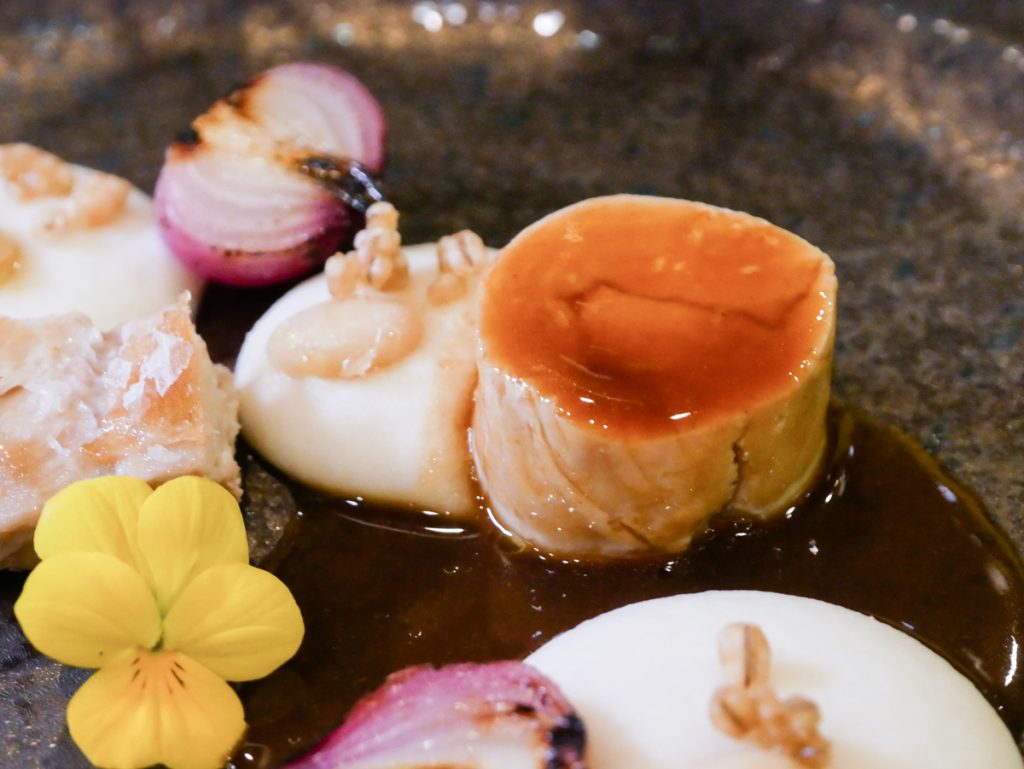 free range chicken, caramelized onion, spelt, zolfino beans
Next came the most delicious interpretation of a roast chicken dinner with adorably cute cuts of breast and leg of free range chicken arriving on a bed of zolfino bean puree, served with crispy red baby caramalised onions with just a splash of jus. Simple, familiar, comforting but so complex with both the dark and white meat distinctive in their flavours, elevated by the surprising crunch of the onion and a sprinkling of spelled. We were so engrossed we almost forgot to take a sip of the chilled Pinot Bianco from Alto Adige with its subtle hints of green apple.
tiger prawn, foie gras, citrus, turnip and radish
And it just kept getting better. The next plate looked almost too simple for such a dining experience, so we were surprised to learn that Chef Gaetano had perfected it thirty odd years ago much to the acclaim of his then-mentors chefs Angelo Parucchi of Italy's Locanda dell'Angelo and Roger Vergé at Le Moulin de Mougins. On closer inspection, and after the first bite, we understood why. The tiger prawn was cooked to perfection and exquisitely presented on the well-seared and creamy-on-the-inside foie gras. Pretty pink blanched radish and slices of turnip adding crunch and a generous dollop of fresh passionfruit pulled it all together for a tart and rich savoury bite. This time we didn't forget the wine as the hotel's erudite resident sommelier, Pakpoom 'Ton' Towatcharakun wowed us with his bold pairing. The 2016 trebbiano from the Masciarelli vineyard in Abruzzo came with a whopping 14.5% alcohol and held its own against the richness of the foie gras.
suckling pig ravioli, leek and liquorice
As the next course arrived Chef Gaetano proudly announced that this was his signature dish and as the plate was served it was almost too pretty to eat…but we persevered! Pork from a local farm was slow-cooked for 18 hours to succulence and served with identical pyramids of ravioli made from organic eggs. The dish came together with a leek puree, fresh young leeks, crispy pork rind and a sweet and punchy liquorice powder, each and every ingredient bringing something to the plate, and making for a blissful bite. It was smooth and creamy, it had crunch, it had bursts of surprise and it made us want more.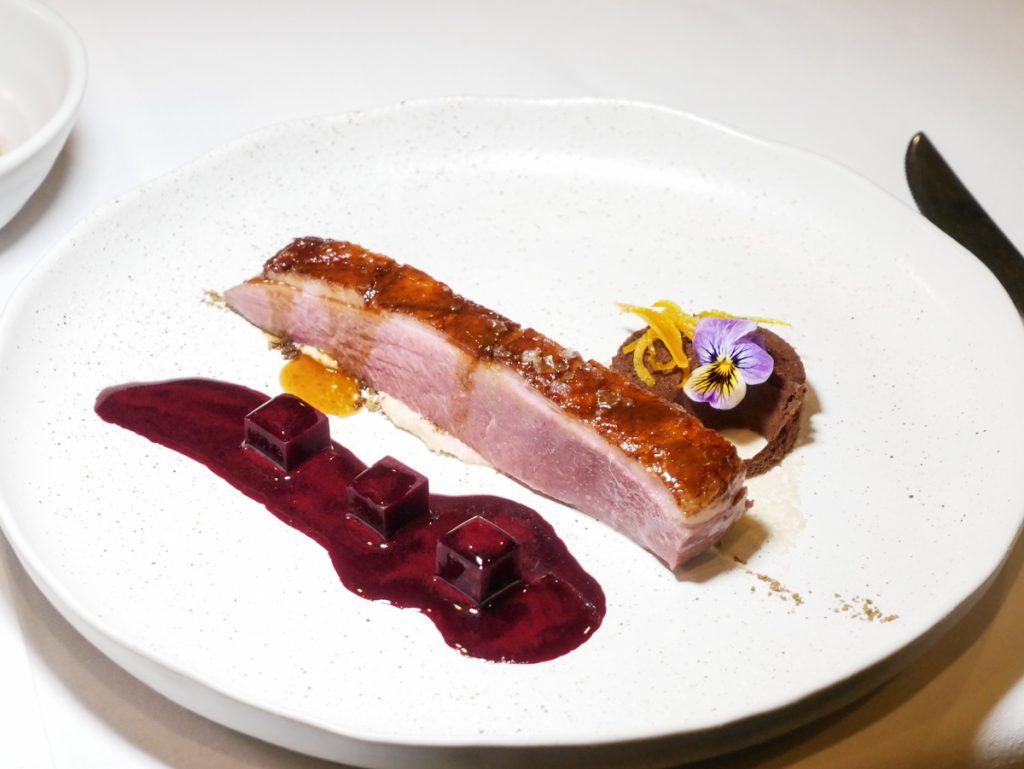 duck breast, chocolate cappelletti, beetroot, panpepato
cappelletti
And more we got when the generous slice of pink duck breast arrived with a fierce side of beetroot cubes. Packed in salt and cooked for two hours, the beetroot and its natural jus would have been overwhelming in its strong flavours if not for the gentle almond puree and the interesting panpepato, a peppered bread infused with orange flavours. A side dish of teeny-tiny carpelletti pasta was served with a rich broth to soothe the palate. With a big dish came a big wine, and the super Tuscan blend met the dish head on.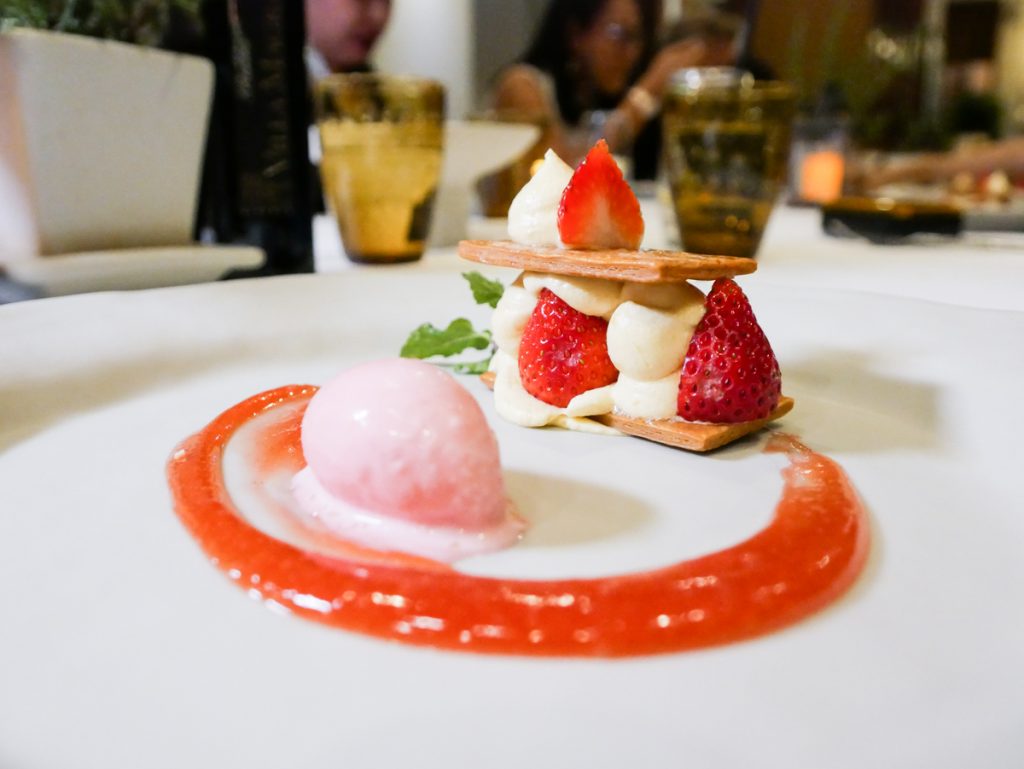 Mille Feuille, Strawberry, basil
The meal came to a crescendo as the delectable pink dessert arrived: mille feuille, strawberry, basil. It was as simple as that.
The friendly and charming Chef Gaetano, who received his first Michelin star at the tender age of 25, answered the question my fellow diner asked at the beginning of the meal, not by word, but through his food. There was nothing showy, no gimmicks and no need to impress. Each and every dish, without fail, delivered. This, we learned, was what a two-starred Michelin chef was all about. Bravo!
Gaetano's Kitchen
Gaetano Trovato 2 Michelin-star awarded
20th -24th February 2019
Dhala Wine Lounge, Level 1
Shangri-La Hotel Chiang Mai
Lunch 11.30am – 2.30pm
THB 1,588++ per person (Food only)
Dinner 6pm – 10pm
THB 2,188++ per person (Food only)
A choice of wine pairing:
3 wine pairing at THB 788 net
5 sommelier recommended wine pairing at THB1,488 net
6 wine ultimate pairing at THB2,588 net.
For reservations, please call: +66 53 253 888 or email: Chiangmai@shangri-la.com