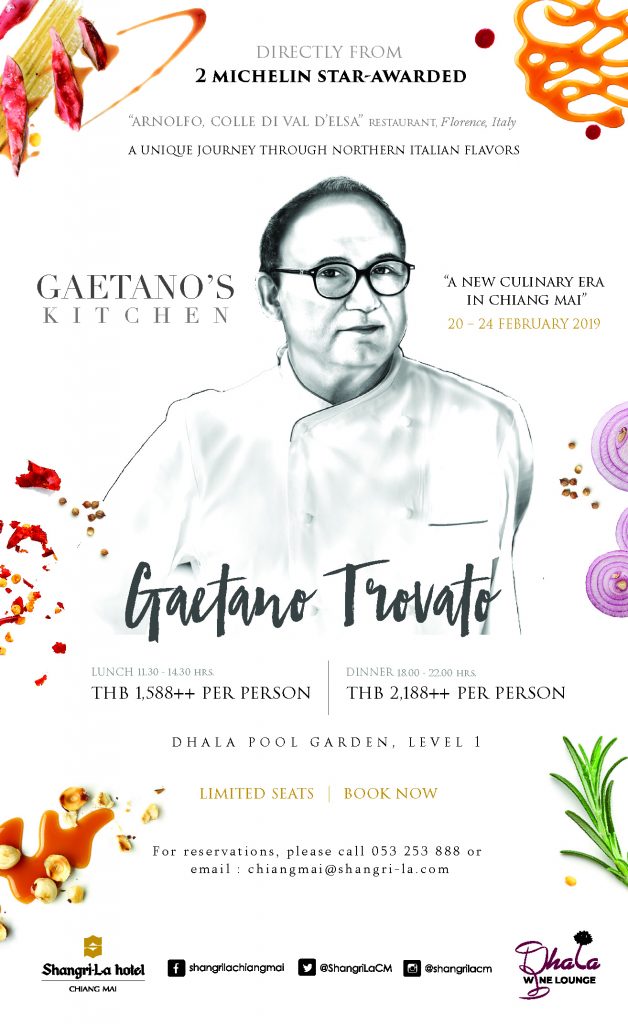 Shangri-La Chiang Mai continues to elevate the culinary bar.
Following last year's successful series of dinners featuring visiting Michelin-starred guest chefs, this month the hotel welcomes to Chiang Mai a two-starred Michelin chef, which we believe is the first time for our fair city.
Chef Gaetano Trovato grew up on his family farm in Sicily. It was his family's love of cooking their seasonal farm ingredients that inspired him to pursue a career in the kitchen, first apprenticing in Saint-Moritz, Switzerland before spending years training under some of the best chefs in Europe, from Angelo Parucchi of Italy's Locanda dell'Angelo and Roger Vergé at Le Moulin de Mougins in Paris, to the legendary pastry chef, Gaston Lenôtre – we can't wait to try his strawberry basil mille feuille, which promises to be flakier and lighter than any we have likely ever tasted.
Chef Gaetano returned to Italy, settling in the picturesque medieval hilltop town of Colle Val d'Elsa in Tuscany where he opened Arnolfo Ristorante. It was soon when he was awarded his first Michelin star at the tender age of 25. His restaurant is a family business, where his mother, brother and sister work side by side to source the best of locally-grown produce to bring into his kitchen, just as they did many years ago when they lived in their Sicilian farm.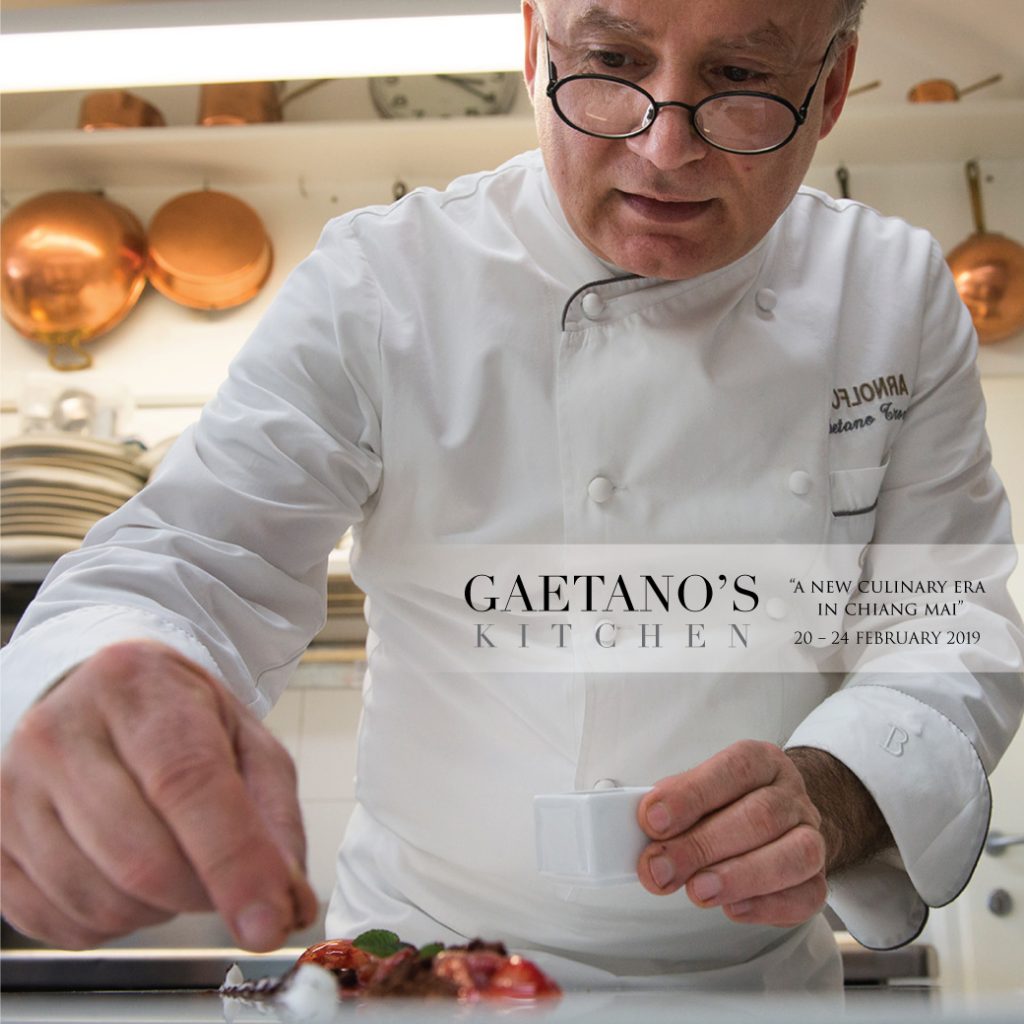 "My cooking style focuses on local ingredients of the territory of Siena and Tuscany, with attention to Italian and European products. My culinary vision can be compared to a young and dynamic teenager who will eventually grow and become an adult with a mature and refined personality. I put my passion and philosophy in all what I do, by constantly leveraging on my experiences, which are merged in a way that surprises myself and the guests.
Chef Gaetano, whose Travel+Leisure magazine once called one of the top ten leaders of the new wave of Italian cuisine, will be spending a week in Chiang Mai prior to the start of this special event, sourcing our local produce and getting to know Shangri-La's kitchen team.
He is known and admired in the culinary world for creating fresh, seasonal, light, flavourful and colourful dishes. A quick look at the menu – both lunch and dinner – promises to deliver on all fronts.
His dishes sound simple, with lists of ingredients as dish names; Amberjack, Melon, Celery for starters, or Suckling Pig Ravioli, Leek and Liquorice and Seabass, Capers, Olive, Cherry tomatoes as mains. But don't let these deceptively simple-sounding dishes fool you, you don't get awarded two Michelin stars for throwing together a handful of ingredients, and we expect some great surprises by Chef Gaetano, who himself says he loves surprises.
"I must be moved emotionally when I go to select raw materials. The evolution of flavour always comes from choosing the products from the market, our local produce."
Michelin star-rated chef Gaetano Trovato, from Arnolfo restaurant, in Di Val D'Elsa, Italy. Don't miss this one-of-its-kind opportunity to enjoy the most genuine Italian cuisine, through mouthwatering 4-course and 6-course menus with selected paired wines.
20-24 February 2019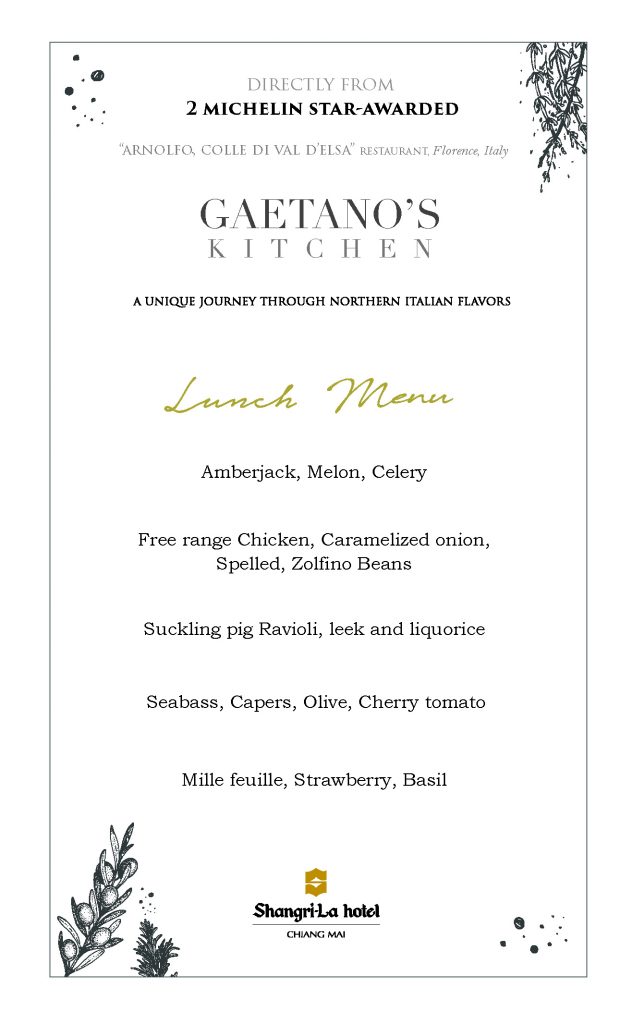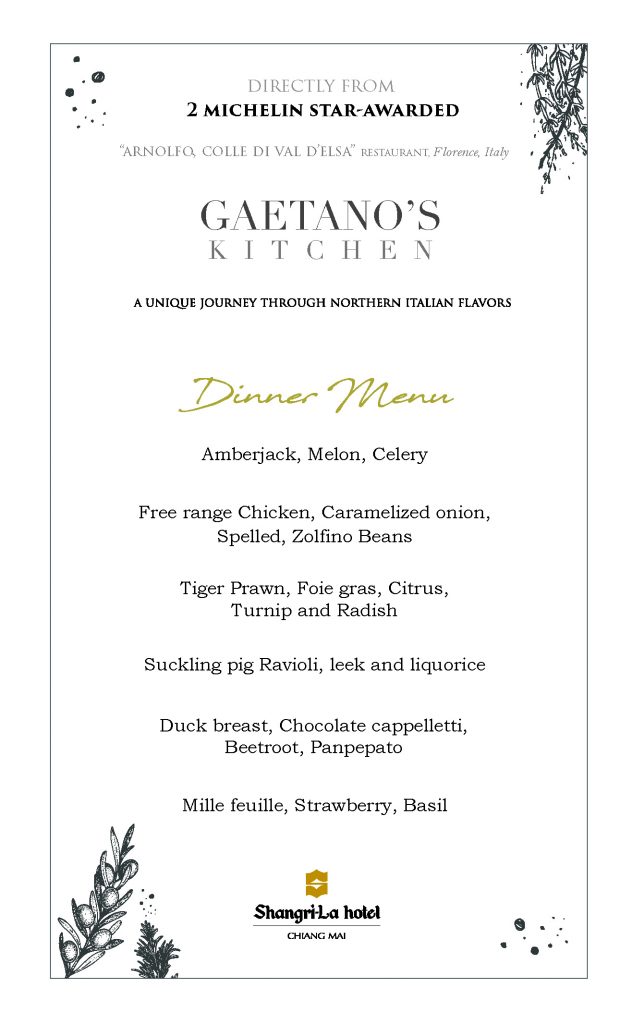 Dhala Wine Lounge, Level 1
11.30am – 2.30pm. 1,588++ baht per person (Food only)
6 – 10pm 2,188++ baht per person (Food only)
For further enquiries and booking call: +66 53 253 888
Email at: Chiangmai@shangri-la.com