CityNews – The US Department of State has issued an official safety warning to US citizens living or traveling to Thailand as of today, due to the state of Martial Law announced at 3 a.m. this morning.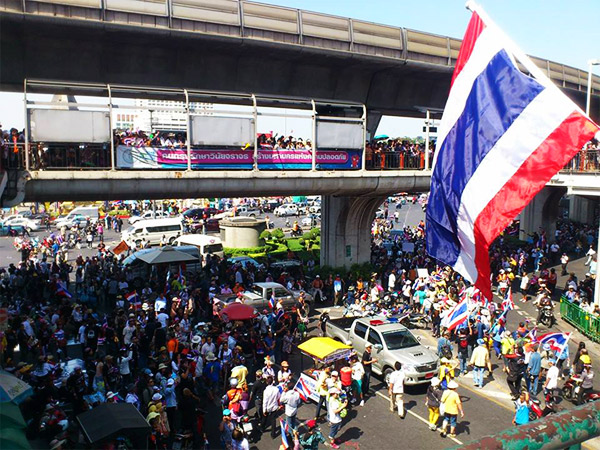 Victory Monument on first day of the Bangkok Shutdown (13 January 2014).
Under Martial Law, protesting is now prohibited but citizens have been warned that political demonstrations can occur with little or no prior notice. Although most protests have been peaceful, occasional bouts of violence has occurred, involving guns and explosives resulting in injury or death.
US citizens are cautioned that even demonstrations with peaceful objectives can turn violent. It is advised that people avoid protest sites, demonstrations and large gatherings. Be alert and aware of the surroundings and keep up to date with the news as to be aware of changes in law and social unrest. Extra time should be given when travelling throughout the city of Bangkok or to and from airports.
US citizens who are travelling or residing in Thailand are advised to enrol in the State Department's Smart Traveller Enrolment Program (STEP). The US embassy is open for all routine American Citizen Services and any emergency assistance needs no prior appointment.
The US Consulate in Chiang Mai is located at 387 Wichayanond Road, Chiang Mai, and is open as usual. The American Citizen Services Unit of the Consulate General can be contacted on 053-107-777 and by email at acschn@state.gov
Current information on safety and security can be obtained on travel.state.gov.
For people of other nationalities, please refer to your consulate websites online and keep up to date with continuous announcements regarding safety and security in Thailand.
Australian Consulate Chiang Mai
Consulate-General of Japan, Chiang Mai
Consulate-General of the People's Republic of China, Chiang Mai
Consulate of Canada Chiang Mai