CityNews – Thai Coup 2014: the constitution is suspended and coup leader Army General Prayuth Chan-ocha has appointed himself acting Prime Minister. But what does this mean for residents and travellers in Chiang Mai? Rumours are flying and new rules are piling up. Here's a summary of what we know so far.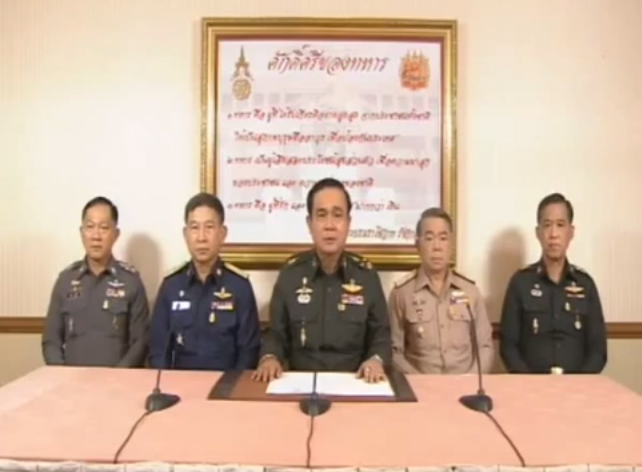 Gen. Prayuth and leaders of the Thai armed forces announced the coup yesterday at 4.30 p.m.
– Today marks the start of an unexpected long weekend for students and teachers, as military authorities have cancelled classes at all learning facilities – schools both public and private as well as tutoring centres – due to the current coup. Classes are expected to begin again on Monday, May 26.
– A strictly enforced national curfew from 10 p.m. – 5 a.m. was put in place on Thursday, 22 May, with no end date announced. Those who break curfew face up to 2 years in jail, a 40,000 baht fine or both. Travellers are not exempt unless in process of arriving in or leaving the country.
– Public transportation in Bangkok is being shut down during these hours, which so far has caused a mad rush and unprecedented traffic jams throughout the city.
– Shopping malls in Chiang Mai, such as Maya and the various branches of Central, are shutting down at 8 p.m. from now onwards.
– Even 7-Elevens and Tescos are shut down during the curfew, from 10 p.m. – 6 a.m. until further notice.
– Groups exempt from curfew include private employees or government officials working night shifts in factories, hospitals, aviation businesses and perishable food logistics, as well as people travelling to hospitals and humanitarian workers.
– Those who have urgent or important errands during the curfew hours are advised to "ask for permission" from nearby military officers.
– All television stations in Thailand have been shut down on army orders, confirms a source at WeTV. This including all international and local news stations, and even soap operas. Everything has been replaced by army logos and nationalistic music.
– Political gatherings of more than 5 people have been banned. The penalty for violating this order is a jail term of up to one year and/or a fine of up to 20,000 baht.
– All national news remains in a state of censorship. Anything that may "confuse society or provoke violence" is outlawed, according to Prayuth.
– All Thai Premier League (TPL) and Yamaha League 1 football matches this weekend (24 – 25 May) have been postponed until further notice.
– Transportation remains in place. Thailand's main bussing company, Transport Co., Ltd. said their buses will continue to run as usual. International and national flights are running as usual, but travellers must confirm that their destination is straight to a residence or a hotel.
– Rumours have been flying about an internet and social media shutdown, but a spokesperson from the Ministry of Information and Communication Technology (ICT) has said that this will not happen.