CityNews – The department said in the alert that the situation is "unpredictable" and that citizens should avoid "all protests, demonstrations, and large gatherings."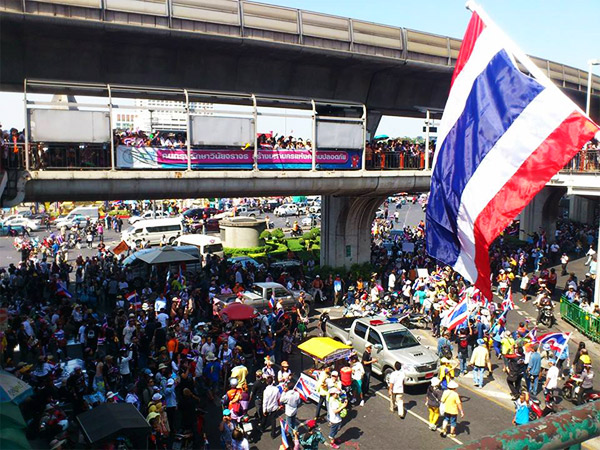 Here it is in its entirety:
The U.S. Department of State alerts U.S. citizens of the potential risks of travel to Thailand, particularly Bangkok, due to ongoing political and social unrest ahead of Thai parliamentary elections, scheduled to take place nationwide on February 2, 2014. The situation is unpredictable and ongoing demonstration activity, primarily in the greater Bangkok area and occasionally elsewhere in Thailand, is expected to continue. U.S. citizens are advised to avoid all protests, demonstrations, and large gatherings. Some protest sites are located near tourist attractions and popular shopping malls, which at times have closed or shortened hours unexpectedly.
Protests may occur in other areas with little or no prior notice. You should allow extra time when travelling throughout the city or to/from airports. Consider using public transportation. Although many protest activities have been peaceful, increasingly violent incidents have occurred at or near protest sites. This Travel Alert expires on February 14, 2014. Political demonstrations have been taking place in Thailand regularly since early November 2013. Most protest activity has occurred in the Bangkok area, but on occasion there have also been smaller demonstrations in other areas, including Chiang Mai. In Bangkok, protests have been mobile throughout the city, with large numbers of demonstrators at times swelling quickly and closing major roads and intersections.
The majority of the demonstrations have occurred in the vicinity of Thai government facilities and at major intersections including Lumpini Park, Democracy Monument, Sala Daeng, Asoke, Ratchaprasong, Pathumwan, Victory Monument, Lat Phrao, and at the Government Center at Chaengwattana. Beginning on January 13, 2014, protestors took control of these intersections, blocking most vehicular traffic, and occasionally redirecting pedestrian traffic. These sites draw large crowds, especially in evenings and on weekends.
There is often reduced or no police presence at protest sites, where protest guards frequently control access. While demonstrations have been generally peaceful, some have resulted in injury and death. Violence, including gunshots, was reported on the night of November 30, 2013 in the area of Ramkhamhaeng University in the Bang Kapi district northeast of central Bangkok. At least four persons were killed and several dozen injured. On December 26, demonstrations at an official election event at the Thai-Japanese Sports Complex Stadium in Din Daeng in north central Bangkok escalated into clashes with police, resulting in deaths and serious injuries. On the afternoon of January 17, 2014, an explosive device detonated amid a protest march near the National Stadium and MBK shopping mall at Pathumwan intersection in central Bangkok, which resulted in at least 39 injuries and 1 death. On the same day, there was a confrontation near the Government Center on Changwattana Road in northwestern Bangkok. On January 19, an explosive device detonated in a crowd of demonstrators at Victory Monument, resulting in at least 29 casualties. Throughout the first half of January, additional assaults involving weapons and explosives related to the ongoing political situation occurred at protest sites, both during the day and at night.
The Thai government has invoked its Internal Security Act (ISA) throughout Bangkok, which allows authorities to close roads, make arrests; take action against security threats; and increase police presence around government buildings and at other locations. Police have used tear gas, rubber bullets, and other measures to protect government facilities at several locations. In coordination with the government, Thai military personnel have provided additional security at some sites in Bangkok. U.S. citizens are cautioned that even demonstrations that are meant to be peaceful can turn confrontational and escalate into violence.
You should avoid protest sites, demonstrations, and large gatherings. Be alert and aware of your surroundings and pay attention to local news media reports. U.S. citizens who travel to or reside in Thailand are strongly advised to enroll in the State Department's Smart Traveler Enrollment Program (STEP). U.S. citizens without Internet access may enroll directly with the nearest U.S. embassy or consulate. By enrolling, you make it easier for the U.S. embassy or consulate to contact you in case of an emergency.
Unless otherwise indicated in a public announcement, the U.S. Embassy is open for all routine American Citizens Services by appointment. U.S. citizens needing emergency assistance do not need an appointment. The American Citizen Services Unit of the U.S. Embassy is located at 95 Wireless Road in Bangkok, and can be reached by calling 66-2-205-4049, or by e-mailing [email protected]. The Embassy's after-hours emergency telephone number is 66-2-205-4000. The U.S. Consulate General in Chiang Mai, located at 387 Wichayanond Road in Chiang Mai, is also open unless otherwise indicated. The American Citizen Services Unit of the Consulate General can be reached by calling 66-53-107-777 and by e-mail at [email protected]. The after-hours emergency telephone number is 66-81-881-1878. You can also follow the U.S. Embassy in Bangkok's American Citizen Services Unit on Twitter for further updates. Current information on safety and security can also be obtained on travel.state.gov or by calling 1-888-407-4747 toll-free in the United States or a regular toll line at 1-202-501-4444 for callers from other countries. These numbers are available from 8:00 a.m. to 8:00 p.m. Eastern Time, Monday through Friday (except U.S. federal holidays). U.S. citizens should also consult the Department of State's Country Specific Information for Thailand. Stay up to date by bookmarking our Bureau of Consular Affairs website, which contains the current Travel Warnings and Travel Alerts as well as the Worldwide Caution. Follow us on Twitter and the Bureau of Consular Affairs page on facebook as well.