CityNews – The ongoing anti-government protests in Bangkok, which had been normal to peaceful for 32 days since 30 October 2013 and had turned volatile during 1-2 December 2013, has eased as of this morning, December 3rd. Clashes between police and protesters at Pol 1 intersection, Chamai Maruchet Bridge, Orathai Bridge and Karn Ruan intersection near the parliament has stopped as of this morning. Friendly scenes are reported at the Metropolitan Police Bureau as police and protesters shake hands and exchange flowers.
(Issued at Bangkok at 14.30 hrs. (GMT+7) on 3 December 2013 from the Tourism Authority of Thailand)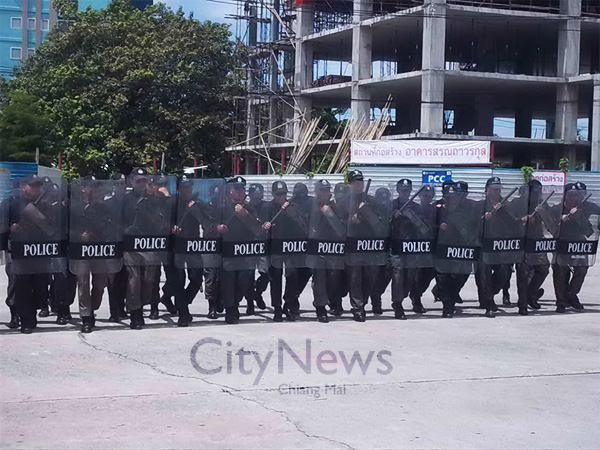 For tourists visiting the kingdom, it should be stressed that the four volatile sites are within a small quarter of Bangkok. No tourists are hurt or affected by the situations. Also, it should be stressed that tourists have not been targeted in the ongoing political protests.
During today, the following locations are where the anti-government protests take places or where the protesters gather:
Democracy Monument on Ratchadamnoen Klang Avenue
Ministry of Finance on Rama VI Road
Government Complex on Chaengwattana Road
Nang Lerng Junction on Nakhonsawan-Phitsanulok Roads
Makkawan Bridge on Ratchadamnoen Nok Avenue
Albeit a calmer atmosphere, tourists still should avoid the protest areas surrounding Government House and the Parliament and the Metropolitan Police Bureau, as well as Government Complex on Chaengwattana Road. Given the large number of people at the above mentioned locations, roads around or within the areas may be closed to traffic.
Outside of Bangkok, the anti-government protesters are also rallying at several provincial administration halls. These provinces' administration halls are located in official designated areas, and are not where tourists normally go to or where tour companies include in the tour programme.
Tourists are advised to be vigilant and avoid areas where crowds may gather. Tourists are also advised to check travel route and road traffic situation to avoid getting caught in traffic or they can use other means of transportation to getting around in Bangkok, including BTS Skytrain, MRT Subway, Suvarnabhumi Airport Rail Link's Express and City Lines, and water-transport.
It's business as usual in Thailand.
Albeit the volatile political situations in Bangkok, life in the Thai capital and all other areas of Thailand continues as per normal. Tourist attractions and activities as well as businesses in Bangkok and other provinces are open and operating as usual.
Tourist attractions are open and operating as per normal.
In Bangkok:
Historical attractions, theme parks, shopping malls, hotels, restaurants, local markets, temples and river tours are open and operating as per normal.
To avoid heavy road traffic at certain times, tourists can use BTS Skytrain, MRT Subway, ferry, boats and hotel's converted rice barges to many attractions, such as, the Grand Palace, the Temple of the Emerald Buddha, the Temple of Dawn, ASIATIQUE The Riverfront, and Siam Paragon, CentralWorld and Terminal 21 Shopping Complexes.
Outside of Bangkok:
Tourist activities in Pattaya, Hua Hin, Ko Samui, Phuket, Chiang Mai, Krabi, Phang-nga and Krabi, for instance, are operating as per normal.
For live images of Thai tourist destinations, check out these THAI LIVE CAM streaming cameras that present a number of stunning preset views of Thailand's most famous and popular cities.
Transportation
International and domestic airlines are operating flights between Bangkok and Thai cities, as well as destinations around the world, as per normal.
Thailand's main gateway, Suvarnabhumi Airport, in Bangkok and all other international and domestic airports throughout the country are operating as per normal. Transportation to and from Suvarnabhumi and Don Mueang International Airports into central Bangkok as well as into tourist destinations southeast and southwest of Bangkok; such as, Pattaya, Hua Hin, Ko Samet and Ko Chang are operating as per normal.
Suvarnabhumi Airport has advised air travellers of possible heavy road traffic and a lack of taxis resulting from the protests in Bangkok. Commuters are advised to use public transport such as BTS Skytrain, Airport Rail Link, public buses and vans, and limousine services. Air travellers are also advised to allocate more time before flight depart or at least three hours.
In addition, Suvarnabhumi Airport has opened a passenger centre at the CIP 5 room on the 3rd floor of the passenger terminal to provide assistance to passengers whose air travels have been affected by the protests. Air travellers can contact the centre through Tel: +66 (0) 2 132 1999, Fax: +66 (0) 2132 8999. To check flight schedule, air travellers can contact Tel: +66 (0) 2132 1888. The centre and all contact numbers are available 24 hours daily.
The State Railway of Thailand and the Transport Co., Ltd., (inter-provincial bus service) are operating as per normal. The Bangkok Mass Transit Authority is operating its city bus routes as per normal, although some routes are temporarily rerouted.
There is no reason at all to avoid Bangkok. However, tourist can also spend their holidays in other Thai cities, which are located within 1 or 2 hour travelling time from Bangkok through direct connecting flights from Suvarnabhumi Airport.
Getting around Thailand
Bangkok, located 30 kilometres from Suvarnabhumi Airport or 30 minutes by car or 15 minutes by Airport Rail Link. Mass transit networks including BTS Skytrain, MRT Subway and city buses are operating as usual.
Chiang Mai, located 716 kilometres north of Bangkok's Suvarnabhumi Airport or 7 hours 44 minutes by car or 1 hour 10 minutes by air.
Phuket, located 865 kilometres south of Bangkok's Suvarnabhumi Airport or 9 hours 50 minutes by car or 1 hour 25 minutes by air.
Pattaya, located 120 kilometres southeast of Bangkok's Suvarnabhumi Airport or 1 hour 17 minutes by car.
Hua Hin, located 227.5 kilometres southwest of Bangkok's Suvarnabhumi Airport or 2 hours 40 minutes by car.
Ko Samui, located 804 kilometres southwest of Bangkok's Suvarnabhumi Airport or 10 hours 34 minutes by car and ferry or 1 hour 5 minutes by air.
Khon Kaen, located 458 kilometres northeast of Bangkok's Suvarnabhumi Airport or 5 hours by car or 55 minutes by air.
Nong Khai, located 630 kilometres northeast of Bangkok's Suvarnabhumi Airport or 7 hours 5 minutes by car.
Government measures
The Thai Government has invoked the Internal Security Act (ISA) in all districts of Bangkok and Nonthaburi, Bang Phli district of Samut Prakan and Lat Lum Kaeo district of Pathum Thani until 31 December to maintain law and order.
The law does not prohibit nor obstruct peaceful demonstration held within the bounds of the law, but it enables security agencies – police, military and civilian – to effectively prevent and mitigate, as much as possible, undue disruption or impact on the safety of the general public.
Thai Prime Minister Yingluck Shinawatra yesterday urged all sides to jointly find means to end the ongoing political problem.
Useful contact numbers:
Tourism Authority of Thailand Call Centre 1672
Thai Traffic Police Call Centre 1197
Thai Tourist Police Call Centre 1155
Bangkok Tourism Division Call Centre +66 (0) 2225 7612-4
Bangkok Mass Transit Authority (city bus service) Call Centre 1348
State Railway of Thailand Call Centre 1690
Transport Co., Ltd., (inter-provincial bus service) Call Centre 1490
Airports of Thailand Call Centre 1722
Thai Airways International (THAI) Call Centre +66 (0) 2356 1111
Bangkok Airways Reservation Centre 1771
Nok Air Call Centre 1318
Thai AirAsia Call Centre +66 (0) 2515 9999