CityNews – On 24th June at the Chiang Mai Provincial Office, Thanin Supasaen, the governor of Chiang Mai, held a meeting to summarise and evaluate the protests that took place last week in which protestors wore Guy Fawkes/V for Vendetta masks.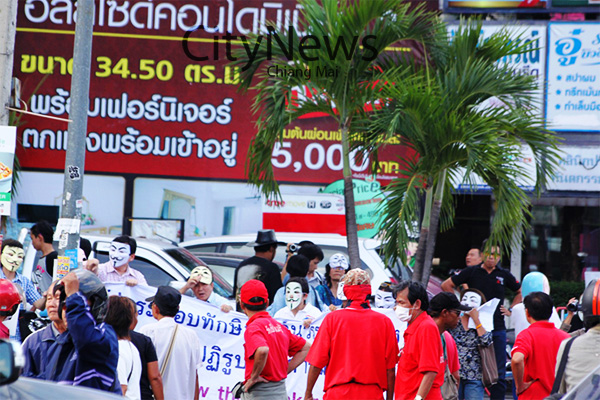 White masks and red shirts in Chiang Mai
It was agreed that the protestors must rally in peace – they must follow provincial law and must not do anything to jeopardise Chiang Mai's economy or tourism industry.
The protesters were also advised to report to certain government organisations in advance, prior to protesting, so that facilities such as traffic police services can be provided.
The white mask wearing protestors who have lately spread through Bangkok, and now made appearances in Chiang Mai, hold banners and signs criticizing what they call a corrupt 'red' government that must be overthrown, while ironically at the same time espousing democracy.
The groups of protestors, whose rhetoric expresses freedom and anti-corruption and people against dictatorship, have been called 'new' in some media, mainly Thailand's English language media, although some political analysts have said the movement is nothing new, and is linked to ultra-nationalist, ultra-royalist groups and their leaders. Another irony that is often pointed out is that an ultra-royalist group would be using Guy Fawkes (the man who plotted to kill the King of England) as a symbol to support their cause.
?.? ?
? 24 ?.?.56 ? ? ? ? ? ? ? "?" ? ? ?
? ? ? ? ? ? ? ? ? ? ? ?