CityNews – Chiang Mai Vice Governor, Chana Paengpibun, presided over a seminar on smog solutions at Chiang Mai University's Academic Service Centre last Tuesday afternoon.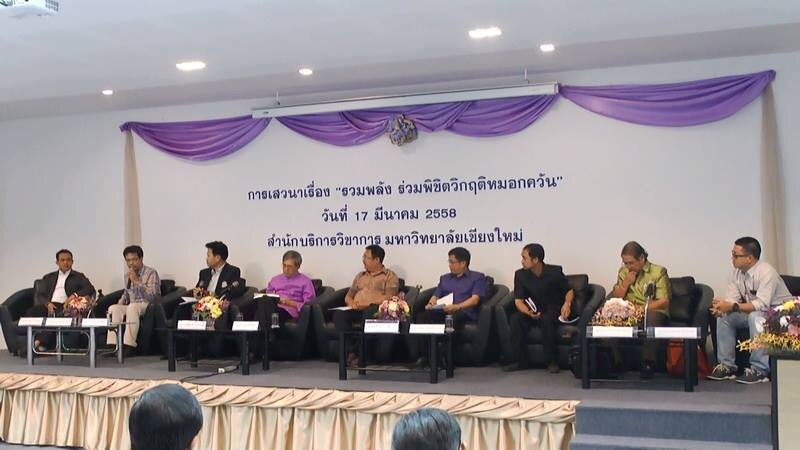 Around 200 people attended the event, including doctors, professors, scholars, representatives of private sectors, students, local residents and the press.
The seminar aimed at brainstorming solutions to rid the city of the severe smog that has plagued the north for over 10 consecutive days.
Assistant Professor and Assistant Dean of Chiang Mai University's Faculty of Engineering, Dr Wasan Chompakdee, told the panel that as the town grows and develops, so does the number of people burning. This burning has created a smog crisis for many years now, but it is undeniable that is has got considerably worse in the last few years.
He also mentioned that as Chiang Mai is surrounded with mountains, its geography causes a basin, causing large amounts of heavy smog particles to settle within the basin and find it difficult to escape.
Many provinces in the north suffer from smog and high pollution levels in the north of Thailand, including Chiang Mai, Lamphun, Lampang and Mae Hong Son.
Dr Wasan Chompakdee said that the main cause of smog was due to traditional agricultural techniques still widely used by farmers and locals in the area, who rely on slash and burn techniques to continue their monoculture farming. Unwanted crops and waste is burnt to clear land for fresh growth of another type of crop.
One solution was to bring modern farming techniques and modern technology to farmers and locals especially those on higher ground where most of the burning takes place.
Solutions such as planting without plowing and burning, terrace fields and a change in farming culture were also suggested.
It was also suggested that people avoid purchasing products that are grown directly as a result of burning techniques, such as some kinds of mushrooms, to discourage production and burning.
According to Associate Professor Chaichan Phothirat, the impact of smog should be considered a national agenda, as it increasingly causes greater damage to the environment and people's health.
When we inhale large quantities of dust smaller than 10 micrograms per cubic meter, it can lead to sever health problems such as pneumonitis, coronary heart disease, acute myocardial infraction and even strokes. Many of these diseases can then lead to death, but seem to have escaped mention within senior circles.
Research presented at the seminar from studies conducted abroad showed that exposure to smog can increase the risk of cancer by 30% when compared to 'fresh' air.
However, the World Health Organisation, experts and researchers who have studied the effects of smog on health note that the intensity of the dust plays a large role and other smog affected cities are difficult to compare to each other.
Although Thailand still uses 120 micrograms per cubic meter as the upper safe limit, many countries agree that air containing over 50 micrograms per cubic meter still plays a significant risk to people's health.
This large difference also affects Thailand's ability to ensure healthy air for its citizens, as many would argue their upper safe limit is still too high.
This month Chiang Mai has seen dust level reach over 300 micrograms per cubic meter, which is widely considered as a serious pollution crisis. Many expert speakers at the seminar agreed that there should be a state of emergency declared anywhere with over 200 micrograms measured.
In many countries, residents would be evacuated from areas with such high levels of smog. However, it was suggested that Thailand's authorities have delayed any proactive measures by spending too much time discussing and have not put enough effort into solving the problems at their root cause.
Until now, the government has only told residents to wear masks, which still do not protect you from particles smaller than 10 micrograms.
The seminar concluded that more needed to be done in a shorter time scale to protect resident's heath, the environment and economy. It is hoped that the government representatives who attended the seminar will take the information back and push for more action to be taken.