CityNews – Gen. Prayuth Chan-ocha told the press today in Bangkok that he has been endorsed by HM King Bhumibol Adulyadej to run the country during times of political turmoil in an effort to ensure Thailand doesn't return "to the old days", it was reported by AP.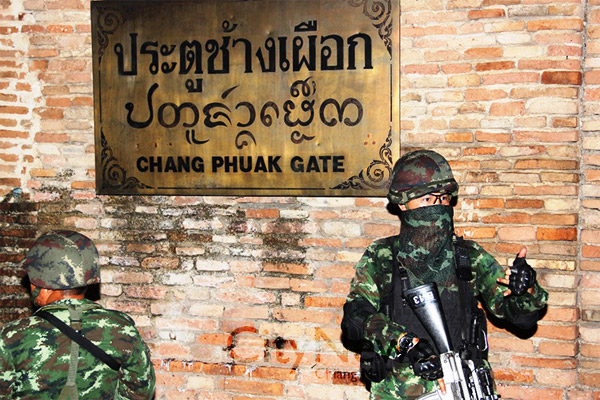 Army at Chang Puek Gate
Prayuth, who heads Thailand's military, warned the media and members of political parties not to create tension within the country. He said that it was his duty to keep the peace, and it was because violence loomed that he had to act. The violence related to political divisions has so far killed at least 28 people and injured around 800.
Sporadic protests have popped up around the country, including Chiang Mai, where it's reported six people were arrested during a demonstration against the coup.
Protests all around the country however have been pro- and anti- coup. In Bangkok on May 24th people gathered at Democracy Monument in support of the coup, while some miles away anti-coup protestors demonstrated at Victory Monument. At Kawila Army base in Chiang Mai, May 24th, a small group of people gave their support to the army and donated over 300 packs on food and drinks to soldiers, while on the same day hundreds of anti-coup protestors gathered at Chang Puek Gate.
Over the last few days the army has been rounding up activists, journalists, and politicians, including Yingluck Shinanawatra, and while many have also been released at least 155 people have been ordered not to leave the country. The army has also closed down certain TV stations, including BBC and CNN. It's thought that over 200 people, most of them are believed to be against the coup, have been rounded up and detained by the army so far.
One of those detained was the popular columnist for The Nation, Pravit Rojanaphruk.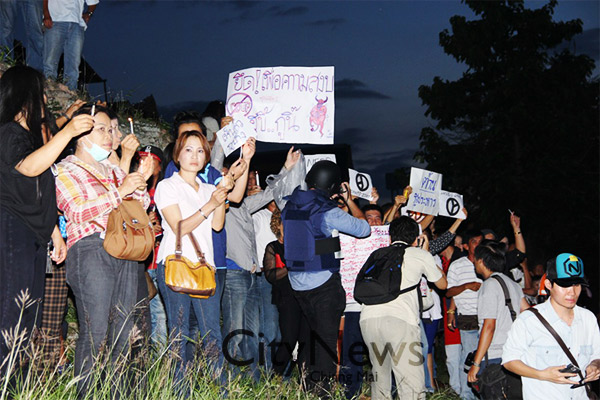 Anti-Coup protestors in Chiang MaiOn May 25th the Foreign Correspondents Club (FCCT) condemned these measures and asked the army to lift media restrictions stating:
"While this may impede coverage in the short term – and make it harder for journalists on the ground to produce accurate, balanced reports – it will not diminish interest in this story or make it go away. Freedom of expression and the right of journalists to work without fear of arrest or physical violence are core principles of the FCCT."
In relation to censorship and detainment Praytuth was quoted as saying, "Do not criticize, do not start problems. It's no use." He added that the public must control their comments on social media and that they should not incite violence with their messages on Facebook and jeopardise the "peace of the country".
The Bangkok Post reported today that The National Council for Peace and Order (NCPO) has warned the public that any breach of the Criminal Code's Sections 107-112 and 113-118 could result in court proceedings under martial law. Sections 107-112 relate to the lèse-majesté law, while sections 113-118 relate to the vague subject of 'national security'.
The military however was also quoted as saying that those detained will shortly be released. Martial law dictates that detainees cannot be held for longer than seven days, and detainees will be held for a duration accorded to their involvement in the political conflict.