CityNews – A gang of five young men armed with vicious looking machetes preyed on the defenceless around the Night Bazaar area, attacking young students and robbing them.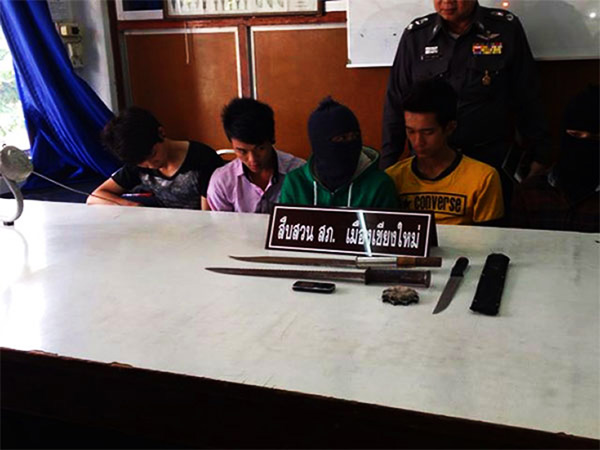 The four arrested men
On 17th June, Chiang Mai City Police arrested our suspects at an apartment on Chang Klan Road: Petch Jaling (17), Ong Lungpan (20), Pong Lungtoon (17), Sai Ongkam (19) and Dao Saikam (20), all of them charged with robbery and assault.
According to the police investigation, on 16th June two students were attacked and slashed with long knives around their heads and arms in front of Sister Restaurant on Changklan Road. The victims told the police that they went to chill-out at the Iron Bridge, but a gang turned up later.
They told the police that the gang rode three motorcycles down the bridge while swinging the machete at people. The people on the bridge ran, but the gang caught up with them and then attacked and robbed them.
The suspects confessed that it was only Petch and Ong that slashed the victims, while the boy known as Sai hit them with a knuckle-duster.
Thanks to ? ? ? for picture