CityNews – On 12th June, 10.30 a.m. Chiang Mai City Police Station held a press conference after they arrested two young suspects, Nattawat Patraksa (15) and Nontawat Pueksang (14), with 450 baht in cash that they admitted stealing from a temple donation box at Wat Pan Wan.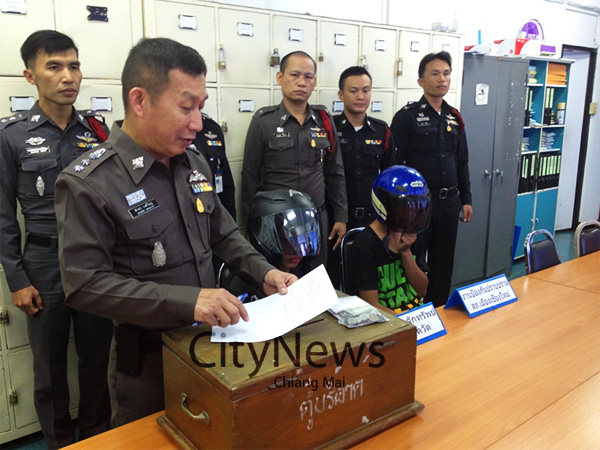 The police report stated that 191 Radio Police had earlier received a call around 1.30 a.m. informing them that two people had broken into Wat Pan Wan in Phrasingh sub-district and had stolen property. Police arrived at the temple and found two teenagers. When police asked them to turn out their pockets the pair had a total of 450 baht in cash. The young men confessed to police that they had stolen the money from a donation box. The box they had dumped close to the temple.
The pair said they had taken the money because they wanted to play computer games at a local internet café.The pair also confessed to police that during Songkran Festival they had stolen money from Wat Muen San and made away with a total of 300 baht in cash, and on 11th June they had stolen money from Wat Sri Supan and again made away with 300 baht.