CityNews – On Thursday, 17th April, at around 9:30 p.m. Pol. Lt. Sopon Kranponrang, inquiry official at the Tahrue Police station of Kanchanaburi, received a report that a double-decker bus had overturned in Tambon Takram-aen.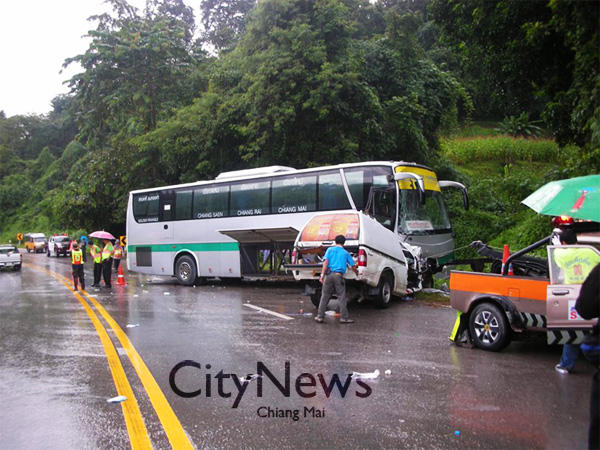 A bus crash stock photo.
Suriyan Kanchanasinrong (Provincial Governor of Kanchanaburi), Chatnarong Sirima Naratchasima, (Head of Relieve Protect Public Hazard Office of Kanchanaburi), and rescue personnel went to the scene of the accident to investigate. They found that a Hino double-decker bus had overturned on the road and two dead bodies, identified as Jindakong U-tan (59), and Kanna Chongnarangsin (58). Twenty seriously injured people were later taken to Makarak Hospital.
Preliminary investigations showed that this bus was carrying forty passengers from Bangkok to Wat Wang Khanai Thayikaram for people to make merit during Songkran festival. When the bus, which was moving at very high speeds, passed a dangerous curve it overturned, lost control, and landed up on its side. The police presume the cause of accident is most likely that the driver did not know the route very well and drove at unsafe speeds. The driver was arrested and is awaiting charges.
Another bus crash took place in Chiang Mai on the same day. Vice Governor of Chiang Mai Chana Pangpiboon received a report that a double-decker bus from Amphur Mae Sariang, Chiang Mai had been travelling to Amphur Hod, Mae Hong Son, when it turned over at the 23 – 24 kilometre marker in Tambon Borluang, Amphur Hod. There were four confirmed deaths at the scene, three of which were females and one which was male, as well as more than ten injured and two seriously injured. These wounded were taken to a nearby hospital. Officials are going to investigate the cause of the accident.