CityNews – The people of Chiang Mai are feeling the strain of the heavy traffic burden, and it only looks like more cars will arrive in the city. Then when the new malls are finished, and the roads to Laos, Burma, China open up, how will that affect at already congested city?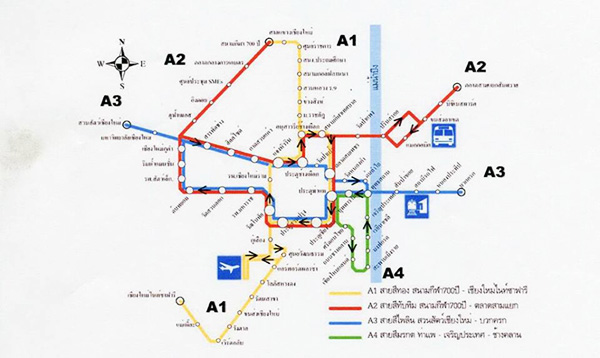 Part of the solution: The Chiang Mai Monorail.
Chiang Mai Administrative Organisation has said it will invest over eight billion baht for this high-tech public transportation system. The government has already approved the investment and it is expected that the monorail will be up and running within five years.
The monorail will provide four different routes:
The Gold Line A1 will go from 700 Year Stadium to Chiang Mai Night Safari.
The Red Line A2 will go from 700 Year Stadium to Samyak Market in Sansai.
The Blue Line A3 will go from Chiang Mai Zoo to Buakkrok Village.
The Green Line A4 will go from Thapae Gate to Changklan Road.
Each route, as the map shows, will go through various parts of Chiang Mai, covering much of the city.
Each car will be able to take up to 40 people, and there will be three cars for every line. It will travel at around 28 kilometres per hour and will pick up passengers every 500 metres. Each route should take about 30 minutes.
Boonlert Buranupakorn, the president of Chiang Mai Administrative Organisation, told the press that the monorail would run on the ground. It is not a skytrain, he said, or an underground train.