CityNews – A yak – one of the fearsome giants of Thai myth, and a popular character from the kingdom's ancient Khon masked dances, recently took his place among other great characters in much a colder land than old Siam. Despite being crafted from snow and sitting in freezing temperatures, the giant sculpture kept his Thai smile and impressed visitors to the Tromsø International Snow Festival, held in Norway from 28 January to 1 February, 2014.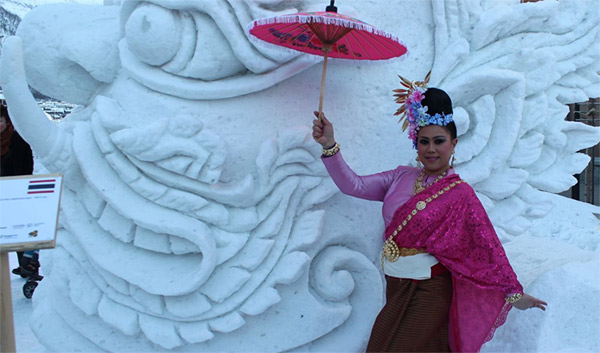 The giant's creators were three renowned Thai ice sculptors who made up one of five teams of 14 professional sculptors from nations including Norway, Russia, Germany and Italy. These teams were all invited to exhibit their work in the lovely square near the Nestranda in Tromsø to mark the inaugural Tromsø International Snow Festival. Among those who saw the displays, there was little doubt that the five masterpieces set a standard which will be challenging to beat in the years to come.
The four-day snow festival was organised by the Thai Tromsø Forening in conjunction with the Royal Thai Embassy in Oslo, the Tourism Authority of Thailand's (TAT) Stockholm Office, Thai Airways International's Stockholm Office and The Norwegian Barents Secretariat. This year's event was a follow up to last year's well-received "Snow and Ice Sculpture Festival", held from 15-23 February, 2013, which was organised by the Thai Tromsø Forening to commemorate the close relations between the Kingdoms of Norway and Thailand.